Dear Christians,
Why is compassion sometimes as natural for you as breathing, but other times it is absolutely out of the question? Why do you weep and dig deep in your pockets to help one needy group, but for another, you pass by on the other side?
Why will you read a brochure, watch a film, or attend a lecture about one worthy cause, but refuse to learn a single new fact about another?
I've attended many of your church services, watched many more on TV; I've read a library of your Christian books. Few of them spoke to me. They all exhorted me to be content and thankful and trust that God knows what's best for me. These may be easy tasks for you, living in a prosperous land, but it is not for me. I reject your easy answers.
Would you see me cursed for eternity because I'm not content and thankful and trusting? I tell you, I am cursed now.
If you walked in my shoes, you would feel this way too. I am cursed because of the life that I was born into: by no fault of my own or my ancestors, I live in hell on earth. But I'm also cursed because of you. Let me explain.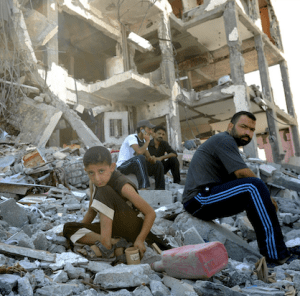 I live in the Gaza Strip in Palestine. Every day, I am hungry. Every day, my family is hungry. We live off donations from a food pantry. Years ago, the government you subsidized dropped a bomb on the factory where I was working. I lost both of my legs. I can't work; I'm a burden on my family. Many days, I wish I had died in that airstrike.
I say again, I am cursed because of you. You didn't mind last year when my people were bombed mercilessly for eleven days. You, Christians, sat still as 260 of us died in airstrikes – many women, children, and old people, most of us civilians.
You refuse to acknowledge what's been happening to us for years: first, we were exiled, then oppressed and attacked, and now we are left to starve and die of thirst. All because you think God wants someone else to have our land. You don't allow yourself to wonder what God's Word says about oppression and bombing and starving.
Just like the Christians of early America who said that slavery and ethnic cleansing are "Scriptural," you have your Bible verses that "prove" your point. You believe your God has cursed me, so you curse me. A God who is indifferent to my suffering is no God.
I live in the occupied West Bank, and I am cursed, Christians, because of you. Let me explain.
My family has been farming our land for generations. But newcomers have been taking over our land, acre by acre, for years. They allege that God gave the land to them, although they don't act like people who know God.
And you, Christians, sat still as more than 600,000 of these settlers have appropriated our property. Some of them have attacked us, killed us, chopped down our beloved olive trees, and set our crops on fire – while their police (whom you support) look on or even lend a hand.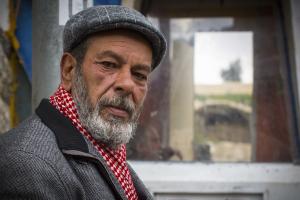 I say again, I am cursed because of you. You looked the other way as my home was demolished and my family was left on the street with nothing but the clothes on our backs. We have done nothing to deserve such treatment, but you don't care. We are a nuisance to you and to your God. Your God is apparently only selectively a "God of love."
I live in East Jerusalem, and I say I am cursed because of you. My city is holy to me, as it is to you, but you shrug as I am banned from worshiping in my sacred place.
You are indifferent as my home is taken away from me, leaving an entire family in the street.
No, you are not indifferent – you are elated. You believe that somehow, your Jesus approves of my homelessness, and will return to earth soon because my people are being destroyed. That is not who Jesus is or what he desires.
I live in Kyiv, and you pray for me.
I live in Moscow, and you intercede for me.
I live in Syria, and Haiti, and Ethiopia – and you have compassion for me.
Why is Palestine – why are Palestinian people – not worthy of your intercession?
'I was hungry and you gave Me nothing to eat, I was thirsty and you gave Me nothing to drink, I was a stranger and you did not take Me in, I was naked and you did not clothe Me, I was sick and in prison and you did not visit Me.'

And they will reply, 'Lord, when did we see You hungry or thirsty or a stranger or naked or sick or in prison, and did not minister to You?'

Then the King will answer, 'Truly I tell you, whatever you did not do for one of the least of these, you did not do for Me.'

And they will go away into eternal punishment, but the righteous into eternal life.

(If you question "business as usual" in Christianity – or want to question it – subscribe to my newsletter, and we can journey together!)

(If you would like to comment, please pop over to my Facebook page. All of my posts are there and open to constructive comment! I welcome your thoughts. And don't forget to subscribe to my newsletter!)
---
RELATED READING FROM GRACE-COLORED GLASSES:
Presbyterians courageously acknowledge Israeli apartheid – what's next?
UCC leads the Christian march to justice for Palestinians
Palestinians don't just need peace – they need Just Peace
"When I was hungry, you handcuffed me" – see Jesus in Palestinian children
The least of these need to see God in us
Ramadan for Christians: fasting in wartime
Easter for us, but Palestinians are still in Gethsemane
---
FEATURED IMAGE: "Scenes from Gaza Crisis 2014" by United Nations Photo is licensed under CC BY-NC-ND 2.0.