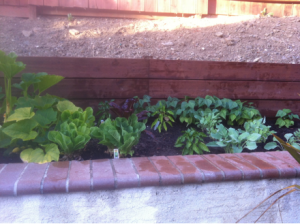 I have a well sustained reputation of being all thumbs in my garden and unfortunately, none of them are green! Despite this fact, we decided to invest in a backyard garden and give ourselves and our children the invaluable experience of growing our own food.
Perhaps it was because of my husband, who recently turned vegetarian or perhaps it was the beautiful spring weather in Northern California, or maybe even Michelle Obama's White House garden that everyone is talking about, but whatever the impetus, the initiative is well under way.
As long as my children can remember, we have shopped at the farmer's market for our weekly veggies and fruits and the time was ripe to begin our own garden. We had tried before, but the clay soil and the rocks holding up the hills we live on were not conducive to growing much and the deer usually enjoyed whatever little was able to sprout. This year, with a fence, a prepared garden bed, organic fertilizers and a host of little plants and seeds we were armed for the challenge. Best of all, I had an army of little soldiers ready to water, fertilize, weed, plant and harvest. I think their enthusiasm is what really took root.
When late spring rolled in with the fog from the bay, we began our humble garden. Like Arnold Lobel's Toad, my littlest one would sing to the seeds waiting for them to germinate. My second son joked about hitting the jackpot once the beans he planted sprouted, while my eldest dutifully watered the garden and waited eagerly for the results. The budding plants reinvigorated my family as we began to see life emerge from the ground and my daughter let each flower be- as she now learned that this will be what she soon eats!
Environmentalists will tell us how we can reduce our carbon footprint by raising our own food, while the frugal shopper will tell us that it's the cheapest food money can buy with a bountiful yield. Nutritionists will remind us how nutrient dense and tasty our home grown veggies and fruits will be, and doctors will agree that pesticide free, organic food will leave us healthier. What I want to highlight is how much my family has learned from the experience of gardening. From germination, pollination and a short, quick lesson on the birds and bees, to calculating the amount of water and fertilizer needed by a particular plant, to patience, responsibility, exercise, faith in God and gratitude- were all invaluable lessons learned with ease while experiencing the most amazing cycle of life.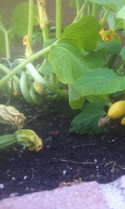 Now that my family has learned the values of healthy eating with fresh, and delicious home grown food, they refuse to see it go to waste because they've seen it take so long to come to our plate. According to Ted Steinberg, author of "American Green: The Obsessive Quest for the Perfect Lawn", Americans spend between $30-$40 billion each year on maintaining their lawns. The US census bureau tells us the average American spends up to 60% of their weekend hours working on their lawns. Imagine all this time and money spent on greens that we cannot even eat! Now imagine fresh, crisp lettuce- without threat of salmonella, green herbs only as much as your need, blossoming flowers, vine ripened tomatoes you don't have to pay an arm and leg for and sweet delicious fruits when you want them; all this for much less time and money. Remember change always happens in the home- or in this case, the backyard. Large backyard gardens or potted patio plants, each of us can teach our little ones the pleasures of gardening with a bit of will, water and Wikipedia; so get growing!
Shaheen Rasheed
Shaheen Rasheed is a homeschooling mother of four, residing in CA. She consults families interested in homeschooling and runs a blog on parenting and homeschooling issues. Check out www.soulfulstudies.wordpress.com to read more of her work.