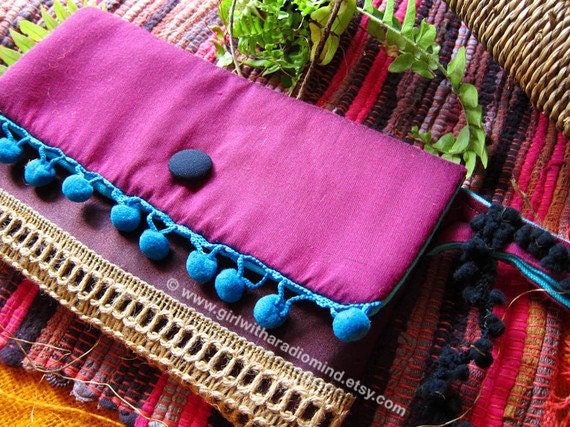 I went shopping the other day after a few weeks of living the hermit life of being a milking machine for my newborn. I had decided it was time to spread my wings (aka: be solo), get some fresh air (aka: shop) and pick up some items that I needed (aka: pants that did not have an elasticized waist). As I was walking around the store I spotted the cutest red clutch purse by an eco-friendly name brand I love. I quickly grabbed it and marched to the register. I was so happy to have found it since the store rarely carries that brand and I have always wanted a red clutch. As I walked out of the store, I felt the subtle pangs of buyer's remorse setting in as I began asking myself, 'Do I really need this clutch?'
As I continued walking, the questions also continued, 'Where are you going to wear this new purse?' 'What can you fit in it? Surely not diapers, wipes, a change of clothes, rash cream, snacks, and a sippy cup.' and 'How exactly are you going to even hold a clutch?' Talk about impractical!' My hands are already full and now I think I'm going to pop a clutch under my arm? Surely I'll lose it 5 minutes after walking into the first store. And then my inner voice lowered the boom: 'You don't live that life anymore. You'll never wear an everyday clutch ever again!' BOOM!
I mean it's a bit ridiculous. I don't sleep or eat regularly, I nurse around the clock and luxuries like showers are now more like challenges: how quickly can I get in and out? Yet this small purse reminds me of a life that I have left behind, and I'm sad about it. A part of me still wants to be that girl carrying a wallet and lip gloss inside a cute clutch, going out for impromptu outdoor summer lunches with friends. I want to be that well-put-together girl and not a tired mommy with bags under her eyes, covered in dried up – yet still sticky– pieces of banana. But that's just it, and Britney Spears warned me about this – I'm not a girl anymore. I'm a woman with 2 kids, leading a full life and my big purse and subsequent shoulder and neck problems represent that.
So when I return my clutch later on this week, I will be telling the world 'You can keep your cute little purses.!' Instead I will keep company with the likes of Mary Poppins and children everywhere will marvel at what I can pull out of my bag. Plus, big totes are in anyway…
Lena Hassan
Lena Hassan lives in Ottawa, Ontario and is a loving mother to two girls.