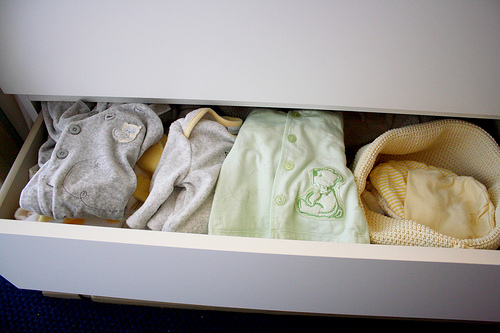 With three under five, it's hard to keep track of the clothes they've outgrown, those that are still too big, and those that have graduated into hand-me-downs. So, every few weeks, a ceremony takes place where the contents of the kids' cupboard are regurgitated, sorted and returned, after much rolling around in the clothes pile (by the two-year-old) and some rudimentary folding practice (by the four-year-old).
These sessions always serve to bring home just how fast they are growing (the children, not the clothes). In the days where Aaminah was an only child, the cupboard was… well, let's just say I never even knew so many shades of pink existed. Babygros and onesies gave way to candy floss-type confections and then jeans and t-shirts and, more recently, a school uniform.
Then the boys came along, trendier and more varied in their color scheme. T-shirts migrate from Ali's section to Khalil's with alarming frequency as Ali grows out of them like the Incredible Hulk. Sometimes I'm too late and they're small for Khalil too, and I step back, confused. In my mind, the two-year-old is still '9 to 12 months' and the 4-month-old is just a 'newborn'. Where does the time fly?
Azra Sheriff
Azra is a mother of 3 (6, 4 and 2) and lives in Tanzania. She was born and raised in the UK and is currently homeschooling her eldest daughter. She also runs a cupcakery.