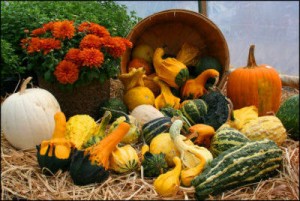 Something trivial and maybe insignificant, but I was on a trip with a friend to a farm a while ago. She bought a couple of gourds and squashes, and I asked her what she was going to cook with them. She replied , "No, they're for decoration." For an instant, I was confused. My mind instantly associated the gourd decor with Halloween.
But Alhamdulillah, I had a window of understanding opened, and a bit of stereotyping removed.
I went to another farm a couple of weeks later, and on leaving, they had a few pumpkins and gourds up.  Signs encouraged visitors to take a free pumpkin on their way out. But the pumpkins and gourds clearly said, "Not for cooking." "Huh", I thought. "I guess I'll take them and put them out as decorations." Not Halloween decor, but a celebration of Allah's creation. Of His magnificent orange, and yellow and green creations. Of these smooth pumpkins, and amazingly textured gourds. Of the curves, the bumps, the melding of yellow into green, the curved into straight, the strength and the amazing beauty.
Just like I have my acorns and pine cones decorating, my flowers and my seashells, my water and my plants, I have my pumpkin and gourds. An experience for my daughters to bring in the colors of autumn, the colors of Allah's creation.
My point is that some Muslims grew up with similar thoughts that pumpkins are bad, turkeys are bad. Not that black and white, but close enough. Slowly my realization has come to see it as another beautiful manifestation of our culture, of our celebrating Allah SWT, celebrating His bounties, His ability to create people with different cultures. I really liked a friend's words when she reminded us that this time of the year, October/November, is harvest time around many parts of the world. And for a world that was so dependent on the harvest for thousands of years, there is an amount of recognition placed on this harvest and His bounties on us, especially during this time of year.  This is part of our connection to His earth and His creation.
Fatima Abdallah
Fatima Abdallah lives in Northern Virginia with her two daughters and husband.