by Sobia Ali-Faisal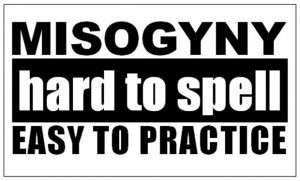 To best understand the relationship between misogyny and sexual health I'll begin this piece with a comprehensive definition for each term.
Misogyny: "[M]isogyny is primarily a property of social systems or environments as a whole, in which women will tend to face hostility of various kinds because they are women in a man's world (i.e., a patriarchy), who are held to be failing to live up to men's standards (i.e., tenets of patriarchal ideology which have some purchase in this environment)" (Manne, p.2). In other words, misogyny is systemic oppression of women, within patriarchal societies in which women are expected to adhere to patriarchal expectations, otherwise face punishment.
Sexual health: Sexual health "is a state of physical, emotional, mental and social well-being related to sexuality; it is not merely the absence of disease, dysfunction or infirmity. Sexual health requires a positive and respectful approach to sexuality and sexual relationships, as well as the possibility of having pleasurable and safe sexual experiences, free of coercion, discrimination and violence. For sexual health to be attained and maintained, the sexual rights of all persons must be respected, protected and fulfilled" (World Health Organization, 2006).
We all are aware that sexual health is not something which is explicitly discussed in Muslim communities. However, subtle messages and lessons regarding sexuality and sexual health are being relayed to women constantly and these messages place a heavy burden on them.
"Wear a long shirt when you go to the mosque. You don't want the men to see your curves."

"Don't get too comfortable/friendly with the boys in your class."

"Keep your voice down in the mosque. The men shouldn't be able to hear you."

"If a man sees your hair your wudu is invalidated." (Yes, I was told this once.)

"Don't stay out past dark. People will talk."

"You don't need to know those things until you get married. And then, your husband will teach you." (Though this message may not be explicitly stated, there are ways in which this message is relayed.)
None of these statements mention sex or sexuality explicitly, but they all send a clear message. "You, woman, are a sexual being whose curves and voice will sexually excite and distract men, who, upon seeing your hair, will have thoughts so dirty YOUR wudu will be invalidated. Also, getting friendly with the boys in your class will inevitably lead to sexual relations and if you stay out past dark people will assume you're out there having sex with men. Oh, and if you know about sex before you get married then your husband will assume you were out having sex with men and he won't respect you. So just let him teach you because he knows from all the sex he was out having with women, like most guys do."
Women's sexuality, in Muslim communities, is too often defined in relation to men. The attitudes, views, opinions, and thoughts of men are given priority over the reality of women's lives. Women's behaviour is strictly regulated to the meet the patriarchal expectations laid out by men. And, as a result, women's behaviour is often viewed in sexual terms such that women are policed to behave in ways that do not "force" men to behave in sexually "haram" ways or that ensure people know you are not engaging in "unlawful" sex. When women do not adhere to these expectations, or are assumed to not be adhering to them, they are faced with derision, disrespect, and sometimes ostracization and isolation.
This is misogyny. And enacting this misogyny in the name of religious duty or obligation is a form of spiritual violence, in which women are denied access to religious and spiritual attainment because they fail to meet patriarchal expectations of women's behaviour.
So how is this misogyny harmful to women's sexual health? Because it denies women bodily autonomy, having a detrimental impact on the physical, emotional, mental and social well-being related to sexuality. It denies women the choice to decide what is and isn't sexual, safe, coercive, pleasurable, violence. It conflates non-sexual behaviours (how long our shirts are) with sexual ones and disguises sexually violent ones (coercion) as sexually healthy (sexual education) or natural (men can't control themselves).
It places the burden of modesty and honour on the shoulders of women, consequently victim-blaming women for any sexual disrespect and sexual violence they may endure.
It assumes women to be recipients of sex placing them in danger of being abused and manipulated, or in a situation of unpleasurable and uncomfortable sex. It shames women regarding their own sexuality and their bodies, a shame which can have an impact on their self-image, including their sexual self-image, and confidence.
So how do we address this? The answer is simple, yet one that meets a lot of resistance. Stop being misogynistic. Obviously, this is much, much easier said than done. We have had centuries of misogyny built into not only our culture, but also our interpretations of religion. This will take a lot of work and will require that we challenge those very patriarchal notions that so many of our values and beliefs are premised upon. But this needs to be done, one little action, one little step at a time, if we want healthy communities.
A few steps to begin this process:
Stop sending girls and women these harmful messages and start sending boys and men messages that instill the unconditional respect of women.
Educate girls and women on sexual health and give them the tools to make their own decisions on what is and isn't healthy for them.
Stop defining women's sexuality in relation to men. Women do not exist to sexually please men. It seems like it should not need to be said, but women are whole and holistic people, and sexuality only one part of our being. Let women, and girls, define and decide what we want.
Recognize women's right to bodily autonomy. A woman can choose to do with her body what she wishes. No one else has the right to decide for her nor to infringe upon her autonomy.
This is just the beginning, the tip of the iceberg. However, if we, as a community, begin with these few basic steps, we will be on the road to a sexually healthier community.
Sobia Ali-Faisal received her PhD in Applied Psychology from the University of Windsor in 2014. She currently resides in Canada.
Stay in touch! Like Heartfelt on Facebook: