by Alia Azmat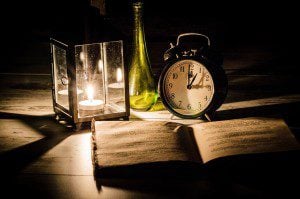 This Ramadan I made a pact with myself, to take care of myself. I stretched myself, I have been challenging myself, but perhaps not in the way you might imagine. I have not attended taraweeh every night. A few days I did not wake up to reap the rewards of suhoor, the predawn meal. One day I even made the conscious choice to listen to music instead of Quran on a long drive home. This Ramadan, I asked myself to be realistic, to be present, to be honest with myself about the mental habits I engage in which destroy my body and spirit. I asked myself to be honest with myself about the habits which prevent me from connecting to my Lord sincerely.
Early in the month, I was added to a WhatsApp group where I was asked to introduce myself and share something I consider beautiful others may not. Silence, particularly those "pregnant pauses" and the silence we do not afford ourselves during our busy days and packed schedules, is beautiful to me. Silence, when we are present enough with ourselves and our loved ones to ask "how is your haal (condition) today?" Silence, gives us permission to mess up as we answer the calls of our hearts. It gives others an opportunity to reach out, kindly, softly, either with their gaze, their touch, a smile, or statement, saying "it is okay" to stumble and fall through the fear of becoming.  Silence, when I allow myself to check in with myself in the morning (or in mourning), the late afternoon, right before Iftar, meal to break the fast — silently praying – "it was a difficult day today, but tomorrow I will try again for you my Lord." Silence, when I am able to tell culturally constructed demons named self-loathing, perfectionism, the push for "productivity," to take a back seat as I finish my final rakah (unit of prayer) or a particularly gluttonous dinner.
Still, silence, at times, can be scary.
When I am alone with these thoughts, reflecting on how and why these "basic" Ramadan tasks are difficult for me, I confront the devils God didn't lock up.
I am single. Why do I not think God is enough for me?
Instead, how I can be useful and supportive to other sisters like me?
I am studying. I resent summer school and sweltering through summer humidity.
But consider what opportunities God has given me (even through grad school poverty).
I am safe. What does it mean for me to show solidarity?
What do I do with the privilege of emotional safety. How can I accept I may never know  another's   experience intimately?
This Ramadan, I asked myself to sit with my guilt. For not praying more, for not observing more traditionally, for not being better to my parents. For me, these are true moments of reflection, of growth, of rebirth; but they are painful and uneasy.
This Ramadan I made a pact with myself, to take care of myself. God has given me the gift of intellect, of opportunity, of sincerity and concern for my community. What good am I to others if I push myself unrealistically, instead of reflecting and taking accountability? What do I lose in my relationship with Rabbul Alameen, Lord of the Worlds, when I reject spiritual sustenance, spiritual self-care, spiritual sustainability?
God is forgiving. But God is not only Forgiving in Ramadan. While we believe Allah's mercy is multiplied 70x in this Holy month, I want to believe His mercy could also be extended towards myself this month.
My fast will not look like your fast. And there are many ways to fast in this holy month. What would it mean for you to be honest with yourself this Ramadan? What is required of you to continue talking with Allah after the month is over? Kindness, self-acceptance, a prayer buddy, maybe one less (or more post-taraweeh) coffee? Spiritual self-care is not about overextending. Meet yourself this month where you need to be. Forgive yourself if it is not where you used to be.
So what does spiritual self-care look like? I implore you to figure it out with me this month and beyond–here are just a few reflections on what it could mean:
God says "I am as my slave expects Me to be." When you give yourself permission to make mistakes, you are humbling yourself — God is the only flawless, perfect Being. Giving permission to yourself to "mess up" in and outside of this month implies you trust God and choose to believe in His Mercy over His wrath.
Self-care can often sound "selfish." Explore the stigma surrounding this word. In writing this I had to address how uncomfortable it was to write about "me, me, me." It feels egotistical, it feels self-centered, at times it feels spoiled and indulgent. But when everyone around us is telling us not to celebrate ourselves and our achievements, maybe a radical Ramadan is simply saying "thank you God, for shaping me, for blowing ruh into me, for taking the time to fashion me individually." And yet "to know yourself is to know your Lord." Perhaps our "selfish" reflections can be reframed as acts of self-assessment. Since we are asked "to call yourselves to account before you are called to account."
On that note, there may not be one right or wrong way to reflect and call ourselves to account. I want so desperately for someone to tell me "THIS IS HOW YOU DO IT. THIS IS HOW YOU TAKE CARE OF YOURSELF." My challenges will look different than a mother taking care of her children, different than someone who just had, or lost a child — negotiating grief, roles, and expectations in the family. My struggles as a student in the Midwest, look very different than those working 9-5 jobs outside, or even inside, in the blazing Phoenix heat. Finally, for those who are unable to fast, for those managing visible and invisible conditions, such as PTSD, anxiety, eating disorders, chronic pain, or other medical conditions the collective Ramadan experience can be trying.
What I can share is what taking care of myself has looked like in the past: I've called friends, baked and shared sweet treats, let myself cry, writing poetry and taking time off social media to reengage with myself meaningfully. Others have told me spiritual self-care sometimes looks like not bringing a home baked item to an iftar party (GASP!), saying no to additional responsibilities at work, and not attending taraweeh in exchange for a good night's sleep. The test here in my opinion is to accept ourselves and others when we make these decisions.
Spiritual self-care acknowledges burnout. Therapist, psychologists, social workers, activists and others in the "helping fields" are told at the start of their work/programs, "to take care of yourself." We need to be nourished. Ramadan in many ways reminds us we cannot do it ourselves. We must allow others to lend us a hand. This can be particularly difficult for women I think. We are socialized to believe we can do it all. Without struggling or silencing ourselves and our suffering. Although we accept food from neighbors; we make efforts to eat and share together, we must similarly, trust and allow God and the other beloveds in our life to help us take care of ourselves.
As a woman, asking and accepting help is challenging for me. I wonder why I can't do it all (and have a killer Instagram account…). Implicitly I've been told "this is your job," "if you can't do it all, you are doing it wrong." This Ramadan I was reminded I have many people in my life I can trust to help me. But I realize not everyone has had similar experiences in their family or in their community. In being kind to ourselves we also allow space for us to be kind to others. To act with softness instead of shaming or humiliating individuals when they bravely reach out for assistance or worship differently.  As community members, sisters, friends, husbands, brothers, and spouses I think we need to be asking, "how can I help my loved ones take care of themselves?"
You are probably already asking God to forgive you during these last 10 nights. I wonder what it would be like to give yourself a moment of silence in moments of frustration…and forgive yourself. To reflect on yourself. I wonder what it would be like to ask God,
"What do I need to learn about myself to make my relationship [with you, with my parents, with my spouse, with my family, with your Holy Book, with myself, with humanity] BETTER – kinder, softer, more forgiving, more loving, more understanding?"
Say, "O My servants who have transgressed against themselves [by sinning], do not despair of the mercy of Allah. Indeed, Allah forgives all sins. Indeed, it is He who is the Forgiving, the Merciful (39:53)."
May God keep our hearts firm on the truth and allow us to fight for justice even if it is against ourselves, Ameen.
Alia is an Educator for HEART Women & Girls and is currently pursuing her PhD in counseling psychology.