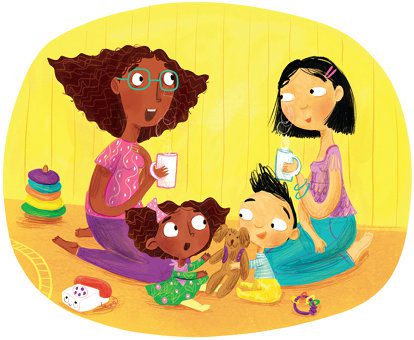 Trillia Newbell, the Director of Community Outreach for the Ethics and Religious Liberty Commission of the Southern Baptist Convention, has a new book out for kids that focuses on diversity. It's called God's Very Good Idea: A True Story of God's Delightfully Different Family
… and if you've got young kids, you'll want to pick this one up. Here's the description:
God's very good idea is to have lots of different people enjoying loving him and loving each other. This stunningly illustrated journey from the garden of Eden to God's heavenly throne room shows how despite our sinfulness, everyone can be a part of God's very good idea through the saving work of Christ. This book celebrates diversity and will help children see how people from all ethnic and social backgrounds are valuable to God and how Jesus came to rescue all kinds of people. It will also excite them about being part of church – God's delightfully different family.
When asked why she wanted to tackle such a subject, she said, "It's a part of our mission. God creates people who are different, he gave us nations. He died for every tribe, tongue, and nation. One day, we'll be rejoicing together. Let's start with our kids and start teaching them now. When my son was two, he started noticing that mommy and daddy looked different. His dad's white and I am black. He's said, ' Mommy's brown and Daddy's peach and I'm peach,' and I thought, How precious, they're already noticing. It's good to give them the foundation in God's word. They're already going to notice (race) and this will transform — at least this is my prayer – the way they relate to people their whole lives."
Hear her talk about her book below:
Trillia also delves into how to talk to kids about race, especially considering the fact that the news seems to be full of racial strife.
Here's her answer:
Image Credit: YouTube Screen Cap