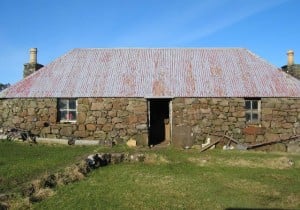 This weekend, I'm going to be busy hauling boxes and couches and beds across the city where I live. It's almost moving day, and I don't have much time to finish packing everything away so I can pull it out again in an apartment a few miles away from where I sit now. This planning has taken up a lot of my physical and mental energy.
But as I pack my things away, I've found myself slowly saying goodbye to the spirits of my house and land. I find myself leaving offerings more often, apologizing for the mess that packing creates, and mourning the loss of what has been a good relationship. My house is old and quirky, but it's never failed to give me the things I need most: heat, shelter, a place to hide when things overwhelm me.
I grew up with the idea of sentient houses, thinking of them as living things that ought to be cherished and cared for. My mother used to chastise us for being too loud, running around, or leaving messes; because we should want to keep the house happy. Every time we moved (and we moved a lot), she would comment on the feel or personality of the houses we looked at; largely eschewing newer homes in favor of ones with history and depth.
All this moving around, and my mother's ideas, has cemented in me the idea of house wights. Every place I've been to has its own feel; whether it's the stark bright newness of identical tract housing or the deep dark corners of the Victorian-style built in 1910 – and don't even get me started on the 11th century houses I saw in Denmark!
And so as I bid goodbye to my very good friend, I look forward to getting to know the spirit that waits in my new residence. My first impression was good, he seems like a nice quiet sort who will probably appreciate being acknowledged. But it's through offerings and co-habitation that we will truly get to know one another, and he might turn out to be entirely different than I expect.
The word for these spirits in Anglo-Saxon was cofgodas, and Ken Dowden writes in his European Paganism: The Realities of Cult from Antiquity to the Middle Ages that these spirits are a predecessor of the belief in brownies. In 1703 minister John Brand addressed the belief in these spirits, writing:
"Not above forty or fifty years ago, every family had a brownie, or evil spirit, so called, which served them, to which they gave a sacrifice for his service; as when they churned their milk, they took a part thereof, and sprinkled every corner of the house with it, for Brownie's use; likewise, when they brewed, they had a stone which they called "Brownie's stane", wherein there was a little hole into which they poured some wort for a sacrifice to Brownie."
From this we can gather that house spirits probably enjoy milk or alcohol, and I feel you can't go wrong with the traditional Celtic offerings of bread or honey either. Of course, sometimes the most polite thing to do is simply to give the house spirit a small plate of food that you serve the family; this offers an invitation for the spirit to be like one of the family – and since you're living in its space, it seems appropriate.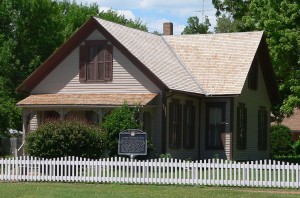 Many house spirits where I live in the United States are not used to being acknowledged, and may be hesitant to open up at first. In my experience, a house and its spirit will largely do their jobs, both physically and spiritually; barring major neglect, the roof will stay up, you will stay warm and dry, and the house will start to feel like home.
I believe this is because, by and large, most people uphold their end of the bargain without realizing it. In keeping your living space clean-ish, making sure repairs are done in a timely fashion, and trying to make your home a more beautiful space, you are honoring the spirit of your house or building.
Taking that next step, of addressing and giving gifts to the spirit of the house, obviously isn't necessary to keep a roof over your head. But I believe that taking the time to get to know and treat this spirit like the gift to your family that it is can help to create an even more welcoming and harmonious place to live. To put a twist on a famous phrase: "when the house wight's happy, everyone's happy"!