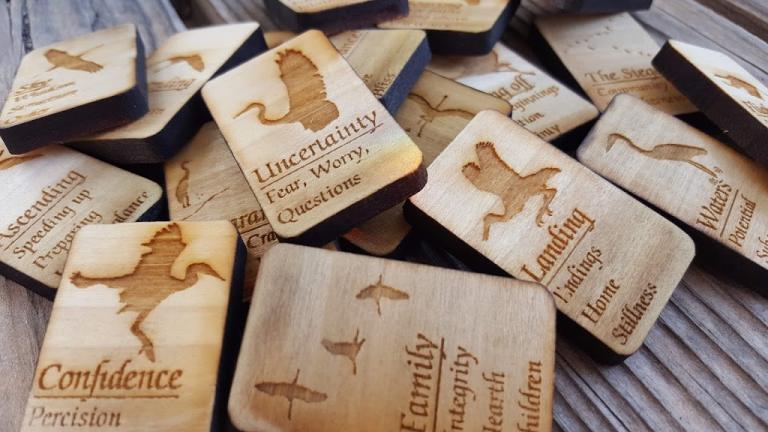 I'm something of a collector of different divination sets and methods. Runes, invented medieval alphabets, mysterious ancient symbols, modern creations; I love them all. So when I was wandering around the internet and stumbled upon the Crane Divination Set, I was immediately interested.
The Crane Divination Set is a set of 18 rather large and hefty wooden tokens. Each one is inscribed with something related to the life of cranes, with titles like Ascending, Unison Call, and Warning. They're about an inch and a half tall, and quite thick. The images, titles, and keywords are laser-etched into the wood. The process is sometimes a bit off, and some of the keywords are harder to read than others.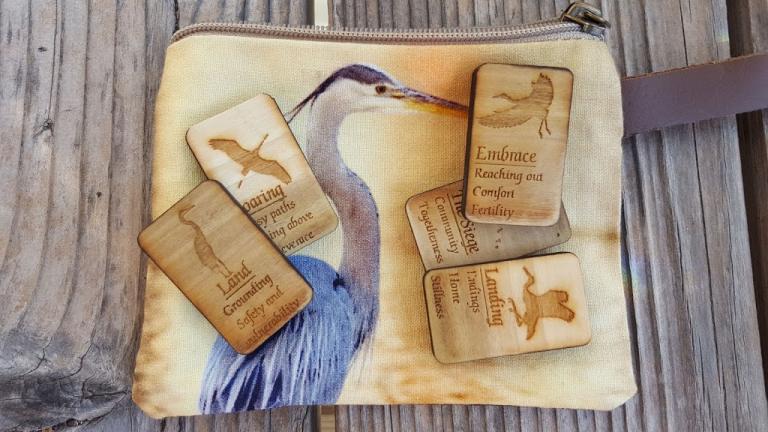 They were created by Michael Dangler, ADF priest and owner of the Pagan shop, the Magical Druid. Michael is a long-time member of Three Cranes Grove, an ADF Grove that has worked with crane spirits for years. I met him once a few years ago at the Midnight Flame festival; he's a very knowledgeable and friendly person.
One reason I was so taken with this oracle is my desire to learn to divine auguries. I'd love to be able to pause at the right moment in ritual, look to the sky, and pronounce what I feel the spirits are telling me via the flight of birds or any other natural phenomenon. This oracle struck me as a good gateway to that. Many of the natural actions of cranes are laid out with simple, easy to understand keywords.
I love the crane set in particular because cranes have a very strong connection with the river Goddess I honor. The Platte River is one of the main mating and nesting sites for many species of cranes. I am lucky enough to have grown up seeing great blue herons and sandhill cranes wading in its waters. These birds feel like a special connection to my Goddess, and I love having a system of divination that feels more in harmony with Her.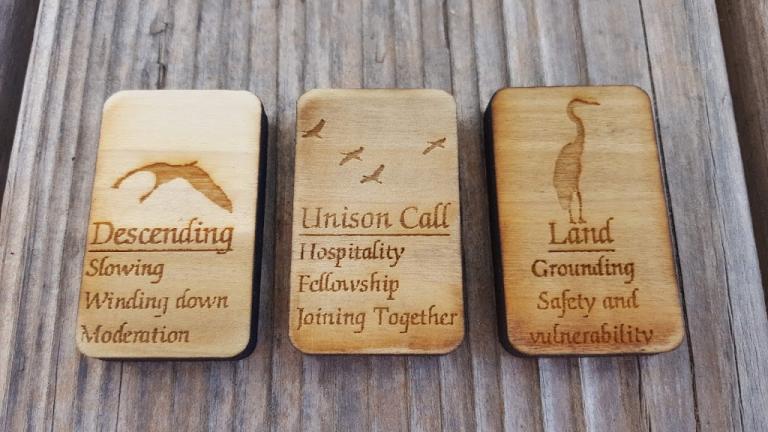 I did a three tile reading to demonstrate how the oracle can work. I drew the tiles from a pouch, and drew Descending, Unison Call, and Land. To me, this is my Goddess telling me to slow down and appreciate my family, spending time with them and finding safety in their companionship and love. This is always good advice for me, so it's much appreciated!
I feel the biggest problem with most divination sets is variety. It's difficult to be all-encompassing of possibilities with just 18 tokens or 30 cards. In many ways, part of this is in the skill set of the diviner. You must find a meaning within the given keywords. But good divination tools will make that easy; presenting the good, bad, and everything in between. I found the Crane Divination Set to be one such well-rounded tool.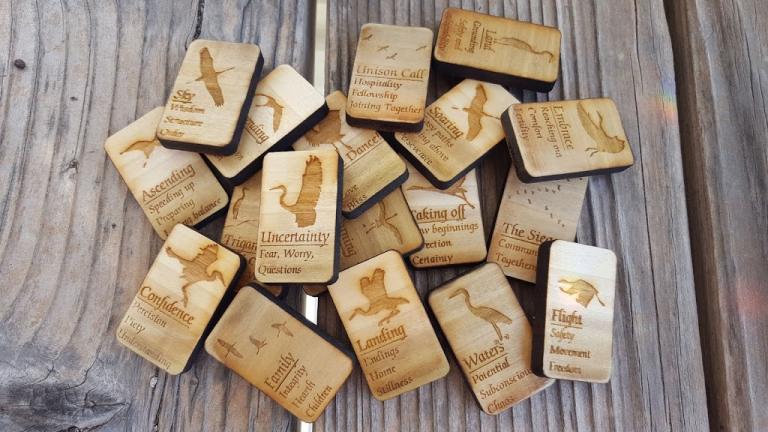 The Crane Divination Set is a wonderful addition to any diviner's repertoire, particularly those who are more focused on the natural world. It also would work well for a Pagan more focused on modern aspects of the religion, who might not relate to symbol sets such as the runes or ogham. It's also nice to have a divination tool that's not associated with a particular geographic area or pantheon.