** UPDATE 3/22/12: Moratorium passed! Read more here! **
** PLEASE BE SURE YOU READ THE UPDATES TO THIS POST
LISTED AT THE END FOR THE ENTIRE STORE **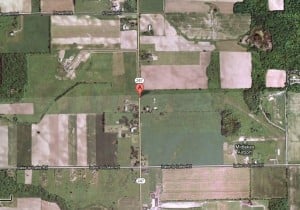 According to the Messenger Post newspapers in Canandaigua, NY, plans for a new dog breeding facility have been approved by the Ontario County Planning Board. The facility "could house hundreds of dogs in a new building planned for 4446 Route 247, north of the intersection of Lake to Lake Road" in Gorham, NY.
The Ontario County Planning Board unanimously approved Curtis and Jolene Martins' request for a special use permit, as well as the Martin's site plan following a public hearing last week. According to the article:
"The Martins presented detailed engineering and design plans for what Harvey said would be a wholesale business in a new building equipped for anywhere from 200 to 600 dogs, depending on the size of the animals. "
The Martins run a puppy mill called Puppies R Us in Varick, NY, in Seneca County, a notorious hotbed for puppy mill breeding facilities. Animal welfare groups across the country keep their eyes on what happens there.
So here's the catch: the Martin's new facility is planned for Gorham, NY, which is in Ontario County. Not in the notorious puppy mill hotbed of Seneca County.
On December 19, 2011, Curtis Martin and the architect for the proposed facility, Curtis Long, appeared before the Gorham, NY planning board to address the board's questions and concerns about noise, waste removal, and construction.
Martin said the facility would "disturb" about 3/4 of an acre for about a facility that would house about 500 dogs. Did I read that right? Because if that's not a flaming, blazing red flag, I don't know what is.
Martin was also asked about the disposal of dead dogs – he replied that they would be composted or buried on the property.
And when asked by board member Ms. Watkins whether there would be outside kennel facilities, Curtis Martin replied that there would not be, that all kennels would be inside as would exercise runs.
Danger, Will Robinson!!
At least one board member asked about USDA inspections; Martin said that at his other facility, which houses 400 dogs, the USDA inspected twice last year. Martin's explanation for contamination containment was vague – he proposed not bringing in disease with proper handwashing, and that no one other than employees would be able to enter the facility.
The major problem with this, of course, is the Gorham board's apparent plan to rely on the USDA to ensure that the Martin's actually follow the regulations. If no one except employees are allowed to enter the building, and the USDA only checks in twice a year, isn't there a lack of oversight?
But there's a question even bigger than that:
When a planning board looks at a proposal like this, don't they consider more than just the engineering plans, the environmental impact, the building codes? Do they consider the humanity of such an enterprise? That using dogs to systematically breed and sell puppies has an aspect beyond economic? That we're talking about living, breathing, feeling animals?
Because a "wholesale" facility with a "state of the art" waste removal system that houses between 200 and 600 dogs is still a puppy mill. Just because a female dog is bred over and over and over in a cage with a modern poop removal system doesn't mean it's any less humane.
I suspect that wasn't a large concern. Ontario Planning Board Chairman Tom Harvey is quoted in the story saying, "It is a business in an agricultural district, a sound facility."
Of course, no one expects a large scale puppy mill in beautiful Ontario County. But just because a clothing manufacturer, for example, has a state of the art facility in a manufacturing district doesn't mean the employees are being treated humanely. And not to anthropomorphize too much, those dogs are the "employees".
There were some comments from people in attendance. Bill Glitch asked about breeding more small dogs than the public might want; Hella Santee asked about the ground water, since she lives nearby and has a shallow well; Margaret Brewin asked about composting the dead animals with the amount of clay in the soil.
At the end, the board listed some things they wanted more information about: noise, composting dead animals, water runoff, deliveries and storage, how visitors to the facility would decontaminate themselves, disposal system and DEC requirements, water usage calculation, that utilities would be underground, and the number of breeding dogs would be more clearly determined.
Not one single person questioned the morality of a wholesale dog breeding facility, asked what the size of the cages would be, how often the dogs would be exercised, or other questions about the actual care of the animals.
Of course, asking the breeder to make sure not to make noise or otherwise draw attention to the facility only ensures the puppy mill will operate unchecked. Out of sight (and sound), out of mind.
You can read the minutes of the December meeting, along with questions from those in attendance, here. When the public hearing was re-opened on January 23, the Martins apparently addressed concerns satisfactorily enough for the board.
One of the questions from the audience mentioned 4520 Route 247 in Gorham, saying that if the paper has listed that property as the one in question, more people would have come to the meeting. The property appears to be for sale or has a sale pending. The property at 4446 Route 247, where the facility will be, was sold last August for. $275,000. If you live in Gorham, NY, I'd love to know why that might make a difference to residents.
And how do you feel about having a puppy mill in your backyard? Curtis Martin was quoted in the MPN.com article, when asked about plans for the breeding facility, with this response: "It is my own personal business." When you run a commercial enterprise like a puppy mill – and when you house 500 adult dogs and process about 1,000 puppies every year … yeah, that's a puppy mill – are you not accountable to your neighbors? And aren't your neighbors obligated to ask questions? Or is the attitude different in a primarly agricultural area?
For ways to help stop puppy  mills, visit The Humane Society of the US's website.
UPDATE 2/3/12: Readers speak out on the Gorham dog breeding facility
UPDATE 2/4/12: What you can do about animal cruelty in your community (whether you live in Gorham or not) – This issue has gotten out of control with people going off in a hundred directions. PLEASE read this update before going off in a hundred directions with protests and FB pages and other things that will raise the emotion level but not address the issues.
RELATED POSTS: