A recent Barna Research Group study reveals that many pastors are silent on what they consider "political" issues; yet their congregants don't want them to be.
"As the U.S. presidential election looms, pastors might wonder how to lead well during this time of increased tension," the report states. "If our data on the tug-of-war for their engagement is any indication, they likely feel there is no way to win with all of their congregants.

"Regardless of whether pastors are talking about political issues, their people certainly are—and much more so than in the past. Barna research conducted earlier this year show engagement in following or discussing politics since the 2016 election has risen among both practicing Christians (48% of Christians who attend church at least monthly and say their faith is important to them) and the general population (41% of all U.S. adults)."
Roughly 58 percent of Christians surveyed, and 64 percent of adults who have attended church within the past six months, say their church leaders only address political issues occasionally, whereas 36 percent say their pastors never address them.
When asked if they wished their pastors spoke more or less about political issues, 46 percent of practicing Christians and 40 percent of churched adults said "neither—keep it the same," whereas 26 percent of practicing Christians compared to 30 percent of churched adults, prefer socio-political and cultural issues were brought up more, while about 18 percent said they wish the issues were addressed less.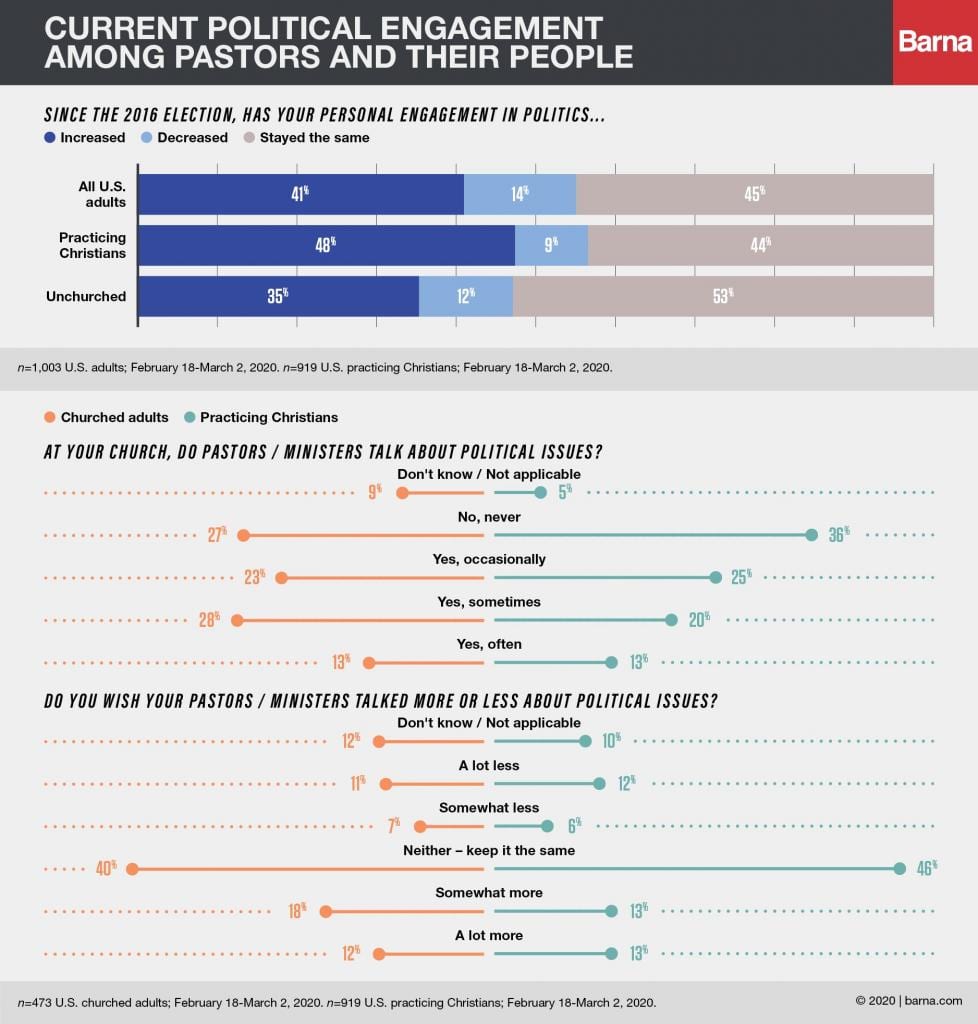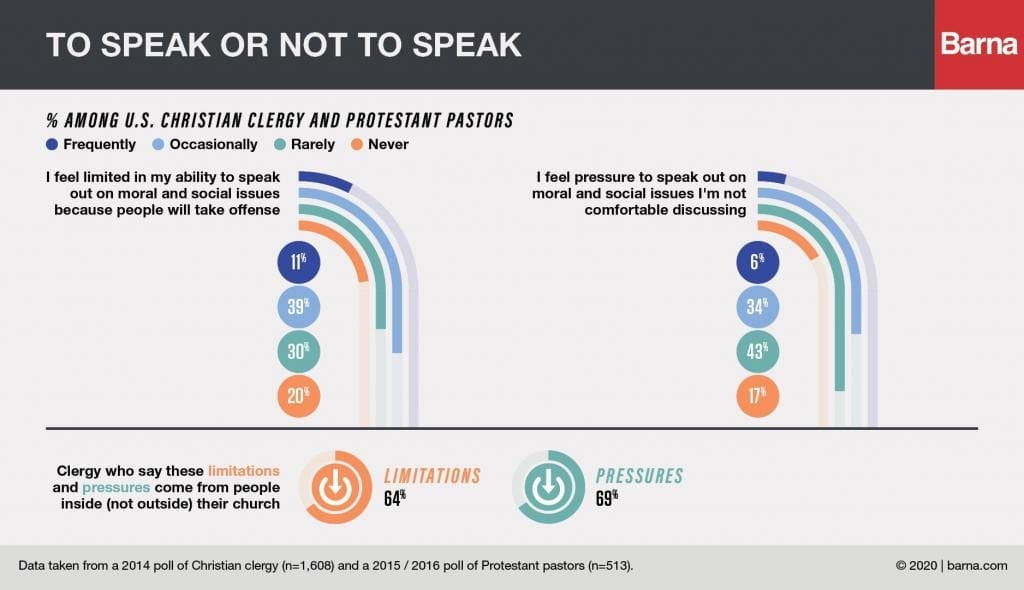 Another Barna study found that 90 percent of pastors believe helping congregants embrace biblical beliefs about specific social issues is a critical part of their pastoral role. Most, 60 percent, only believe they have "some" influence with their congregation.
Half of Christian leaders polled, 50 percent, said they frequently or occasionally feel limited in their ability to speak about moral and social issues because their congregants will be offended or upset; 34 percent said they feel pressured by people in their congregation to speak about political issues even when they don't feel comfortable doing so.
Pastor Rob McCoy of Godspeak Calvary Chapel in Newbury Park, California, argues that pastors not speaking about political issues is simply not an option. They don't have the luxury to be silent at a time when governors are silencing speech and mandating that churches are nonessential– fining, and even imprisoning, Christians who meet to worship God, going so far as to specifically ban them from singing.
Washington, D.C.-based nonprofit religious freedom and education organization, Liberty Counsel, has published thousands of Silence Is NOT an Option DVDs and booklets, a Patriot's Handbook of Political Action for Pastors and Churches, and a national, personalized voter guide to aid pastors and Christian leaders to speak about important biblical and moral issues.
Liberty Counsel's founder and chairman Mat Staver explains why leaders should not be afraid about doing so:
"We need to stop the spiral of silence in America, and pastors need to speak up now," Staver argues. "This is not about politics. It is about biblical and moral issues that have become politicized. Silence is not an option."