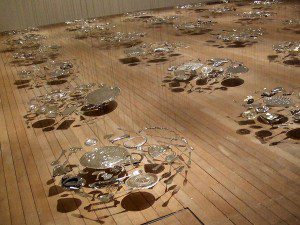 The best way to spend 30 pieces of silver.
By now, you probably have heard that Donald Trump is going to be interviewed on EWTN. This, after a radio program cancelled an interview for the American Solidarity Party's Presidential candidate. Are you really that surprised? They once gave an unwelcome defense of torture, so it should not be a surprise they torture us with Trump's nonsense. But this is not anything new. Mother Angelica once used her own show to pitch satellite television. There has always been something rotten coming from EWTN and the sub-Catholic culture it has established for itself. Make no mistake, EWTN has consistently engaged in creative dissent against Catholic teaching since its inception, equivocating American conservative orthodoxy with Catholicism. This is why monetary interests can be supported by them – and yet, as the love of money is the root of all evil, we should not be surprised at the evil which has come forth thanks to the capitalist ethic which EWTN has promoted over and against authentic Catholic Social Doctrine.

Yes, EWTN sometimes has interesting programs, and many have learned elements of Catholic thought through them. Many have converted thanks to their efforts. But often EWTN gives an incomplete presentation of Catholicism, and so the converts who only watch and follow its programs end up with an incomplete catechesis. This makes it easier for EWTN then to promote its political agenda, for if they construct an incomplete picture of the Catholic faith, then it is easy to use that construct to suggest things which the Church does not teach. And so the danger is that EWTN misleads with partial truths, leading many to heretical conclusions. Truth must be taught in its fullness, especially those elements which counter our secular worldview.
Many will find all kinds of excuses to defend Trump coming on to EWTN. Isn't it good for them to be able to question one of the presidential nominees? Certainly, but when it is only one they choose to interview, it looks far more than a normal interview; it appears to be a political promotion. Such an argument would be justified if they gave other candidates equal access and time, and challenged all in their potential moral and political failings. But, some would say, Trump claims to be pro-life. Certainly that is the claim (though many would think it is hardly justified in action), but he is not the only candidate to have such a claim, and yet he is the only candidate they interview. But, some would say, other candidates are not viable. Perhaps, at this stage, they are not, but they should still be able to bring their picture of a better future to the public, to work for change; to ignore them is to make sure they never will be viable and so it becomes a self-fulfilling prophecy which then the GOP and DNC are able to use to their advantage.
As long as EWTN feels free to promote a Pope-bashing candidate who disregards the dignity of human life by looking at everyone as plaything for his own pleasure, I can give EWTN zero support. And this, I believe dear reader, is the level of support all good Catholics should give to EWTN. They don't deserve our support so long as they actively promote a man whose policies and actions counter the basic foundations of Christian engagement with the other without denouncing his evil actions and policy objectives.
Stay in touch! Like A Little Bit of Nothing on Facebook: