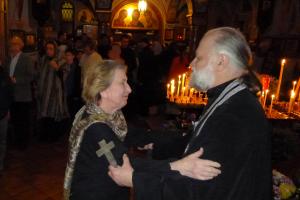 The Great Fast, Lent, is not only the time set aside to prepare the faithful for the Paschal (Easter) celebration, it is also the time during which the faithful should reflect upon their temporal existence and their preparation for their participation in the Resurrection of Christ at their own resurrection in the eschaton. The time of Lent can be seen to represent temporal, earthly existence and the slow spiritual evolution or pilgrimage of life which we go through before we reach our final destination of eternity. We already share in the glory of the resurrection thanks to baptism and the sacraments which we receive, but insofar as we continue to think, live and act with influences from our old, fallen mode of existence, we are not fully there yet. Throughout our lives, we feel he taint of death, the taint of sin, corrupting us, destroying us, indeed, turning us away from the glory of being which we receive from the resurrection as we return to the nihilism of sin.
Lent, therefore, should be the time of year during which remember our time on earth is a time in-between death and life. Thanks to grace, we are capable of sharing in and participating in the glories of life as it slowly awakens us out of our state of sinful death, and yet we continue to experience the corruption of sin trying to take us over, to defile and destroy that remnant of life which we have within us. Lent is the time in which we come to know, and therefore, come face to face with all the inclinations of sin which remain in us, those inclinations which would lead us to the edge of 8,existence and beyond to the nothingness of death. We see that we exist between full life and death, and that we must move ourselves onward towards life. We do not have to do it alone. Like the people of Israel wandering in the desert, we find that God is willing to give us what we need so that we can be strengthened and nourished so as to make out way to the end of our journey: the fullness of life manifested and experienced in and through the resurrection of Jesus Christ. Just as Lent prepares us for Easter, so it also prepares us for to receive the full fruit of Christ's glorious triumph over death. The Paschal feast is, as Alexander Schmemann explained, not just a memorial of Jesus's temporal resurrection at one time and place in history, but a celebration of the transcendence of that event as we participate and share in it, both in our liturgical celebration of the event, but also in the transformation it brings to us, preparing us for the end of our lifelong journey by our entrance into the kingdom of God:
Thus on Easter we celebrate Christ's Resurrection as something that happened and still happens to us. For each one of us received the gift of that new life and the power to accept it and to live by it. It is a gift which radically alters our attitude towards everything in this world, including death. It makes it possible for us to joyfully affirm: "Death is no more!" But it is our whole faith that by His own death Christ changed the very nature of death, made it a passage — a "passover," a "Pascha" — into the Kingdom of God, transforming the tragedy of tragedies into the ultimate victory. [1]
Physical death is now a passage, and not the end. Spiritual death, if left to its own devices, would use physical death to bring us to our final end as it seeks the nihilistic destruction of being as the solution to all the angst and anxiety contained in fallen being. But Jesus shows us that we must take a journey with him, to share with him the outcome of death, to see that physical death has an end, an end which we do not have to embrace and hold onto as spiritual death tries to tell us. The Great Fast seeks to detour us from the end which spiritual death would have for us, and it does this by having us detach ourselves from the spiritual poisons which are set before us that would lead us to embrace sin and the spiritual death which comes from it. While this often means we engage various ascetic practices, such as fasting, we must remember that ascetic detachment is not the point, but only a tool. Faith, hope and love, and the virtues which flow from them, is what these practices are meant to establish within us. The Great Fast reminds us to disconnect from all unwholesome desires, all the enticements and poisons of spiritual death, so that we turn away from the selfishness and despair that comes as a result of spiritual death and towards the charity which we should have, the charity that opens us up to Christ and the eternal life which he wants to bring to us.
As the Great Fast begins in the Christian East, the words of Isaiah are read, reminding us as to what our focus should be:
Wash yourselves; make yourselves clean; remove the evil of your doings from before my eyes; cease to do evil, learn to do good; seek justice, correct oppression; defend the fatherless, plead for the widow.

Come now, let us reason together, says the LORD: though your sins are like scarlet, they shall be as white as snow; though they are red like crimson, they shall become like wool. If you are willing and obedient, you shall eat the good of the land; But if you refuse and rebel, you shall be devoured by the sword; for the mouth of the LORD has spoken (Isaiah 1:16-20 RSV).
We must do more than stop doing evil, we must seek after the good. We can't just fast and ignore injustice: we must rather recommit ourselves to personal acts of charity and social justice, doing what we can to help those in need, including and especially transforming the structures of sin into structures of grace and justice. [2] The Great Fast is about our entering into a new relationship with God, reasoning together with him in the way in which we can explore justice and charity with him: reasoning with God is reasoning with love, and to listen to his reason is to listen to the dictates and expectations of love. What the Great Fast would have us do is put aside all that has come in the way of love, all the attachments which blind us to the injustices around us, so that we can truly reason with God and follow his reason so as to execute it in our lives.
The Great Fast, thus, is not about depriving us from food and drink and the pleasures of life, but rather, it is about cutting off all things which get in our way and impede our progression to eternal life. The time of the Great Fast reminds us that we are on this journey: indeed, in the Christian East, Scriptural readings focus on this journey, looking to the spiritual genius of the Jews and their holy writings as a way to remind us of what is expected in that journey. The passage of the people of Israel from Egypt to the Promised Land is the passage which we experience, again and again, year after year, when we come to the time of Lent. We are journeying from the slavery of sin to the promise of the kingdom of God. We seek God's will be done on earth as it is in heaven. The Great Fast demonstrates how heaven and earth are to be bridged: both by the miracles of God in our lives, giving us the spiritual strength to go on, but also in the activity of the people of Israel, showing that we have our part to play, that we must be willing to follow God and his direction, so that we too can come to the end of our journey and follow after Jesus to the promised land of milk and honey.
---
[1] Alexander Schmemann, Great Lent: Journey to Pascha (New York: St Vladimir's Seminary Press, 1969; rev. ed. 1974), 12.
[2] It is important to see that Isaiah, in his decree, compared the sin of Israel to that of Sodom, demonstrating that his understanding of the sin of Sodom was the same as Ezekiel: "Behold, this was the guilt of your sister Sodom: she and her daughters had pride, surfeit of food, and prosperous ease, but did not aid the poor and needy. They were haughty, and did abominable things before me; therefore I removed them, when I saw it." (Ezek. 16:49-50 RSV). God was willing to forgive and transform Israel, even as God is willing to forgive and transform us, if we take on the cause of justice and overturn the avarice and pride that leads to the destruction of the poor and needy.
Stay in touch! Like A Little Bit of Nothing on Facebook