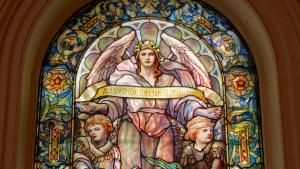 We all tend to look to others, desiring the approval of our peers. There is, to be sure, something natural about that: we are social creatures, and having our thoughts and deeds affirmed by others makes us feel as if we have found our place in society. The problem is that this easily turns into vainglory. We more than seek after the approval of others, we desire to be praised, to hear how great others think us to be. The Desert Mother, Amma Sarah, on the other hand, said that our goal should not be the praise of others, but a purity of heart. Then our proper relationship with others can be established:
Amma Sarah said, "If I prayed God that all men should approve of my conduct, I should find myself a penitent at the door of each one, but I shall rather pray that my heart may be pure towards all."[1]
If all we do is seek the approval of others, then we will not seek and do what is good and true but rather, we will act upon and accomplish the various apparent goods which others desire. We will have to go to each person and act according to their desires, whether or not their desires are good and true. One person might want to be rich: to get their approval, we would have to find out how to make them rich, even if such inordinate wealth would not be good for them. Another person might lust after us, and the only way they would give their approval is by our accepting their sexual advances, allowing ourselves to be used by them. Another person might desire someone they hate dead, expecting us to kill their enemy for their approval. On and on we can go with examples of people who would approve us only if we give in and help them with their inordinate desire. If we did as they wished, we would hurt not only ourselves, but also them, by helping achieve an improper goal.
Instead of doing what others wants, we must do what is good and true, even if it means we do not get the approval of everyone. "Am I now seeking the favor of men, or of God? Or am I trying to please men? If I were still pleasing men, I should not be a servant of Christ" (Gal. 1:10 RSV).
We must desire to be pure before all. To do that, we must attain purity of heart. Evagrios states that vainglory, that is, self-esteem, hinders such purity because it brings in a rush of evil thoughts, making us think we have attained a greater status than we have, diverting us from that purity itself. We end up glorifying ourselves and the goods which we think we have attained instead of focusing on the good which we should do:
In the whole range of evil thoughts, none is richer in resources than self-esteem; for it is to be found almost everywhere, and like some cunning traitor in a city it opens the gates to all the demons. So it greatly debates the intellect of the solitary, filling it with many words and notions, and polluting the prayers through which he is trying to heal all the wounds of his soul. [2]
We should seek to please God. God is love, and the purity of our heart will lead us to see God, for God is love. Thus, Paul said, his appeal will always be to please God, who tests our hearts, to see how pure they have become:
For our appeal does not spring from error or uncleanness, nor is it made with guile; but just as we have been approved by God to be entrusted with the gospel, so we speak, not to please men, but to please God who tests our hearts. For we never used either words of flattery, as you know, or a cloak for greed, as God is witness; nor did we seek glory from men, whether from you or from others, though we might have made demands as apostles of Christ (1Thes. 2:3-6 RSV).
Becoming pure at heart so we can be in proper relationship with God and with each other requires a willingness to watch over ourselves, and to put a stop to any and all inclinations to promote ourselves above all others. The virtues which we must seek after, the virtued which Jesus spoke about in the Sermon on the Mount, all rely upon humility, but to attain such humility, we must watch after and put to a stop all vainglory and pride, all attempts to lift ourselves over others. Thus, St. Symeon the New Theologian says
In short, if you do not guard your intellect you cannot attain purity of heart, so as to be countered worthy to see God (cf. Matt. 5:18). Without such watchfulness you cannot become poor in spirit, or grieve, or hunger and thirst after righteousness, or be truly merciful, or pure in heart, or a peacemaker, or to be persecuted for the sake of justice (cf. Matt. 5: 3-10). To speak generally, it is impossible to acquire all the other virtues except through watchfulness. [3]
Vainglory, seeking the praise and affirmation of others, turns us away from the humility which we need to attain purity of heart. Likewise, this means we must stop acting as spiritual judges over others, thinking ourselves as superior to them. Just because we do not look for their vain praises does not mean we are pure in heart: if we think of ourselves as superior to them, worthy of judging them, our pride continues to turn us away what is good. Thus, St. Maximos the Confessor explains, such pride turns us away from our own personal reformation as we seek to take the place of Christ and judge others:
But men have given up weeping for their own sins and have taken judgment away from the Son. They themselves judge and condemn one another as if they were sinless. 'Heaven was amazed at this' (Jer. 2:12. LXX) and earth shuddered, but men in their obduracy are not ashamed. [4]
Indeed, those who are so focused on the sins of others, judging them, condemning them, think they have come to righteousness, but the reality is otherwise:
He who busies himself with the sins of others, or judges his brother on suspicion, has not yet even begun to repent or to examine himself so as to discover his own sins, which are truly heavier than a great lump of lead; nor does he know why a man becomes heavy-hearted when he loves vanity and chases after falsehood (cf. Ps. 4:2). This is why, like a fool who walks in darkness, he no longer attends to his own sins but lets his imagination dwell on the sins of others, whether these sins are real or merely the products of his own suspicious mind.[5]
To focus on others, either seeking their approval, doing all we can do to receive their praise, or else, instead of seeking their praise we desire to control and dominate them according to the little grasp of the goodness and truth we have, comes from the same fault. It is a disordered relationship with them, in both occasions, based upon a desire to feel superior to others. Vainglory, however, at least desires some good will with others, while a judgmental pride usurps the proper harmonious relationship which we should have with them, so that of the two, pride is worse. Pride destroys harmony as it usurps, in self-theosis, that which is God's by right. Thus, as St. Peter of Damaskos, following St Maximos, indicates, those who are judgmental turn away from grace:
If those attacked by many passions of soul and body endure patiently, do not out of negligence surrender their free will, and do not despair, they are saved. Similarly, he who has attained the state of dispassion, freedom from fear and lightness of heart, quickly falls if he does not confess God's grace continually by not judging anyone. Indeed, should he dare judge someone, he makes it evident that in acquiring his wealth, he has relied on his own strength, as St. Maximos states.[6]
Amma Sarah reminds us that we should seek proper balance with others through purity of heart. The desire for balance and harmony is right. The problem is we tend to focus on others, either seeking their praise or finding ways to condemn them, in each occasion, ignoring our own spiritual progression and therefore turning away from the purity of heart which we need in order to see God. We need to be humble. We need to be loving. We need to root out all those unwholesome tendencies which turn away from such loving humility, so then we can have the grace we need, the grace which is as a fire that comes to us and cleanses of all stain:
But he gives more grace; therefore it says, "God opposes the proud, but gives grace to the humble." Submit yourselves therefore to God. Resist the devil and he will flee from you. Draw near to God and he will draw near to you. Cleanse your hands, you sinners, and purify your hearts, you men of double mind (Jas. 4:6-8 RSV)
We must draw near to God, then with such humility, we will have the grace we need to have a pure heart by which can then act good and true towards all others.
---
[1]The Sayings of the Desert Fathers. Trans. Benedicta Ward (Kalamazoo, MI: Cistercian Publications, 1984), 230.
[2] Evagrios the Solitary, "On Discrimination," in The Philokalia: The Complete Text. Volume One. Trans. and ed. G.E.H. Palmer, Philip Sherrard, Kallistos Ware, et. al. (London: Faber and Faber, 1983), 46.
[3] St. Symeon the New Theologian, "The Three Methods of Prayer" in The Philokalia: The Complete Text. Volume Four. Trans. and ed. G.E.H. Palmer, Philip Sherrard, Kallistos Ware, et. al. (London: Faber and Faber, 1995), 72.
[4] St. Maximos the Confessor, "Third Century on Love" in in The Philokalia: The Complete Text. Volume Two. Trans. and ed. G.E.H. Palmer, Philip Sherrard, Kallistos Ware, et. al. (London: Faber and Faber, 1990), 91 [54].
[5] St. Maximos the Confessor, "Third Century on Love," 92 [55].
[6] St. Peter of Damaskos, "That We Should Not Despair Even If We Sin Many Times," in in The Philokalia: The Complete Text. Volume Three. Trans. and ed. G.E.H. Palmer, Philip Sherrard, Kallistos Ware, et. al. (London: Faber and Faber, 1984, 160-161.
Stay in touch! Like A Little Bit of Nothing on Facebook