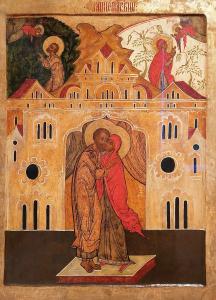 Mary is the seat of Wisdom, for from her was born the Logos, the Son of God. In and through her, the sins of the past have been overcome with grace; humanity attained its natural glory and now through her, our humanity can be taken up and assumed by the Logos for its deification. It is proper and just for us to join in together with joy, remembering the conception which brought us Mary, the Theotokos, marveling both at the work of the Logos throughout history which led to it as well as the way it has helped continue and promote God's ultimate plan for creation:
Therefore, O Wisdom, heaven and the angels adore you, and all the heavenly hosts marvel at you, saying: Oh! Oh! All the miracles of God arose from "the slime of the earth" [Gen 2.7], so that a new sun came forth and a new light shone out, and a new song resounded among us. Wherefore, O Wisdom, praise be to you, because you found another woman, the Virgin Mary, that the serpent could not deceive, and she has crowned all the human race, so that from now on the devil will be unable to delude man as he did before. For in her pain Eve was the mother of all weeping, but in Mary joy resounded with harp and harmony.[1]
Mary was a miracle child. Her elderly parents had long desired to have children, but alas, they never had any. Their great and holy love and devotion to each other, and to God, was known by God, even if it was denied by others. They were often ridiculed, being told by others that the reason why they did not have any children had to be due to some great sin on their part. They suffered a great amount of grief, both due to the fact that their holy desire was not fulfilled, but also because of the way they were abused. Their sorrow turned to joy when, long after they had thought possible, Anne, Mary's Mother, conceived. It was a miracle; indeed, being conceived in this fashion, as a miracle child, we are given a sign of the great and unique nature of Mary herself. Not only were Joachim and Anne vindicated, and those who had ridiculed them shown to be wrong, but the child was special, conceived with a special grace:
Today the bonds of barrenness are broken,
God has heard the prayers of Joachim and Anna.
He has promised them beyond all their hopes,
To bear the Maiden of God
By whom the Uncircumscribed One was born as mortal man,
Who commanded an angel to cry to Her:
Rejoice, O Full of Grace, the Lord is with You! (Troparion, Conception of St Anne)
All God's labors with Israel, indeed, all of God's labors with humanity throughout history, was for the sake of this, to establish the one in whom the incarnation could take place. Graces were spread throughout history and slowly collected and brought together so that in the great love of Joachim and Anne, humanity could show off its glorious fruit, Mary the Theotokos. It was love which brought together all the graces God spread throughout the world and joined them together to be given over to one glorious human, Mary.  And yet, it is important to realize, however glorious she was from her birth, she still had to choose to follow after God herself – all that grace would have done her no good if she went against it herself. Even giving birth to Christ, St. Augustine tells us, would be nothing if she did not continue to follow God with her whole heart throughout her existence:
Finally, for His brethren, that is, His relatives according to the flesh, who did not believe in Him, of what advantage was that relationship? So, even her maternal relationship would have done Mary no good unless she had borne Christ more happily in her heart than in her flesh.[2]
Mary was a miracle child. From the very first moment of her conception, she was full of grace, but she was still human, still a person with freedom. Every moment of her life, she had to confirm that grace by affirming her love for God. The grace which she received from her conception did not force her to act in a certain way throughout her life; rather, it freed her from the constraints of sin so that she could freely choose God over all else. Each confirmation of that grace, each deed done out of pure love, developed her further, but always in such a way she would always be full of grace, never doing anything which would diminish it in her life. She was rooted in grace, and so it was in and with grace, she grew in the womb, even as it was with that grace she would grow out of the womb and become a great, indeed, remarkable woman before taking on the greatest grace of all, the grace which would allow her to conceive the God-man and become the Theotokos.
We, too, are called by God, to take the grace given to us and grow in it so that we can allow Christ to be spiritually born in us. We are called to be miracle children of God, conceived in grace (such as the grace given to us in our baptism and chrismation). Like Mary, we should take every moment of our lives and use it to grow in love, so that with that love, we can receive even more grace, the grace which is borne out of love. The grace which brought to us the miracle child, Mary, is the grace which can come to us and produce in us miracles as well. Thus, we can follow after Mary spiritually, becoming full of grace, and give birth to Christ in our lives, and through that birth, spread the grace and love of Christ throughout the world. God chose us to be saved, as God desires all to be saved; hopefully, we have and will continue to answer the call and  accept God's love and grace; then, we should grow in grace until the glory of Mary, the glory of unstained humanity, can be seen in us. Then, like Mary, we shall continue to grow in grace, growing beyond our nature until we receive  the greater glory, the glory of Jesus Christ, which lifts us up and deifies us: "To this he called you through our gospel, so that you may obtain the glory of our Lord Jesus Christ" (2 Thes. 2:14 RSV).
Mary, therefore, took humanity into a new direction; she showed us the path of love and grace and lived it out, showing us it is possible for someone who is human (and not just the God-man) to be full of grace, never falling into sin. Humanity was made for such purity and goodness; anyone who would say sin is a necessity for the human condition derides God by suggesting that God would make a creation in which such goodness was impossible. Mary is our exemplar, and we, now, can have grace come into us and make us like her; we too can become miracle children, that is, children of the Most High.
---
[1] St. Hildegard of Bingen, "Letter 390" in The Letters of Hildegard of Bingen. Volume III. Trans. Joseph L Baird and Radd K Ehrman (Oxford: Oxford University Press, 2004), 194.
[2] St. Augustine, "Holy Virginity" in Treatises on Marriage and Other Subjects. Trans. John McQuade. Ed. Roy J. Defarrari (New York: Fathers of the Church, Inc., 1955), 146.
Stay in touch! Like A Little Bit of Nothing on Facebook.
If you liked what you read, please consider sharing it with your friends and family!