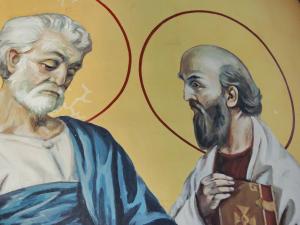 We tend to consider all the great things Peter and Paul did, all the fantastic things recorded about their lives, and think, because of all they accomplished, they were quite different from us. They are portrayed as bold, strong,  and powerful, capable of enduring all kinds of hardships which would make most of us crumble and fall apart. The thing is, this is only partially true. We know they all had their failings. We know they were not always doing great things. So much of their lives, so much of what they said and did, including many of those things which would make them appear to be like the rest of us, are left out their hagiographies (but, thankfully, not scripture). If all people knew about us was the best, most extraordinary aspects of our lives, we would likewise seem to be much different from who we are as well. In reality, Peter and Paul were like us, and they would have been the first to acknowledge this. Indeed, they would not have seen themselves to be so strong, but rather, they understood and recognized their weaknesses, their faults and failings. Peter, after all, denied his association with Christ; the one whom Christ had chosen to lead the church turned his back on his mission at one of the most trying times of his life. Paul, of course, was no better. He had, for much of his life, attacked the Christian faith, but even after his spectacular conversion, he found himself struggling with his own weaknesses, only to realize that it was in such weakness that he found true greatness with grace: "If I must boast, I will boast of the things that show my weakness. The God and Father of the Lord Jesus, he who is blessed for ever, knows that I do not lie" (2 Cor. 11:30-31 RSV).
Boasting about ourselves, Paul said, should be avoided, because the more we boast of ourselves and try present ourselves as being greater than others, the more we become so attached to ourselves and our apparent greatness we do not allow grace to enter us and make us into something even better. Eventually, we will wear ourselves out with our attempts to make ourselves seem greater than we are, and when we do, we will fall apart. On the other hand, if we accept our weakness, if we don't try to compare ourselves to others so as to find ways to make ourselves look greater than them, we find ourselves open to the grace which we need, and through that grace, we will find ourselves being made truly great. Thus, Paul said, if we are to boast, we should boast, not about what we have done, but about what God has done for us, that is, what grace has accomplished in and through us:
I must boast; there is nothing to be gained by it, but I will go on to visions and revelations of the Lord.  I know a man in Christ who fourteen years ago was caught up to the third heaven — whether in the body or out of the body I do not know, God knows. And I know that this man was caught up into Paradise — whether in the body or out of the body I do not know, God knows —  and he heard things that cannot be told, which man may not utter. On behalf of this man I will boast, but on my own behalf I will not boast, except of my weaknesses. Though if I wish to boast, I shall not be a fool, for I shall be speaking the truth. But I refrain from it, so that no one may think more of me than he sees in me or hears from me (2 Cor. 12:1-6 RSV).
What we see in Peter's life constantly shows the truth of this. So long as he focused on Christ, he could and would do extraordinary things, but when he started to ponder what he was doing, and focused on himself, he cut himself off from such grace and his true weakness was revealed. Thus, even his authority over the church was granted to him when he allowed the prompting of the Spirit to speak through him, to reveal the truth of who Jesus was, instead of when he focused on himself and what he himself knew and could prove:
Now when Jesus came into the district of Caesarea Philippi, he asked his disciples, "Who do men say that the Son of man is?" And they said, "Some say John the Baptist, others say Elijah, and others Jeremiah or one of the prophets." He said to them, "But who do you say that I am?" Simon Peter replied, "You are the Christ, the Son of the living God." And Jesus answered him, "Blessed are you, Simon Barjona! For flesh and blood has not revealed this to you, but my Father who is in heaven. And I tell you, you are Peter, and on this rock I will build my church, and the powers of death shall not prevail against it. I will give you the keys of the kingdom of heaven, and whatever you bind on earth shall be bound in heaven, and whatever you loose on earth shall be loosed in heaven" (Matt. 16:13-19 RSV).
Sadly, Peter could go from great heights, thanks to grace, to great lows, as he became self-absorbed and looked at what he was doing; this is exactly what happened to him when he began to talk on water. As soon as he realized what he was doing, he turned his focus on himself, and he fell into the water. Peter, far from being a super-man, was just like the rest of us. He could be quite unstable, and he would often need others to remind him of what he should be doing, such as when Paul confronted him due to his mistreatment of Gentile converts. Peter was great, but he could be, and often was weak, and we must recognize that he was far from perfect if we are to appreciate his life and what Christ did in and through him. Likewise, Paul was far from perfect. Even when he knew his strength was found in the grace he had received, even when he knew he should treat others with charity and grace, he could find himself acting out with his human frailty, letting his anger get the best of him. And yet he recognized that God did not change him, just as God did not change Peter; neither of them were made into super-apostles. They remained as they were, struggling with their faults and limitations, slowly getting better, to be sure, but still capable of revealing their petty biases and unseemly inclinations. This should allow us to understand why we, like them, must not despair due to our weaknesses, but rather realize everyone who walks with God can stumble, and the key then is to accept our need for help, our need for grace:
And to keep me from being too elated by the abundance of revelations, a thorn was given me in the flesh, a messenger of Satan, to harass me, to keep me from being too elated. Three times I besought the Lord about this, that it should leave me; but he said to me, "My grace is sufficient for you, for my power is made perfect in weakness." I will all the more gladly boast of my weaknesses, that the power of Christ may rest upon me (2 Cor. 12:7-9 RSV).
While there are many ways Paul's "thorn in the flesh" have been and continue to be read, Paul's point should be clear. We must not let our own thorns in the flesh get us so upset that we forget that God's grace is sufficient. The key, Paul says, is to learn to accept our weakness so as to let grace do its part; so long as we struggle against it, thinking we can build ourselves up all alone without any external aid, we will, in the end, always be weak, as we will not have the true source of strength, grace, building us up.
Peter and Paul were great apostles. Together, they founded and established the See of Rome. It is an important achievement. But it was all established in and founded on weakness, on the weakness of Peter and Paul. They both needed grace, and throughout their lives, that grace built them up so that they could and did many glorious things. We, therefore, though marveling in what Peter and Paul have done, should learn from them the way to such greatness. We must accept our own weakness. We need grace if we want to be built up – or to build others up. Without it, what we do shall not stand the test of time.
Stay in touch! Like A Little Bit of Nothing on Facebook.
If you liked what you read, please consider sharing it with your friends and family!