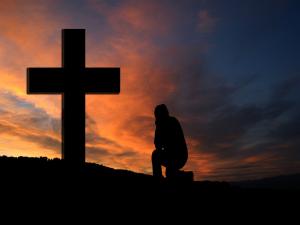 Even when we cannot perceive the work of God in our lives, God is there. It is important for us to realize this, to use whatever methods we can to discern the truth of it. It is better if we find a way to experience the truth of it for ourselves, but it still helps if we do so through philosophical or theological reasoning. In either fashion, or better yet, in their combination, we can center our focus and attention on God so that God can be said to reside at the center of our lives. Certainly, the reality of God always means God is at the center of our lives, but what is important is we find a way to become conscious of this reality and all the implications which follow from it. We must not let anything else take the place of God in our lives, to have it become the center of our attention in such a way God is displaced by it, which is what happens with idolatry and why idolatry can become dangerous for our spiritual well-being.
God is the beginning and the end of all things. All things have God for the source of their existence. Indeed, in some ways, God can be identified as existence itself (using one of the energies of God to name God). Similarly, all things will find their way back to God, in one fashion or another, making God truly the end of all things. But God has acts as a creator for a reason, for a purpose, and it would be wrong to act like the created other is without value, that we can entirely ignore it and rest in and with God alone. We are a part of the created order. We are one with it. Ignoring it is to do ourselves an injustice. It is also disrespect for God, as it implies what God does is worthless.
God loves creation. If we love God, we would see God's embrace of creation and find a way to imitate or participate in that embrace while keeping God as the central focus of our actions. This can be difficult, and there are all kinds of temptations which will come before us as we try to work out the way we properly integrate this realization in our lives, but it is necessary for us to try lest we find ourselves, in attempting to hold onto God apart from all things, we end displacing God with our own imagined, and false, understanding of God, one which has God as an absolute without any relation to the creation which God has established. But, looking to the world, we can then become attached to it, having it interfere with our experience of God.  This is why many spiritual leaders, knowing both errors, suggest a process which we are to go through, beginning with a kind of mental purification where we cut ourselves from all externals, from the material senses, from all created things, even from our thoughts and words, and await the presence of God to come to us in that silence. We are to seek God without having anything, especially our own thoughts, being imposed over our experience. This will help us learn how to focus on God without letting any distraction interfere in our experience of God's reality for us. Then, once we have done that, we should take that experience and use it to go out in the world, to bring to the world the grace which we have received by our experience of the presence of God. That is, as St. Albert the Great wrote, we begin by focusing on God, but then letting that focus lead us into the world "To be sure, contemplation among the blessed begins with God and roams through everything whatsoever, whether through themselves [per se] or through other creatures, and then returns to him again through praise and the act of giving thanks."[1]
Our contemplation, our meditation, can be directed by various spiritual practices, from the use of icons and statues which help us use our imagination for a positive end, or by an apophatic contemplation which has us go beyond the imagination, beyond thought and word, beyond knowing itself.  The second method provides us an experience of the transcendent, incomprehensible truth unmediated by our imposition on it. When we engage it, we will find that what we have left, and so what does not pass away, is love (cf. 1 Cor. 13:8).  This is why love can and hopefully will serve as the foundation for our meditation, so that, no matter how weak and frail our love might, be, we will have a way to connect ourselves to God.
We must be careful when we use our imagination in such contemplation, for it can cause us to confuse our own thought-constructs as being something more than they are; for, through them, we can create all kinds of distractions and erroneous presumptions which will interfere with our unmediated experience of the fullness of the transcendent reality of God. This is why, though meditation in and with images can help us, we must also learn the path of silence and quietude. We must appreciate the limitations of imaginative meditation and do not let them impose themselves on our experience of God. It is especially important for us not to use our imagination, and speculation which flows from it, to create in all kinds of falsehoods. Saying this, of course, it is important not to ignore the value imaginative meditation can have for us, especially when we begin our spiritual journey. It can give us much comfort and assurance. This is why it can serve a great role in our meditations. Nonetheless, even apophatic contemplation, if not properly directed, can cause lead us into error, such as nihilism. That is why, behind both forms, what is important is we embrace love, for it is love which will remain and so it is love which we hope to be strengthened by our meditative experience:
Authentic prayer is the perception of what is in God. This is that <prayer> in which the mind abides not by means of petitions but by the perfection of love; and one remains in prayer before God not to ask for something or other, but to behold His Essence. So that means those realities which are naturally of the <Essence> one may observe in it, at the time of prayer, as by the vision of the eyes, in wonder.[2]
The more we love God, and so pray and meditate based upon that love, the more we will find ourselves encountering God in that love, and as a consequence of that encounter we will find our love also grows. Such love, then, should motivate us to be in the world, for our love for God cannot be met without loving what is loved by God. Indeed, we will come to realize we cannot truly love God unless we love our neighbor. This is because in them, the image and likeness of God is to be found. "Let the soul remember that she owes her first love to God and her second to her neighbor, and that all her affections must be directed by this rule, that she should not withdraw from the worship of the Lord nor from the usefulness to the fellow servant."[3]
This is why our response to the presence of God in our lives, our response to the experience of God and God's love, is not to just sit back and dwell in that love, to experience the joy of it without any care or concern for others. Rather, the more we embrace it, the more we will find ourselves going from passivity to activity. Love, for it to be fruitful, must be acted upon. We will love our neighbor, and even ourselves. We will find that our love will not last if we do not do so.
---
[1] St. Albert the Great, On Resurrection. Trans. Irven M. Resnick and Franklin T. Harkins (Washington, DC: CUA Press, 2020), 152.
[2] St. Isaac the Syrian, "The Third Part." Trans. Mary T. Hansbury in An Anthology of Syriac Writers From Qatar in the Seventh Century. Ed. Mario Kozah, Abdulrahim Abu-Husayn, Saif Shaeen Al-Murikhi and Haya Al Thani (Piscataway, NJ: Gorgias Press, 2015), 311 [IV.1].
[3] St Leo the Great, Sermons. Trans. Jane Patricia Freeland CSJB and Agnes Josephine Conway SSJ (Washington, DC: CUA Press, 1996), 71 [Sermon 19].
Stay in touch! Like A Little Bit of Nothing on Facebook.
If you liked what you read, please consider sharing it with your friends and family!
N.B.:  While I read comments to moderate them, I rarely respond to them. If I don't respond to your comment directly, don't assume I am unthankful for it. I appreciate it. But I want readers to feel free to ask questions, and hopefully, dialogue with each other. I have shared what I wanted to say, though some responses will get a brief reply by me, or, if I find it interesting and something I can engage fully, as the foundation for another post. I have had many posts inspired or improved upon thanks to my readers.