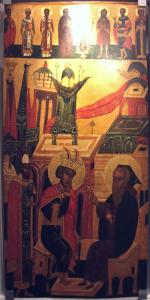 At the heart of the Christian way of life is the way of love. Love overcomes and defeats sin, allowing the peace which sin destroyed to be restored. St. Paul exhorted his readers, therefore, to engage in the spirit of love, telling them that they should bear with each other with patience and humility. That way, anger and pride, and other such sins, would not destroy the unity Christians are meant to have and present to the world:
I therefore, a prisoner for the Lord, beg you to lead a life worthy of the calling to which you have been called, with all lowliness and meekness, with patience, forbearing one another in love, eager to maintain the unity of the Spirit in the bond of peace (Eph. 4:1-3 RSV).
For a Christian, the worthy way of life is the way paved by and presented by love. We are to love God, and to love our neighbor as ourselves. While this certainly means we are also to love ourselves, finding the good in ourselves and promoting it, we should not do so in an unbalanced manner which leads us to detract from others. We should honor the good in ourselves as we honor the good in others, indeed, if it helps, we should treat ourselves as if were an other, so that we can then love ourselves as we love others. If we want to claim that our love should be limited to those who are our neighbor, Jesus made it clear, everyone is our neighbor:
But he, desiring to justify himself, said to Jesus, "And who is my neighbor?" Jesus replied, "A man was going down from Jerusalem to Jericho, and he fell among robbers, who stripped him and beat him, and departed, leaving him half dead.  Now by chance a priest was going down that road; and when he saw him he passed by on the other side. So likewise a Levite, when he came to the place and saw him, passed by on the other side. But a Samaritan, as he journeyed, came to where he was; and when he saw him, he had compassion, and went to him and bound up his wounds, pouring on oil and wine; then he set him on his own beast and brought him to an inn, and took care of him. And the next day he took out two denarii and gave them to the innkeeper, saying, `Take care of him; and whatever more you spend, I will repay you when I come back.' Which of these three, do you think, proved neighbor to the man who fell among the robbers?" He said, "The one who showed mercy on him." And Jesus said to him, "Go and do likewise." (Lk. 10:29-37 RSV).
It is important for us to act upon our love. This means, we should do more than simply offer good thoughts and prayers for others if there is more which we can do, Obviously, if we can't, then such good will is better than nothing, and can be of some help, but the more we can do, the more love will have us act and do what we can.
We can and should acknowledge when non-Christians follow the way of love, they are embracing the good and holy way of life presented to us by Jesus. He made it clear that those who act upon love, no matter their background, will be honored for that love, while those who ignore the plight of others when they could do something, especially if they act pious in front of others, act contrary to God's expectations upon them and any holiness they pretend to have is a sham.
If we use some sort of religious obligation, such as having to go to Sunday liturgical service, as an excuse to ignore the immediate plight of others, or worse, as an excuse to denigrate them, we are in reality abusing our faith, using it as a reason to ignore or even abuse our neighbor. A good Samaritan, or someone of some non-Christian faith or of no faith at all, follows Jesus' message better than those who claim to be his disciples if they act with and treat others with love and respect and his so-called followers do not. Those who work for and promote love, and with it, the good of their neighbor are to be commended for it; Jesus even implied that such people will find out, in the eschatological judgment, that they were his servants all along, and they will welcomed and loved by him  (cf. Matt 25). Similarly, those who take on the name of Christian, but act contrary to the calling of love, risk cutting themselves off from Christ and being shown to have never truly known him and his desires. The parable of the Good Samaritan helps demonstrate this by having the one validated being a Samaritan. It shows us we should not get stuck in tribal thinking. Jesus wanted us to know that many people can be and will be shown to be his followers, even though none of us knew they were. This is why many early Christian writers, like St. Justin Martyr, could recognize various pre-Christian personages like Socrates as being "Christians before Christ." They explained that Jesus is the incarnate Logos and that it would be unreasonable for the Logos (and so, self-contradictory) to deny them in the eschatological judgment, as they served the Logos even if they did not know the Logos would be (or was) incarnate as Jesus Christ.
The ancient Christian inclination to view various pre-Christian men and women as followers of Christ, worthy to be honored for their achievements, can be seen validated by the way a pre-Christian religious figure has had his life transformed into a Christian tale, and then, under that Christian form, been recognized and elevated as a holy saint. Who is this person, and what is he known as in the Christian tradition? It is Siddartha the Buddha; the story of how his compassion and love for his fellow humanity led him to pursue a way beyond the cycle of suffering was taken in by some Christians and transformed into the story of the life of St Josaphat. Some might want to dismiss his feast once they realize it celebrates the Buddha; others might try to claim that there really was a Josaphat whose live mysteriously mirrored the legends surrounding Siddhartha, but the best take is to realize that the church, directed by the Spirit, has been shown how God can and will work with holy men and women who honestly pursued the truth of love and allow them to partake of the glory of the kingdom of God because they, like the Good Samaritan, lived out the way of love that God expected from them.
Love is the key. Thoughts and prayers without love leads us astray. It is better to love than to appear to be religious and pious. It is better to profess no faith than it is to profess the Christian faith but to lead a life contrary to the way of love. Jesus warned us not all who say Lord, Lord will be recognized as having lived faithful lives, while many who did not do so, but lived their lives entirely upon the dictates of love, will find they were being faithful to him and approved and welcomed by him into the eschatological kingdom. Love is the key, and Jesus made sure, if we wanted to know what that love meant, we can listen to and read the story of the Good Samaritan and use it as our example of how we should live.
Stay in touch! Like A Little Bit of Nothing on Facebook.
If you liked what you read, please consider sharing it with your friends and family!
N.B.:  While I read comments to moderate them, I rarely respond to them. If I don't respond to your comment directly, don't assume I am unthankful for it. I appreciate it. But I want readers to feel free to ask questions, and hopefully, dialogue with each other. I have shared what I wanted to say, though some responses will get a brief reply by me, or, if I find it interesting and something I can engage fully, as the foundation for another post. I have had many posts inspired or improved upon thanks to my readers.