A busy, busy Beirut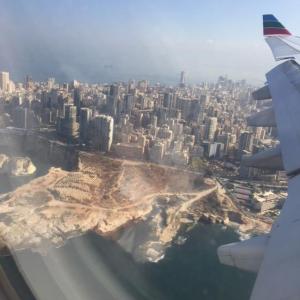 Its summertime in Lebanon and tourism time!  The airport is bustling with expats flooding this tiny little nation and flights arrive each day filled to capacity.
A nation already bursting at its seams with an estimated 6 million residents, Lebanon will greet over 350,000 tourists this summer.
According to Lebanon's Ministry of Tourism, the country welcomed over 650,000 tourists in the first half of 2017.  North Americans constitute 15-18% of those arrivals.
Each evening, as I head out into the city to watch World Cup games at local cafes, I run into North Americans.  We tend to gravitate towards one another in excitement.  It amuses me that we know one another by the way we walk, talk and dress.
While standing in line at Starbucks, I overheard a young man speaking with a southern accent.  I asked him where he was from and smiled when he said, Tennessee.  Tennessee!  You can find Lebanese everywhere!
Here and there, the Lebanese are everywhere
Wherever you travel in the world, you will find Lebanese.  This I have witnessed this, firsthand.
The Lebanese diaspora is estimated anywhere between 8-14 million.  I know that is quite a range, though you have Lebanese whose families were raised outside Lebanon and may not identify with their ancestral heritage.
This is not surprising with 3rd, 4th and 5th generation emigrants who have no ties to their familial homeland.
I have family who have never seen Lebanon and do not identify as Lebanese.  It does not come up in conversation unless they are asked of their origin.
How can one identify with a land they have never learned of or seen?
Brazilian cousins
(photos are from my Dept. of State Sao Paolo, Brazil trip and cousin's trip to Michigan to visit the family after decades of not seeing one another)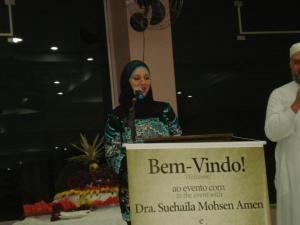 In Sao Paolo, Brazil, I was speaking to a crowd of 700 Brazilians of Arab descent.  Looking into the audience, I saw familiar looking faces.
During my speech, I shared the names of the Lebanese villages my family hailed from.
Upon concluding, a group of 10 people came up to me and asked who my grandparents were.
Those familiar faces turned out to be first and second cousins to my maternal grandparents.
Connecting with other family members on that trip then created opportunities for us to gather in the US and have a family reunion.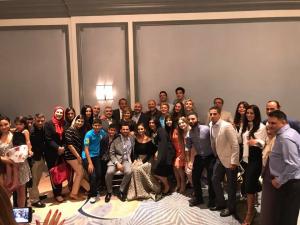 Now that connection is strong and we all stay in touch with one another and are getting closer, each day.
They come for fam
ily weddings and events and we stay in communication via social media and Whatsapp.
On that trip, I had the blessing of meeting relatives that would help me to put together the missing puzzle pieces of my mother's family history.
We just know one another
(Photos are from Department of Homeland Security trip to Dusseldorf, Germany and Department of State trip to Sao Paolo, Brazil)
I was traveling with the Department of Homeland Security to Dusseldorf, Germany for meetings.  A young man bumped into me and my agenda book fell to the floor.
Given his features, I immediately knew he was Arab.  It's silly to say, though some of us can recognize one other, easily.
I smiled and said, "ma ta3tal ham" (do not worry).  He smiled and said, "ba3tezer minik," (my apologies to you.)  His name was Hassan.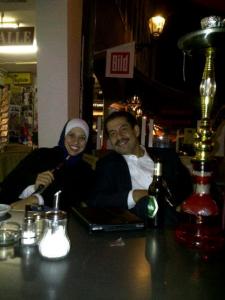 Forgetting the delegation, we slipped into conversation in our broken Arabic.  The others looked on and laughed.  I would be able to find my people even if I was alone in a forest.
Here I was, having a comfortable conversation with a random person as if we had known one another for years.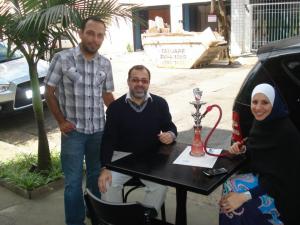 Finally, I asked him where I could find the best
shawarma
(spiced meat grilled on a large skewer) and
hookah
(water pipe).   No matter where I am in the world, I will find Lebanese food and hookah.
Needless to say, I went straight to the restaurant he recommended and enjoyed a delicious, Lebanese, halal (Islamically slaughtered), meal.
Even in Thailand?!
While walking through a bazaar in Bangkok, I saw an older gentleman smiling at me.  He approached and asked me if I was Arab.  He introduced himself and we began chatting.
Mohammad was married to a Thai woman and after living in Lebanon and Singapore, decided to move to Thailand.  They had been there for ten years and had two children.
Oddly enough, while visiting a high school the following day for meetings, I met his daughter.   The world is often smaller than we think.
We decided to have coffee together that evening.  We spoke of their experiences in Thailand and what circumstances brought them to the country.  I was fascinated by their story.
A rich history
According to ArabAmerica, the first documented Lebanese arrived to the Boston Harbor in 1854.  Maronite Christian, Antonios Bishaalany, came to study theology in New York.
Abe Doumar, a Lebanese immigrant living in St. Louis created the first waffle cone in 1904 during the St. Louis exposition.  (So, all the weight I have gained from waffle cones is a Lebanese person's fault?)
An 18 year old sat outside the offices of Henry Ford, wanting to strike a business deal.  Charles Corm became the youngest, sole proprietor to sell Ford Motor cars in the Middle East.  He was a multi-millionaire by his mid-20's.
Now, that is what I call hustle.
One of the most iconic of all times is the great, poetic legend, Khalil Gibran Khalil.
If you haven't read his work, well, shame on you!  :oP
Take the time to listen

The stories of Lebanese expatriates are riveting, intriguing and absolutely remarkable.  Sadly, we do not often take the time to listen to the stories of our elderly and neighbors.
Consumed by our own lives and struggles, we neglect to understand the backgrounds of fellow brothers and sisters.  Learning about their journeys helps us to better communicate and support one another.
My father came to Michigan at 17 years old.  He had a 5th grade education and a tireless and unrelenting work ethic.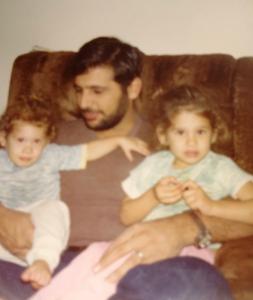 Working multiple jobs and over 90 hours a week, he would walk through sun, rain, sleet and snow to where he needed to be.
He never complained and continued to push forward through hardship.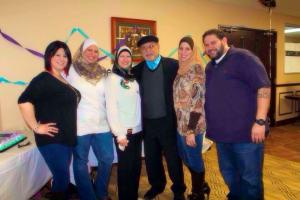 My father deserves a blog about his experiences and life story.  He comes to visit in two weeks and I will write as we stroll down memory lane.
Driving him through his old neighborhood and through his past stomping grounds is a phenomenal experience for me.
This time, mom will join us and it will be their first trip to Lebanon, together, in nearly 25 years.
My father is my inspiration and his stories empower me to continue advancing and achieving my goals.
A rich heritage
Lebanon is an exquisite land.  Its history is rich, diverse, and significant.  It is mentioned in divine scriptures and in the history books of ancient civilizations.
Their stories range across the spectrum of life's experiences and tribulations.  No matter their struggles or advancements, they continue to rise above, persevere, and reach for brighter stars.
The Lebanese hustle hard and their commitment to success is robust.  Wherever they land in the global community, they will find their way to the top and fulfill their dreams.
Summertime tourism in Lebanon is abundant and enriching.  To watch the way foreigners, Lebanese and expats enjoy the country and its history is amazing.
Blessed
I am proud of my Lebanese heritage and grateful that my parents decided to share their love of their homeland with us.
It was their connection to the motherland and their traditions that made us want to learn our history and identify with our culture.
Appreciatively, I have taken those remarkable moments and inspirational stories and began to create my own.
I am certain this journey will contribute to my growth and advancement, personally and professionally.