This is Day 13 of Hindtrospectives' #MyMosqueMyStory series for Ramadan 2015
By Sarah Ager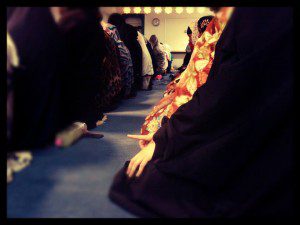 The thought of attending the mosque tends to bring me out in a cold sweat. I'm not even joking. An actual real life mosque visit requires an extra preemptive layer of deodorant.
It would be all too easy for me to dwell on the negative experiences I've had in mosques in Italy.
That time I was ushered into a broom cupboard to pray because the men had spilled over into the women's area. The irritated huffs and puffs I receive from men when they realise my husband has brought along the progressive wife who 'parades' her naked elbows. Being ignored by Muslims once they realise I cannot speak Arabic or, more humiliatingly, being a silent prop in the game of self-congratulary "Look!-we-nabbed-a-convert" back-patting.
I also recognise though that life as a Muslim in Italy is not easy, I have to acknowledge that, as a white Brit, I am in a privileged position compared to many in the community. Unemployment is already high among young people in Italy, but even more so among first and second generation immigrants, especially those who are Muslim.
There isn't the money to build shiny new mosques, and even if there were, the political atmosphere of Italy means that planning permission would almost certainly be blocked. The community does what it can with make-shift mosques, essentially re-purposed basements and warehouses. They are funded and run by relatively new immigrant Muslim communities, predominantly from Pakistan, Bangladesh, and Albania, and as such, tend to be divided along cultural, ethnic, and linguistic lines.
Bearing that in mind, it isn't fair to lay all responsibility at the mosque's door for the fact I haven't been to a mosque in well over a year. Perhaps I'm expecting too much from a community that's still trying to find its own feet. If the majority of mosque-goers, and particularly elders, are unable to speak Italian, it's only natural they'd conduct everything in Arabic or Urdu. The mosque is one safe space where they can truly be themselves and feel a connection to their heritage and cultures, just as I take refuge in online spaces to get my Brit fix.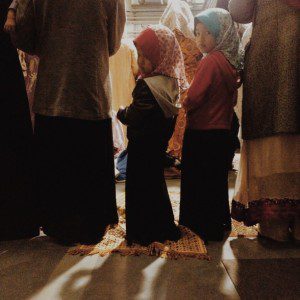 While I lack control over the politics or language of the mosque, I can at least grapple with my own personal hurdles that obstruct mosque attendance. For me, the mosque is the intimidating double whammy of a crowd of unknown people who speak a different language. To many I might seem outgoing, but I get incredibly jittery about meeting new people. That anxiety is amplified when I know I'll be speaking in Italian, a gorgeous language I fail to do justice. Add to that my general self-conscious when it comes to praying in public and that's quite a potent mix. I don't mean vocalising prayer. I've been reciting prayers aloud in front of hundreds since I was a child. As the daughter of two Protestant ministers, it came with the territory. Rather, I mean the
derrière
in the air vulnerability of
salat
which is all well and good at home, but another kettle of fish in front of elderly women who think they are helping by saying, 'Don't worry love, I'll watch you pray from here.'
Attending mosques just a handful of times means I'm embarrassed I don't know my way around a mosque, but clearly the longer this goes on, the more awkward I become, and the less likely I'll want to try to dip my toe in the mosque scene again.
I don't want the complications of mosque life abroad to taint future possibilities of attending the masjid. So I've decided to just go for it and attend the mosque when I go home to the UK this summer. No doubt, I'll be a bag of nerves but I have to own that fear. I don't want to be afraid to make mistakes anymore. I highly doubt Allah cares about whether I know where to stand, sit, or salat. Inshallah, dissolving that debilitating fear will be at least one less obstacle in the way of my eventual meshing with a mosque to call my own.
Sarah Ager is an English teacher and interfaith activist in Bologna, Italy. She curates the inclusive Interfaith Ramadan blog series and can be found on both Twitter and Facebook.