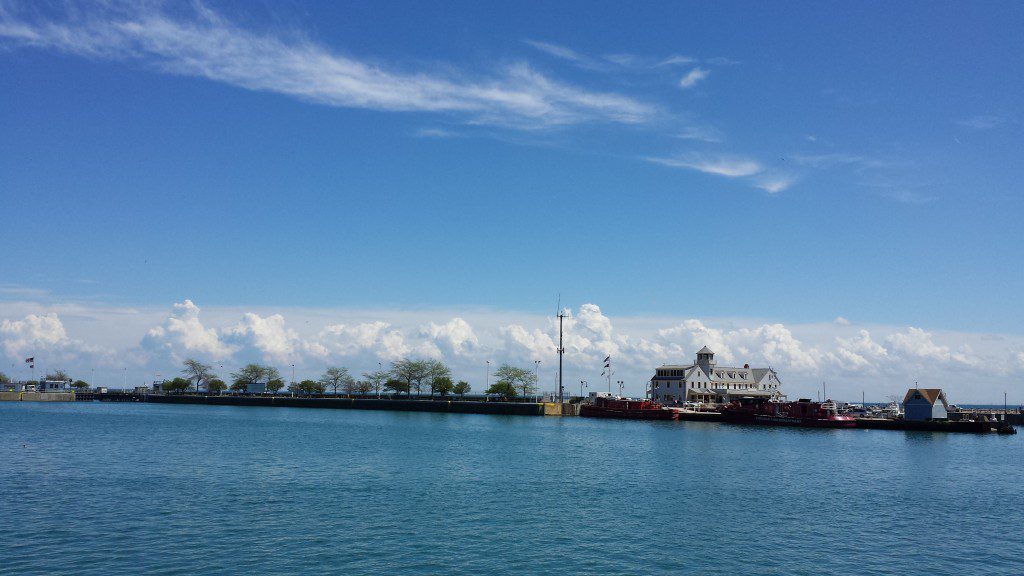 This is Day 30 of Hindtrospectives' #MyMosqueMyStory series for Ramadan 2015
By Nevien Shaabneh
We drove under the dark canopy of the Chicago skyline. Rain tap-danced God's mercy as I sat transfixed at my new world. Buildings loomed boasting with lights – man made mountains – unlike anything I had ever seen before. I craned my neck to catch a glimpse of the velvet towers filled with promises of new adventures.
It was my first night in the U.S. and compared to my little village on the outskirts of Jerusalem, Chicago proved behemoth and deserving of its accolades. My mother playfully laughed in the front seat as Baba quickly cranked the window of his gold Cadillac Eldorado to a mere slit. Soft rain and the cold brisk air careened our clothes and tousled our hair as Baba made the curve down Lake Shore Drive.
"What about the Masjid, Ahmed? Are there Masajid around here?" Baba glanced at my sister and me through his rear view mirror. His brown eyes that seemed to always carry a glint of mischief and surprise offered us a wink. He must have pondered in those delicate moments: What in Chicago could compare with the Aqsa and the Dome of the Rock?
"Of course, there are! Girls? How about tomorrow I take you to see the biggest masjid?" Sleep overtook me as the idea of the biggest masjid hung from my eyelashes and whisked me away into dreamland…
~~~
This Ramadan marked the first Ramadan without Baba. Last Ramadan, the jingle of his keys accompanied the smell of fresh katyaf or kinafa from the local bakery. Last Ramadan, we had suhoor together and watched the sunrise as we prepared to pray. Last Ramadan, he worked a full-time job, drove into the city everyday, hid candy behind his back for his grandchildren, walked with my daughter around the block on a sunny morning, brought flowers for my mom just because, and carried on the daily tasks of dunya that we are all accustomed to performing. Last Ramadan, life appeared as it always did-consistent, stable, expected.
On July 4th, 2014 Baba and I sat outside on the lawn, sipped happiness from small cups of hot mint tea and watched fireworks surge through the night sky. He wrapped an arm around me as we contemplated ways we could make this perfect night even better the following year. We planned to cater differently and possibly have a pool party for the kids. Or maybe set up tables in the front instead of the backyard so family and friends could see the fireworks after we broke our fast. We planned the following Ramadan, but it did not plan for us.
At the age of fifty-six, Baba became ill and after a trip to the emergency room, our stable, consistent world shattered as cancer marauded my family's happiness like an unforgiving beast. Death would wait three short months. Grappling for more time together was like pulling on a frayed string. The more we grabbed and pulled, the more unraveled it became. Three short breaths, surat Yasin echoing throughout the house, the first snow of the season, and the angel of death- like promised unto every one of us- did not leave empty handed.
Although Baba and I shared memories to fill volumes, it is the memory of the biggest masjid that still resonates in those moments of stillness when the dunya's shallowness cracks under life's vastness. When the frailty of life reveals itself humbling us to our knees. Only then are we able to measure the true value of the things around us. Only then do we stop denying the perspective that death offers.
Baba rejected phoniness. He despised nothing more than people who lived as if their lives –as Shakespeare eloquently put it- were a stage. To him, life was not a stage. It could not be limited to such, and he never behaved or acted for an audience. Religion was personal, intimate, and raw. It could not be fashioned or acted; true faith epitomizes sincerity. He dismissed those who boasted of their good deeds for the sake of others. The best of deeds were the ones done in silence. The communication with Allah alone. These are the people who will be in the shade of Allah's throne. The ones whose left hand does not know what their right hand has given…
~~~
He drove us the next day in the painted autumn afternoon. Leaves cascaded to the floor creating red, gold, and copper heaps. Mama dressed me in a hand knit green sweater my grandmother prepared for me before we left Palestine. Baba drove the winding streets until tall posts stuck out of the water like party hats. Outside, the cool wind brushed my cheeks crimson, and Baba instinctively cupped my face to warm them. He took my hand and led me to where rows and rows of docked boats proudly stood. Many had taken their last sails for the season. Unlike us, they knew when their last sails would be.
He nudged us to edge our feet as close as possible to the border. We stood, our toes pointed to the welcoming body of water before us. His gentle hand cradled mine and rested it on his chest. "Nevien, the heart carries the focus of the soul. In here, is the biggest masjid. If your heart can hold all of this, then it has housed all the deen. No matter where you are, no matter who is around you, if you can carry this, then you can worship anywhere."
I beheld and pondered the expanse of the sky, lake, and where they kissed in harmonious perfection. I took it and encompassed it in my heart for moments incomprehensible to a five year old. It would serve as a keepsake for my adult life. Only the hands of time and grief could mold and shape it into the meaning it deserved.
In moments of frustration, despair, or when others have left me disheartened, I close my eyes and allow the biggest masjid to expand before me. Life's trivialities dissipate with its expanse. It is a reminder that all things are small compared to this vast universe-especially us.
The masjid remains as one of my favorite places to visit regardless of which masjid I attend. Whether I am wedged in a line of prayer where a child bangs at my head as I prostrate, or the sound system in the masjid fails to work where I pray, Baba's words remain emblazoned in my heart. The biggest masjid has proven to be the best of gifts. One from a father to a daughter-limitless, boundless, and endless. The love of God and the eternity of the soul cannot be contained by any one building nor can they be taken away by any human being. It is immeasurable and transient just like my love for Baba. This Eid I celebrate that kind of love. I can never be un-Mosqued, not when my heart is able to house all the deen.
In the memory of Baba.
May Allah (swt) bestow His mercy upon you
May He grant you Jannat ul-Firdaus
Ameen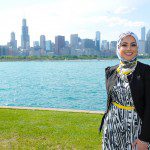 Nevien Shaabneh is the author of the novel Secrets Under the Olive Tree. She is a writer, teacher, and speaker from the Chicagoland area. Nevien is currently working on her second novel to be released in late 2016. Follow her on Facebook and purchase her book here.