---
---
The Hindu epic, Ramayana, is about the notable and most celebrated Bhagwan Ram, an incarnation of Vishnu God. Most Hindus grow up with Ram Leela (a two-week-long theatrical depiction of Bhagwan Ram's life story) in Bharat (that is India). The author himself grew up with Ram Leela year after year in his village. It is believed that Lord Vishnu was ordained to take birth as a human being (Ram) to get rid of the increasingly evil powers of demons on earth. These evil powers were headed by a devout and learned but "evil" king Ravan of Sri Lanka. However, Ram Leela does not include the whole story about Jatayu, the topic of this article.
Jatayu
A mythological giant vulture-like bird, Jatayu, is the first to link Ram and Ravan in Ram Leela. According to the legendary Ramayana, Ram's wife Sita was mischievously abducted by Ravan during Ram's exile. While searching for Sita in the jungles of southern Bharat, Ram met badly wounded Jatayu who had fought Ravan to free Sita from his shackles. Thus, wounded Jatayu had his last breath in Ram's lap. Just before his death, Jatayu told Ram about Ravan heading south with Sita and his sustained friendship with King Dashrath ( Ram's father). Subsequently, Ram performed Jatayu's last rites treating him like his father.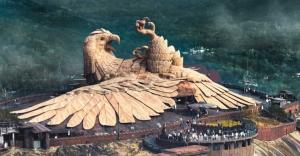 In Bharat, Jatayu is immortalized in the Jatayu Earth Center in Kerala. It has the world's largest sculpture of Jatayu which is believed to be the place where Jatayu fell after his battle with Ravan. The photo source is here.
The local talent staged the unheard story of the unassuming friendship between Jatayu and Dashrath which predates Ram's birth. It was done during the Diwali celebration of the Agarwal Samaj of Minnesota (ASMN). It is safe to characterize it as a less well-known pre-Ram Leela event. The author found a reference to it only after the stage depiction.
This year, Diwali (the festival of lights) will be observed on November 11/12. It is believed to be the largest festival for Hindus globally. Among other beliefs about Diwali, it is a commemoration of the God Ram returning to Ayodhya after the glorious victory over King Ravan.
A few Diwali-related facts include (a) a nearly complete magnificent Ram Mandir in Ayodhya with its  'Pran Pratishtha' (consecration)  on January 22, 2024, with the participation of Prime Minister Modi, (b) the Diwali celebration by Vice President Harris on November 8 at the Naval Observatory, and (c) the postal stamp commemorating Diwali still in circulation.
The Unheard Story
The sequence of the episodes staged by the director, Abhay Mishra, of the Unheard Story are as follows: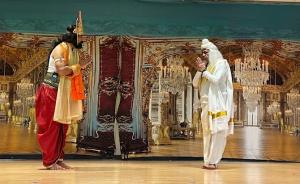 One fine day, Sage Vasistha appears in King Dashrath's court and warns him of an impending severe drought in Ayodhya based on the planetary configuration. He forecasts that Shani (god of the planet Saturn) is about to enter Rohini  Nakshatra (a constellation within Taurus). This will create extreme drought conditions causing havoc for the entire earth.
The worried Dashrath seeks Vasistha's guidance on how the people of Ayodhya can be spared of this calamity. The Sage informs Dashrath that there is no way to change the planetary configuration and its ill effects except to approach the Shani god and seek his blessings.

           King Dashratha heading to meet Shani Dev

Dashrath, a determined king to protect his people, embarks on a long and arduous journey in his chariot to meet Shani in outer space.
Not knowing Dashrath's motives and fearing an attack, Shani destroyed his chariot. Thus, Dashrath starts falling back toward earth.

Jatayu and Dashrath going to meet Shani

Seeing Dashrath in stress, Jatayu approaches him to help. Both introduce each other and Jatayu offers his large wings for Dashrath to ride to Shani's place.
Shani asks Dashrath what brings him there. Dashrath unhesitatingly but humbly asks Shani not to enter Rohini Nakshatra to spare Ayodhya from the drought. Shani is pleased that King Dashrath came himself on behalf of his people and granted his wishes. Dashrath offers gratitude to Shani and returns home with Jatayu.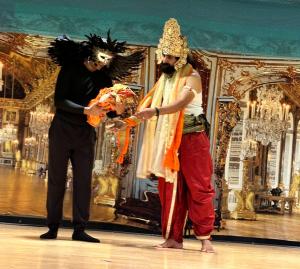 Dashrath expresses immense gratitude to Jatayu for saving his life and taking him to meet Shani. The grateful Dashrath offers Jatayu to ask for anything he desires. Jatayu asks for Dashrath's son. Dashrath tells Jatayu that he has no children but promises to offer his future son.
Jatayu visited Ayodhya when Ram was born. Dashrath, a man of his word, hands Ram to Jatayu. This gesture pleased Jatayu that Dashrath kept his promise. He blesses Ram (as a child) and asks Dashrath to raise him with the best education as a successor to Ayodhya's throne. However, the destiny of Ram was predetermined and different.
Ram in Exile: Years later, Kaikeyi, one of Dashrath's three wives, asks the king to fulfill a promise he had made to her. Kaikeyi asks her son to be the crown prince instead of Ram. King Dashrath, known to never relent on his promises, fulfills Kaikeyi's wishes and Ram is exiled for fourteen years. The grief-stricken Dasharath dies soon after Ram departed for exile.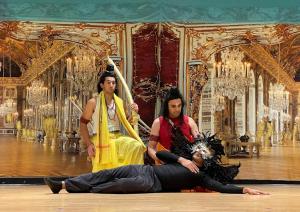 Ravan kidnaps Sita:  Fast forwarding, as Ram, his wife Sita, and brother Lakshman wander the jungles, Ravan enters the epic story of Ramayana. Ravan, dressed as a saintly person, knocks on the door of Sita (when she is alone) asking for alms. As a Hindu tradition, no saintly person should be denied alms. Accordingly, Sita steps out of the hut and Ravan kidnaps her and takes Sita to his kingdom, Sri Lanka. Sita continuously cries and sobbs, and Jatayu gets wounded when trying to rescue her.
Ram meets Jatayu: Connecting back to Ram Leela, Ram and Lakshman meet the wounded Jatayu while searching for Sita. Jatayu tells Ram about his long friendship with Dashrath (the unheard story) and dies in Ram's lap. It can be argued that Jatayu, a mythical bird, had the divine foresight that Bhagwan Ram himself would bless him in his last breath.
Diwali Celebration in Minnesota
The iconic Diwali's religious and cultural significance for Hinduism is similar to Christmas for Christianity and Eid for Islam. Diwali at individual homes starts with cleaning, decorating, and lighting every nook and corner. In the evening, the traditional Puja (offering to Goddess Lakshmi) is followed by special food, fireworks, and an exchange of gifts/desserts.

The ASMN's community Diwali celebration included a cultural bonanza, e.g., the theatrical untold story, dances, a fancy dress show for all ages, lots of laughter, traditional Lakshmi Puja, exchange of gifts, camaraderie, catered food, and well-groomed people and children in their best spirits. Hundreds of photos were clicked and shared on social media, a modern trend larger than Diwali itself. A photo shows the ASMN's Diwali celebration team of volunteers.
Diwali holds such an immense cultural and religious significance that as many as 6-8 community organizations and Hindu temples in the Twin Cities alone celebrate it in October/November.