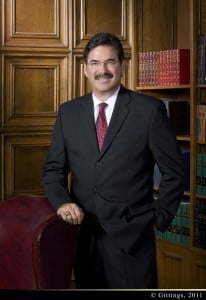 Albert L. Reyes is the sixth President and CEO of Buckner International and has worked for Buckner since 2007. He previously served as President of Buckner International and President of Buckner Children and Family Services.
Prior to his service at Buckner, Reyes was president of Baptist University of the Américas in San Antonio, where he led the school through dramatic changes in its name and structure. Under Reyes, the school's annual operating budget increased from $700,000 to more than $3.2 million.
Reyes also has served as pastor of three churches and as a manager for Sprint's National Customer Service Center. He has been involved in numerous roles with the 2.5 million-member Baptist General Convention of Texas, serving as its President in 2005.
Reyes received a bachelor of business administration degree from Angelo State University and master of divinity and doctor of ministry degrees from Southwestern Baptist Theological Seminary. He also earned a doctor of philosophy degree from Andrews University.
He is a member of the board of trustees of the Joint Council for International Children's Services, the National Hispanic Christian Leadership Conference, and the T.B. Maston Institute.
Reyes and his wife Belinda have three children. He enjoys reading, writing, camping, movies and travel. The Reyes family are active members of Park Cities Baptist Church in Dallas.
Follow NHCLC
on Twitter @newevangelicals and @nhclc
on Facebook hispanic.evangelicals, rev. samuel rodgriguez, samuel rodriguez, samuel rodriguez en español