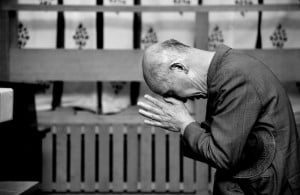 While theologians and religious leaders have long pondered questions about prayer, it wasn't until relatively recently that scientists began to study the links between spirituality and health. To date, more than 4,000 studies have been conducted in this area. The result: researchers are finding that our religious beliefs and practices can profoundly benefit our physical and mental well-being.
"Scientists are interested in studying prayer because it's clearly important to many people," explains Harold G. Koenig, MD, Director of the Center for Spirituality, Theology and Health at Duke University. "Among the complementary and alternative medical choices that people make, prayer is always rated number one on surveys. If you have something that two-thirds of the population is doing, then scientists would like to know what effect that's having on people."
First, the psychological benefits (which I must admit are obvious to anyone who has ever prayed). Prayer can help us cope with life's difficulties both by giving us a greater sense of control–here is one thing I can do in a bad situation–and by helping us give up control–I'm going to give this over to God. It can relieve anxiety and make us feel less depressed. It can connect us to a community of friends who have similar beliefs. And simply knowing that people are praying for you can make you feel less alone and overwhelmed.
Much of the benefit of spirituality clearly comes from the emotional ties that we form with like-minded people. "Many studies have shown the positive effects of social interaction, and so it's not surprising that being part of a congregation, synagogue, or meditation group is generally beneficial to people's emotional health," says Jeff Levin, Ph.D., Director of the Program on Religion and Population Health at Baylor University. "Also, the process of praying or worshiping can encourage feelings of love and acceptance and a sense of forgiveness. It gives people meaning, which is profoundly important to people's physical and mental health."
Research studies have found that those who follow a religious or spiritual path are less likely to be depressed or abuse alcohol and drugs. They typically have a larger support network and have better physical health. When they get sick, they tend to recover faster than those who aren't religious. Studies have even found that prayer can benefit marriages. Research done at the Florida State University Family Institute, for example, showed that couples who prayed for each other experienced greater satisfaction with their relationships and had a greater willingness to forgive and a deeper sense of common goals.
Research also indicates that during prayer, there is an immediate benefit to our bodies. When people sit in a quiet and meditative state, their blood pressure decreases, stress hormone levels fall, pulse rate slows, and the oxygen requirements of their bodies diminish.
Even more significant is that these effects can continue even after the prayer time is over. Just as physical exercise builds our muscles, spiritual practice seems to re-wire our brains to make us more resilient in the face of both physical and mental difficulties. Because stress plays a negative role in virtually all diseases, being able to buffer stress in this way can be of enormous benefit.
So far, so good. Next, we'll look at the sort of prayer research that generates controversy…do our prayers for other people have any effect?