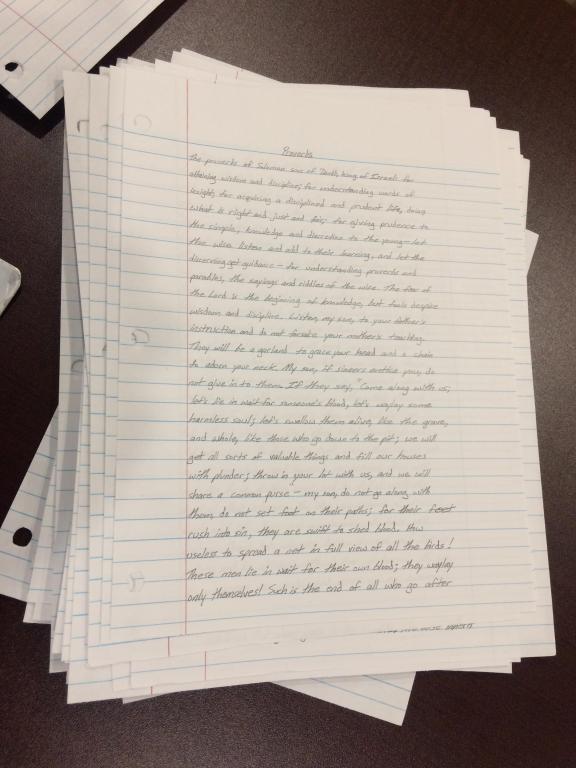 I recently announced the completion of my second time handwriting the entire Bible in English. While rare, I am not the only one to successfully finish an entire handwritten Bible.
A brief search shows the following:
Mona's Bible
According to the video, "Mona spent 16 years (1968-1984) writing a copy of the King Jame's Bible. Why? 'It just happened…' Every word is true…Here, she shares a glimpse of the story, with photos and the 4 volume copy she wrote."
Jeff's Handwritten Bible
Jeff finished in 2014. Like me, he used the NIV. Unlike me, he wrote in tiny print in a bound journal. Pretty amazing.
Michael's Handwritten Bible
Michael Mattox notes, "What started as a study in Psalms continued to be the whole Bible written out by hand. Mostly written in fountain pen in over 40 journals, it took over three years to complete." His cursive writing is much better than mine, which explains why I use printed letters instead. However, his use of high quality journals means his may last longer than mine. Plus, he has over 40 volumes, a cool biblical number.
Phillip Patterson's Handwritten Bible
Phillip Patterson completed his King James Version handwritten Bible around the same time I completed my first copy in 2013. According to an L.A. Times article, he completed his copy within two months of mine. He was 63 years old at the time.
There Are Others
I'm sure there are other examples as well. In addition, in South Korea there has been a movement called the Bible Transcription Movement since the 1980s. Apparently, thousands of South Korean Christians have completed portions or entire copies of the Bible since this time.
The best story includes a woman over 90 years old who completed a record 12 handwritten Bibles–in three languages (four each in Korean, Japanese, and English).
Do you know anyone who has handwritten the entire Bible or large portions of it? If so, let me know in the comments or on Facebook. Thanks!
+++
Dillon Burroughs is the author and coauthor of numerous books and blogs about his experiences of handwriting the Bible at the Holy Writ Project on Patheos.com. Find out more about Dillon at Facebook or Twitter.