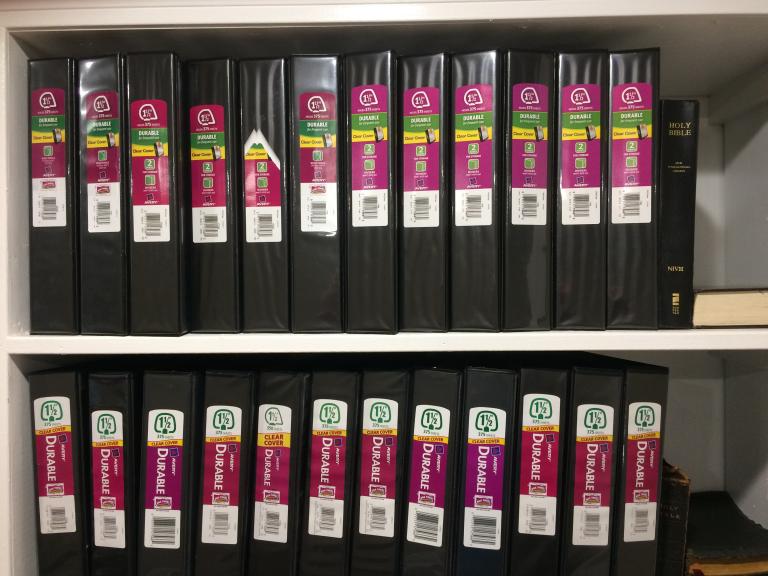 This is what it looks like to have two handwritten Bibles on my bookshelf. It isn't ornately decorated or leather bound, but it's done.
The work represents nearly eight years of regularly writing out Scripture. From Genesis 1 to Revelation 22, every word of each verse is recorded.
When I began, my goal was to finish the New Testament within a year. The idea of  one chapter per weekday to complete the New Testament's 260 chapters felt like a difficult, yet possible goal. Once finished, I felt led to continue with the Old Testament to make the Bible complete.
The task felt impossible–until it was done. I had only found a handful of people who had completed an entire handwritten Bible in modern times. Among them, I was certainly the youngest to attempt the feat. There were many times I wondered, "What am I thinking?"
In my research, I later discovered an entire movement of people who hand write the Bible in South Korea. One woman has completed the entire Bible 12 times. If my Google translation of the movement's website is correct, it looks like the Korean Bible handwriting movement now has a person who has completed the Bible 15 times! Many others have written it three, five, or even nine times.
I'm now on my third time through the New Testament. To be honest, it's slow. I started in April and began with some of the shorter books to build some momentum. I've completed 52 chapters as of today. That leaves 208 chapters remaining in the New Testament–not counting the Old Testament.
Many days it seems impossible. When it does, all I have to do is look at my bookshelf. When I see what God has already done, it encourages me to continue moving forward.
The same is true in many areas of life. I don't always feel like doing the next thing, whether housework or a major work project. But when I see what God has already done, I am reminded the impossible is possible. It's only impossible without God. With God, all things are possible.
+++
Dillon Burroughs is the author and coauthor of numerous books. He blogs about his experiences of handwriting the Bible at the Holy Writ Project on Patheos.com. Find out more about Dillon at Facebook or Twitter.