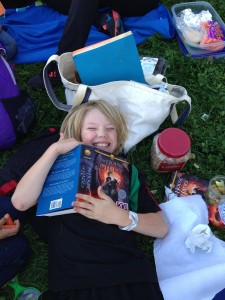 Open letters seem to be in fashion these days. So I thought I'd post Ezra's letter to Rick Riordan. In case you don't know any children between the ages of seven and seventeen, Rick Riordan is the author of three wildly popular series of books where gods of old are alive and well.
His latest book, House of Hades, was released today, and we went to see him speak at a local school. On the way there, the boys and their friends had a vigorous debate about which of them was most likely to be a demi-god. Demi-gods are the children of one mortal and one god, and in Riordan's world, their disabilities are often a sign that they are special.
Zach: Well, I have ADD, so I think I could be a demi-god.
Friend: Well, I've got dyslexia.
Ezra: Well, I have ADD AND dyslexia. So I'm most likely a demi-god.
Friend: Well, actually, I don't know my birth father either.
Realizing that this meant his birth-father might actually have been a god, all four kids agree: Yeah, you're probably the demi-god.
The debate continued and I got teary-eyed. Any man who can help a bunch of homeschooled kids who didn't quite fit in to their school feel like their struggles might also make them special is worth waiting in line for five hours for.
When we got there, I handed the woman running the event an envelope with letters from our homeschool class inviting him to join us. She assured me that she would hand it to him directly. But just in case she didn't, and he happens to be googling himself (do famous people do that?), then here is the letter from Ezra: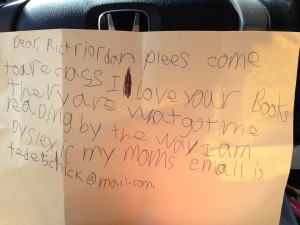 In case you are not up on the latest demi-god writing conventions, it says, "Dear Rick Riordan, Please come to our class. I love your books. They are what got me reading. By the way, I am dyslexic. My mom's email is …."
It might be shorter than a typical open letter. But that's okay, mine would have been even shorter. "Dear Rick, You got my kid reading, and believing that he's okay. Thank you."
________________________________________________________
And for the thousands of you who could not see the event, here are some clips that I recorded tonight: