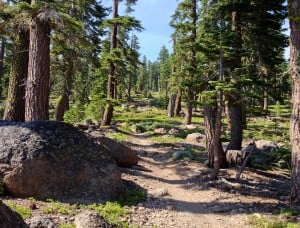 I have had a rare and unusual opportunity this week to spend a few days with leaders from The Nature Conservancy and from environmentally active religious communities representing many different faith traditions. The Nature Conservancy is an organization for which I have a great deal of respect and to which I am in debt since they helped support a faculty effort to enhance environmental education at BYU several years ago. I have written earlier about my experiences with them.
This meeting sponsored by The Nature Conservancy increased my faith in humanity. For two days a group of inspired and dedicated individuals representing various Christian denominations (including Mormon!), Muslim, Sikh, Jewish, and various non-sectarian beliefs and backgrounds and the leader of the Alliance of Religions and Conservation gathered for a conversation about how to improve and strengthen the connections between communities of faith and conservation organizations such as TNC. The result was a frank dialogue about the limitations of an environmental movement that fails to tap the energy, persuasive powers, and convictions of communities of faith, to which the majority of the world's population is affiliated.
One of the great myths of environmentalism is that it is a largely secular movement that competes with rather than compliments religious commitment. Another is that it is a concern for trees at the expense of people. But this belies the staggering amount of volunteerism and energy around environmental stewardship in religious communities worldwide and the awareness that such stewardship is central to what it means to care for the poor. Indeed, this energy is something that the Alliance for Religions and Conservation has kept tabs on and helped to promote for at least two decades. In the U.S. alone, we have organizations as diverse as the Evangelical Environmental Network, Green Muslims, EcoSikh Initiative, the Catholic Climate Covenant, and many others, including our own LDS Earth Stewardship. The fact is religious people the world over are responding to our environmental crisis out of moral duty and out of concern for those most disadvantaged by the global economy.
It has been the working assumption of many ecotheologians for the past few decades that if you want to understand the origins of our environmental values, you need to pay attention to the worldviews, or even more importantly the deeply held beliefs about cosmology, that we find in religious communities. That, presumably, is where we will find both the root of our failure to confront and deal with environmental problems as well as the motivation for any potential solutions. It is rare but very wise for an environmental organization to understand that environmental problems require more than political battles for better policies but also cultural battles for the hearts and minds of the public. It was clear in the conversations I was a part of with TNC that many around the table understood the power of stories and of values and beliefs for motivating environmental attitudes and behavior and that until scientists and NGOs learn to tap into the language of values in the various communities where they work, little can be accomplished. You can't change hearts with data but perhaps you can with stories.
In my own experience, as I have written about a few times on this blog, the interpretation of religious stories and cosmologies, unfortunately, is too often overdetermined by the logic of contemporary political and economic discourse. We read such stories for confirmation of our ideologies rather than with an intent to be converted to a new understanding of our relationship and duty to God. We create, in other words, a god after our own image. Perhaps for this reason we need something to stir up our imaginations and to allow us to read with new eyes and ears. Stories are dead unless they keep speaking to us anew. In Deuteronomy, the Lord seems particularly anxious to teach the Israelites that he is a living God, someone who perpetually speaks and engages in covenant-making with his people. He is not a dumb idol. He does not present himself as a static and inert thing but rather as a loving and caring personality with whom we can enter into a relationship. Of course believing in a living God entails risk: the risk of learning that we have been wrong about God, that we are more dependent on him than we had imagined, and that we are more indebted and beholden to him than we would like to be. If we forget this, we are likely to begin to convince ourselves that when we possess things, it is "my power and the might of mine hand [that] hath gotten me this wealth" (Deuteronomy 8:17). Except, we are reminded that "it is [God] that giveth thee power to get wealth, that he may establish his covenant which he sware unto thy fathers" (vs. 18).
The Judeo-Christian tradition, for at least one example then, teaches that we live in a moral economy, one in which we find ourselves profoundly indebted and answerable to God for all that we have and are. We cannot expect to make use of the earth's resources with categorical impunity. We must strive to identify and cultivate an ethos of reverence and care and stewardship for every dimension of life, since it is all—air, water, land, plants, and animals and even our own bodies—an unspeakable gift of God. There are no political ideologies suited to this kind of understanding of the world and our humble and unique place in it. They are inadequate, every one. Which should give us pause in making assumptions about the ease with which we can either deny or ignore the problems we face or pretend that we have readily available answers. We must begin, it seems, with great humility and a recognition of our need to listen and to collaborate with one another.
I felt myself stretched at every turn by the conversation of such a remarkable group, and I recognized that the crises of species extinctions, climate change, pollution, and every other form of environmental degradation are tragedies but they are also opportunities for the human family to "enlarge the place of [our] tent" and make the world more habitable for more of God's children (Isaiah 54:2). In this shared concern for the planet, I felt myself surrounded truly by my brothers and sisters.