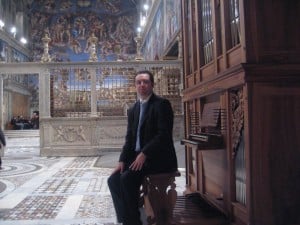 Sometimes the life of a Church musician leads him to be involved with many celebrations with little time to prepare. Here are 3 tips to help out.
1) As you know, the Organ is not the Piano. I have heard organists playing everything with the same register, with the result being terribly boring. We must reconsider the art of choosing the registers for the Organ. The Principale is so named not because it must be used every time.
2) Improvisation is not improvised. It seems a paradox, and perhaps it is. Don't improvise if you're not prepared to do so. There are collections of short and easy pieces; it is better to use those and meanwhile prepare for improvisation.
3) At the end of a celebration you can play with the full Organ, but do not do it for long. The final piece needs to accompany the ministers and the people exiting to the sacristy or to the Church. Don't organize an endless concert for an empty Church.