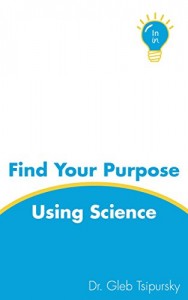 Find Your Purpose Using Science 
by Gleb Tsipursky (Author), Cerina Gillilan (Illustrator), Agnes Vishnevkin (Editor)
This workbook helps you live a meaningful life by finding and living your purpose using science-based strategies. It combines an engaging narrative, stories from people's lives, and research-informed exercises and worksheets designed to help you cultivate a rich sense of meaning and purpose. Written by Dr. Gleb Tsipursky, this workbook draws on the author's scholarship on meaning and purpose and his experience as a science popularizer and volunteer President of Intentional Insights. Tsipursky will donate most of the profit to Intentional Insights, a nonprofit devoted to empowering people to refine and reach their goals by providing research-based content to help improve thinking, feeling, and behavior patterns.
"With his warm, engaging, and vulnerable style, Dr. Tsipursky shares his own personal struggle, and that of many others, to reconcile the world of science and reason with the more elusive and subtle pingings of the human heart – to create a life that is larger than oneself," wrote Brandon Peele, purpose coach and Founder of PlanetPurpose and EVR1 Institute. "Dr. Tsipursky shows how modern research in fields such as cognitive psychology and neuroscience provide demonstrable strategies that allow us to create a purpose – our own purpose," according to Dr. Bo Bennett, a Doctor of Psychology and author of Logically Fallacious. Those who read draft versions gained much from their experience. "Its research-based strategies for evaluating one's purpose and meaning have helped me develop a clearer vision for my future. I am currently pursuing a new set of goals – both personally and professionally – that align with my values," in the words of John Johnson.
Science really can answer life's big questions, such as "why am I here," as shown by a wave of recent research in psychology, cognitive neuroscience, and medicine. The research highlights that such questions are vital, since people who lack a rich sense of purpose have significantly worse mental and physical health. The vast majority of guidance on meaning and purpose comes from traditional sources such as cultural heritage and religion. While this guidance works for some, unfortunately traditional sources of meaning and purpose do not speak nearly so well to others who want an evidence-based approach in which they can be truly confident. This workbook offers science-based strategies and data-driven tools to help you improve your mental and physical health by finding the meaning of your life and thus living with a purpose.
Read this book to find your purpose using science!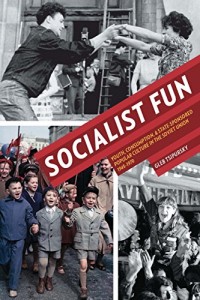 Socialist Fun
Youth, Consumption, and State-Sponsored Popular Culture in the Soviet Union, 1945–1970 (Pitt Russian East European)
by Gleb Tsipursky (Author)
Most narratives depict Soviet Cold War cultural activities and youth groups as drab and dreary, militant and politicized. In this study Gleb Tsipursky challenges these stereotypes in a revealing portrayal of Soviet youth and state-sponsored popular culture.
The primary local venues for Soviet culture were the tens of thousands of klubs where young people found entertainment, leisure, social life, and romance. Here sports, dance, film, theater, music, lectures, and political meetings became vehicles to disseminate a socialist version of modernity. The Soviet way of life was dutifully presented and perceived as the most progressive and advanced, in an attempt to stave off Western influences. In effect, socialist fun became very serious business. As Tsipursky shows, however, Western culture did infiltrate these activities, particularly at local levels, where participants and organizers deceptively cloaked their offerings to appeal to their own audiences. Thus, Soviet modernity evolved as a complex and multivalent ideological device.
Tsipursky provides a fresh and original examination of the Kremlin's paramount effort to shape young lives, consumption, popular culture, and to build an emotional community—all against the backdrop of Cold War struggles to win hearts and minds