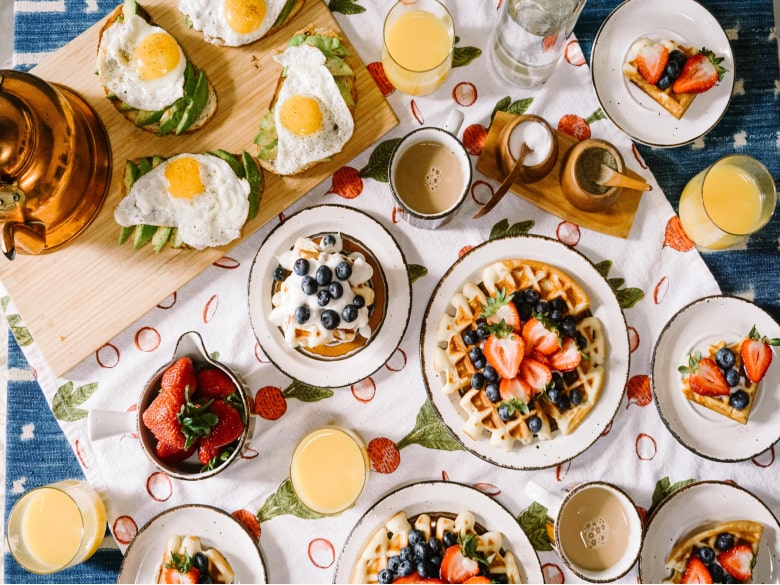 Father's Day doesn't get as much shine as Mother's Day, but it's just as important as Mother's Day. That's why you should celebrate your dad by making him the most delicious food he's ever tasted. 
What Is A Good Menu For Father's Day?
To create the perfect Father's Day menu, start with the foods your dad likes. For example, your day may like Chicken parmesan, cheeseburgers, or Chinese food. Instead of ordering these items from a restaurant, you can make them from scratch to show your dad you appreciate him.
If you do not know what food your dad likes, most dads enjoy meat, so items like bacon and brisket are a must on Father's Day. Hearty sides like potatoes and rice or vegetables like broccoli are also great options for Father's Day. Lastly, cakes are an excellent option for Father's Day, but you can also serve ice cream or cookies if your dad likes those.  
Below are some recipe ideas to help you create the perfect Father's Day menu. 
Father's Day Breakfast Recipes
You can serve your dad the standard eggs, toast, and bacon, or you can jazz it up by making an overnight French toast casserole. You can make the French toast casserole the night before, store it in the fridge, and serve it with bacon, fresh fruit, and pancakes or waffles. 
You can also make a breakfast board. Food boards are stunning but are not limited to dinner parties or Mother's Day. You can arrange biscuits, bacon sausage, scrambled or hard-boiled eggs, and French toast on a large cutting board and transform these plain foods into an elegant breakfast for a king. 
Father's Day Lunch Recipes
If you are serving a huge spread for Father's Day dinner, serve a light lunch. You can serve chili pineapple grilled chicken, grilled salmon, or roasted chicken with a side salad, pasta salad, or roasted potatoes. 
Spicy meatballs in tomato sauce and air fryer pork chops with Brussel sprouts are also great menu options. In contrast, if you plan to serve a heavier lunch, grilled tri-tip, ribs, barbeque chicken, or beef stew.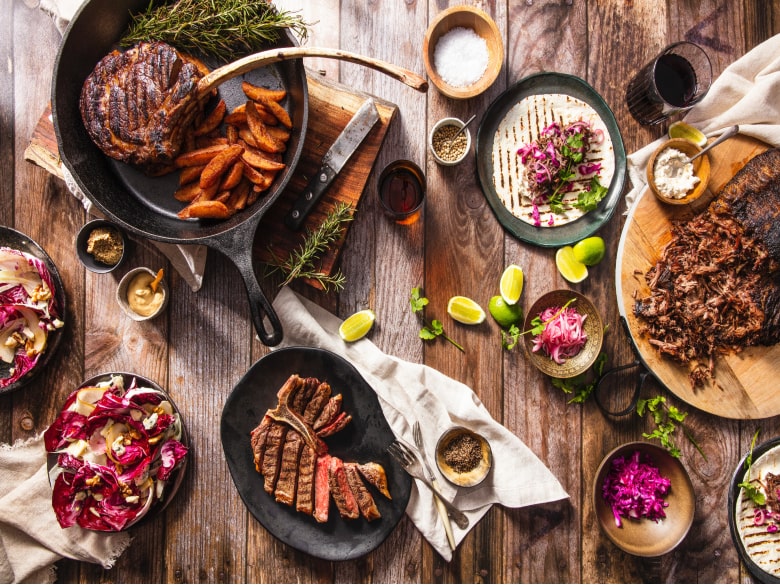 Father's Day Dinner Recipes
Father's Day is the perfect time to serve your dad surf and turf. You can serve steak with salmon, shrimp, or lobster. BBQ short ribs, chicken-fried steak, and smoked sausages are also good options. 
If your dad likes trying new things, chicken bacon risotto, roast leg of lamb, or venison shanks. You can also go with classics like bacon cheeseburgers, meatloaf, or mac and cheese. 
Father's Day Cakes Recipes
Cakes seem intimidating, but they are perfect for Father's Day. The trick is to use a cake recipe that requires little to no decorating. 
For example, you can make a banana upside-down cake without frosting. Simply make the caramel, pour it into a cake pan, arrange the bananas on top, add the cake batter, and bake it. Once it's baked, you can flip it over and reveal a beautiful cake that tastes delicious. Other Father's Day cakes you can make include:
Vegan Father's Day Recipes 
Just because your dad is vegan doesn't mean he has to miss out on a delicious Father's Day meal. For every recipe mentioned on this like, there are at least 20 different vegan-friendly versions of it. 
For example, you can make vegan French toast, pancakes, or waffles for breakfast and serve it with fresh fruit. You can also make a vegan French toast casserole or vegan scrambled eggs using an egg substitute. You can even make vegan bacon using carrots and sausage patties using mushrooms. 
You can serve a fried oyster mushroom sandwich for lunch with grilled vegetables, onion rings, or fries. Alternatively, you can serve sweet potato steaks with salsa and sauteed mushrooms or black bean burgers for lunch. 
For dinner, you can make a portobello mushroom pot roast with mashed cauliflower or mashed potatoes. You can also serve veggie lasagna or chickpea meatloaf for dinner. A vegan chocolate chip skillet cookie, vegan strawberry cheesecake, or sticky banana date pudding are the perfect options for dessert. 
Creating the perfect Father's Day menu doesn't have to be complicated. Use these recipe ideas to create a meal to show your dad that you love and appreciate him.