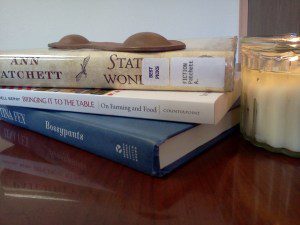 It is officially hot enough to melt your shoes out there, so lots of time to enjoy a good book in the a/c! Or better yet, take that good book and seek higher ground. Curling up in a cabin in Flagstaff sounds just divine right about now…
Last summer I skipped the annual reading list because I was pregnant and re-reading my all-time favorites (crazy hormones send you running for the familiar–for me that meant lots of trips to Hogwarts, Mitford, and Maycomb.)
This year, for all the chaos of moving, mothering 2 small children, and leading a growing and busy congregation, I continue to find time to read books for pleasure. Reading is not an escape for me, but a spiritual necessity. Stories shape our culture and our being, and I always find a great deal of the sacred between the pages. There is so much that we share across culture, age, race, gender and class, and those common rhythms of humanness are found, again and again, in literature. But enough with the preaching! It is summer reading time.
Stieg Larrson's "Girl With the Dragon Tattoo" series: just plain fun to read, impossible to put down, and brilliantly layered. If you are not a professional in the field of finance—the second chapter of the first book is full of jargon that will make your eyes glaze over and tempt you to give up on the whole thing. Power through! It's not important to the story. Skip it and get to the good stuff. Warning: by the end, you will want Lisbeth Salander to be your new best friend. Sadly, she is not real. (even more sadly, the author died shortly after submitting these three manuscripts, so you can't look forward to the next installment. You can, however, wait for American versions of the movies).
If you like SNL, 30-Rock, appreciate strong women with a sense of humor, or just find Sarah Palin really disturbing,  you should read "Bossypants" like, yesterday. If all of the above are true for you, then you have to read it twice.  Tina Fey offers a prophetic, spiritual, and challenging memoir that is still, somehow, full of side-splitting hilarity. In many places, being a woman comic sounds a lot like being a woman pastor—and the rules of improv really sound alot (ALOT) like the rules of transforming congregational ministry. (Another blog post to come on that…) A favorite quote: "Ever since I've been director of 30-Rock, people are always asking me 'Is it hard for you, being in charge?'  You know, in the same way they say, 'Gee, Mr. Trump, is it awkward for you, being the boss of all these people?'" Like i say…sounds alot like being a clergy chic. For instance, people ask me "would you be nervous if i came to hear you preach?"  You know, in the same way they say, "Gee, Rev. Fallwell/Robertson/Osteen– It must be scary for you, having to get up in front of all those people! What if your slip is showing?!" —A note about preaching… I am no more nervous about you–whoever you may be–coming to hear me than i am about the other 100+ people who show up each week. And i'd be no more nervous in front of 1000 people, because my 100+ are just as important as the other thousands. Furthermore, any preacher who does not get just a little bit nervous, each and every time he/she proclaims the gospel, is lacking the life-giving humility that makes for a good sermon. But, I digress… All hail Tina Fey!
Silas House is from my hometown, and is an advocate/activist against mountaintop removal, and other things that rob Appalachia of its natural beauty and resources. He's got a lot of clout in essay and article form, but for my money, nothing reflects "My Old Kentucky Home"–at least my neck of the holler– like his fiction. Start with
"Clay's Quilt."
I think I've already mentioned "The Help," but I will recommend it again. Even if you've read it, you might want to peruse it again before the movie comes out…The scene where Skeeter hears Dylan on the radio for the first time never fails to send a chill all through me, and i'm interested to see if they can capture the power of that moment on the big screen.
Currently, I am in the midst of "Let the Great World Spin," which my brother turned me onto. I went in with high expectations, and have not been disappointed.
Also in my library pile: Ann Patchett's "State of Wonder." I will give it a thumbs up ahead of time, because she is just that awesome. If this is news to you, try her other stuff.
In more church-y sorts of books; I'm looking forward to Parker Palmer's "A Hidden Wholeness." Also on my stack is Wendell Berry's "Bringing it to the Table." This Kentucky girl thinks that if WB were both Pope and President, the world would be a better place. Silas House could be the VP, and while we're at it, can we bring the great Nell Harper around to be the boss of everybody having enough and nobody being mean to anybody else? (I guess that would make her, what, Secretary of Defense and Treasury? I'm pretty sure that's 2 seperate jobs, but if anyone can do it, my money is on her. Or maybe Tina Fey.)
Anyway… truth in fiction, folks. What's on your list this summer? Read up, and report back! oh, and if you're enjoying your read in the Rocky Mountains, or the Redwood Forest, or some cabin in Glacier National Park, then i will need to hear about your setting in detail. I am melting here!