Hamilton! Disney-plus! Really happening!
I clearly can't even talk about it in complete sentences.
We've been Ham-fans for years in this house. My kids learned at a young age that there are "words that are okay when it's art but we still don't say them at school or church!" We took a family road trip to see the show in Chicago last fall when it became clear that, absurdly, that was going to be cheaper than trying to get 4 tickets to see the limited run in the city where we actually live. While I'm sure that seeing it on the screen will not be quite the same as the live situation, there is something powerful and timely about it becoming more widely available during this particular time of upheaval.
"Hamilton," however dubious some of its historical accuracy, is a story that America needs to hear right now. It centers some voices that our history has not always been kind to (namely, women and people of color); it elevates the high ideals of freedom, before that concept got convoluted by "my rights at the cost of the my neighbor's wellbeing." It reminds us that independence is, in fact, complicated; but that the vision of this country was to be a place where all could thrive, regardless of where they came from.
The musical also asks some hard questions of us– as individuals, and as a republic. And, if we're paying attention, there's something for the Church to learn here as well.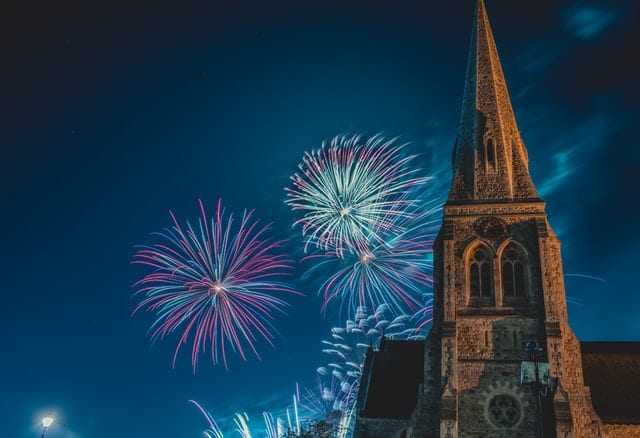 Enter: Aaron Burr. Leslie Odom Jr. made this role. This Burr is a complicated character, not just "the villain in your history books." We get a lot of his backstory in Wait for It, a dramatic musical number in which we learn that he is not so much uncourageous as he is… opportunistic. We find out he had a preacher for a grandpa, a genius for a mother, and a successful father with high expectations.  The woman he loves is married to someone else (which doesn't seem to phase him much). And it all adds up to- a man who is carefully waiting to choose his role in the new reality of America. He is not going to just luck or happen into it. And where others accuse him of not believing in anything, we learn that he is really just more committed to his own success than to any real ideals or values. While it doesn't make him super likeable it does make him incredibly relatable.
Burr's character serves as a foil to Hamilton- visionary, leader, revolutionary; fearless (perhaps, to a fault, reckless); and most importantly, lazer-focused on a mission– – to take part in shaping history, and not just letting it happen to him.
That, in the end, is also what makes these two men powerfully representative of our current place in history. Our modern-day America is faced with a choice: are we going to be bold, blaze new trails, and live into the true ideals of freedom? Or are we going to wait and see "which way the wind blows," and then enjoy the privileges afforded to a few, while those on the edges continue to suffer?
I'm centering this tension, in particular, within the life of the (mainline, protestant, predominantly-white) Church right now. Because it's clear that we have some hard choices to make in this moment.
Are we going to be Hamilton? Or Burr?
Traditionally, and not to our credit, the Church has been a Burr. While appearing to be a voice of authority in shaping the culture, more often, the Church has just been a beneficiary of the status quo. Failing to challenge larger systems of injustice and white supremacy because, by and large, the people in our pews benefit from those systems– which secure the Church in return. So Church becomes the place where those with privilege can comfortably sit out any radical change that might be happening outside the gates; trusting that, in the end, things will settle and we'll come out on top. In the worst of times, the Church has actively taken part in constructing and upholding those unjust systems: for the same reason.
As the foundations of some of those systems shake mightily right now, the Church is shaking with it. And so, the question remains: are we going to sit this out, wait and see what happens here and then decide how to survive it? Or are we going to confess the ways we've helped to write an imbalanced narrative into reality, and work with those on the margins to help write a new story?
Our Church, like our nation itself, has a sordid history when it comes to race, freedom, and economic privilege. To place that reality into some ancient past and say it no longer applies, is not our fault, or is out of our control, is to take part in the death-dealing systems that continue to benefit white and privileged institutions. There are waves of change happening around us — and if the church doesn't step into those waves, boldly choosing a direction and lending the weight of our shared voice to the more just reality that's evolving, then we are writing ourselves right out of the script. The authors of the next act will have no use for us.
July the 4th is not a religious holiday. In fact, the occasion is rife with trauma for people of color who have endured systemic violence in the name of all its freedom. But let's also remember that both our faith and freedom demand something of us: that we lend our voices to the more just world trying to take shape around us; and that we focus on a mission and a purpose, and not just wait for it to happen along.
I will spend at least part of this holiday weekend singing along with Hamilton, and celebrating that the visionaries really do sometimes win–even if they don't always live through the final act. I will also pray that the Church I've loved and lived in all my life will choose the right side of history this time, as it unfolds all around us; not waiting to side with the winners, but boldly forging a new story with all those young, scrappy and hungry visionaries–the ones asking for a revolution.