This was Sunday's sermon for World Communion Sunday. As always, the table was filled with different kinds of bread from all over the world. I moved around the table during the sermon and between each story, broke a few pieces of the bread. I will answer now a question you are going to have later–yes, I broke some graham crackers too. 
***
In the weeks following the devastating earthquake in Haiti, international aid groups hit the ground with food, water and medical supplies. But the infrastructure was poor. Resources could not always be distributed where they were most needed. Many people were hungry.
A small restaurant remained open. Realizing that they would lose a lot of inventory—because the food would spoil before customers would be able to pay again—they made as much food as they could and started giving it away. For free.
As news began to spread that they were giving away free meals, the crowds began to gather… to the tune of 1000 people a day. The crowds grew, and grew…
But so did the provisions. Word got out—as word does, when there is food involved—and neighboring businesses started diesel to keep the fires burning and the doors open. Neighbors and relatives pooled their money, and ordered a truckload of food.
Then the social media networks started working their magic, and the global community got involved. Staples began arriving, in bulk; and much of the food that was getting stuck in the complex channels of aid for the masses, came to be distributed from this small home base of a restaurant. People who came hungry were served a meal—and then went home with supplies that might feed their family for days.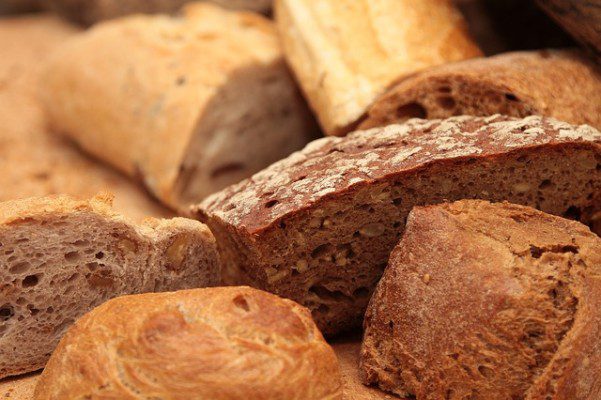 Because one person saw plenty, where others said there was nothing but endless need… and somehow, it was enough. 
Because the world is hungry for hope—we break the bread of life. And there is always more than enough. 
***
Of course it happened right after they opened.
After all the years of saving and dreaming, the young couple opened their restaurant. The aptly named "Our Place," which would be their place, in a small costal town in North Carolina. Of course, shortly after they opened their doors, Hurricane Hugo came to town.
In its wake, they rushed into town with other business owners to see what was left of their place. And found it perfectly, miraculously, in tact. As they took it all in, a deputy sheriff rolled by behind them. Told them that theirs was one of only a few "places" in town that was still standing. And one of a very few that still had power.
What could they do?
They checked their rations. Bacon. Lettuce Tomatoes. Bread. Coffee.
They told the deputy —'free BLT's for all the emergency workers today." And they went to work feeding people.
Later that day, they heard that another place down the road was gouging people—ten and fifteen dollars for eggs and toast—and so the couple put a sign in their windows. Free coffee and sandwiches. For ANYbody. 
And so the crowd of rescue workers grew to a crowd of neighbors. And the neighbors who gathered, stayed to clean up—because isn't that the way it goes.
Word got out—as word does, when there's food involved. News of this loaves and fishes gathering got out on local radio. So folks from the next county over, who had faired better in the storm, cleaned out pantries and freezers and started hauling things to the "Place." A nearby grocery store sent staples. They were overwhelmed with supplies.
And at the end of it all, this one small neighborhood kitchen had served some 16,000 meals. It started with a spirit of hospitality and a few pieces of bread. Because one couple saw how their small gift might fill one small need in their place. And it was enough.
 Because the world is still hungry for sanctuary—we break the bread of life. And there is always enough. 
***
And the Lord told the prophet Elijah to go down to this certain place. Said there was a woman there who would feed him.
When he came near, he saw her, gathering sticks for the fire. And he asked her for a drink of water. She drew him a cup from the well, because surely he was thirsty from that long road.
And then—because God had made a promise—he asked her… could I maybe have a slice of bread?
And she said—"in the name of your Living God—I do not have any bread. Not even a crumb. In fact, I have this one small handful of flour, and a dash of olive oil. I'm going home with this firewood to make something —one small roll, actually—for my son and I. In all likelihood, it will be our last meal."
That's when Elijah knew that he'd come to the right place. That's when Elijah got the prophet-vibe, Spidey-senses, wind-in-the-hair feeling that made him certain that God was cooking up something bigger.
"There is enough," Elijah said. "Believe it or not—there is enough. Go home and make your bread, but then bring it to me. That Living God you spoke of has blessed your almost-empty jar, and your nearly-dry bottle… You will never see the bottom of them. And by the way—it's about to rain like you wouldn't believe."
So she did what he asked—because there was nothing, really to lose. And somehow, it was enough. 
Because the world is hungry for God's promise—we break the bread of life. And there is always more than enough. 
***
Elizabeth had just moved to North Kansas City. She was newly divorced and for this first summer in the new house, her kids gone to be with their dad. Suddenly, the noise and busyness and rush of the school year dissolved into a certain…emptiness. So she did what anyone does when they want to meet their neighbors. She bought a fire pit.
And of course, marshmallows. And graham crackers. And chocolate. And she put word out that every night of the summer months, she would make s'mores. For anyone who wanted them. She would turn no one away, she said.
Word got out. As word does, when there is chocolate involved. And then…well it started kind of like church. That first night, there were two of them. By the third night, there were fifteen. And—in case this isn't sounding biblical enough—by the end of summer, there were more than people gathered around that back deck camp fire most nights. She made friends. She met parents of her kids' classmates. Neighbors who never would have met, otherwise, found out all the things they had in common.
Because one person hoped for connection, and offered up some chocolate…somehow, it was enough.
Because the world is hungry for community, we break the bread of life. And somehow, it is more than enough. 
Because God's people are hungry for community,
for grace,
for justice,
for abundance,
For a better story —we leave this trail of crumbs to the table, and there is always more than enough.
Because there is emptiness —
that desperate place hollowed out by poverty,
violence, and so very many guns;
Because there is the emptiness of addiction,
lonliness,
the loss of life and love,
We will fill the world with good things.
In big, impressive, global ways, maybe—
In small, local, neighborly ways, always—
We fill the world with good things.
And it will be more than enough.