So you are going to a large denominational gathering this summer. If you've ever been to such an Assembly/Synod/Conference/Convocation (or whatever your people call it), you know what to expect: early mornings and late nights. Sensory overload. The joy of seeing and catching up with every person with whom you've ever served, gone to school or attended/counseled church camp. And the utter exhaustion of the same.
Between those early morning and late night visiting hours, your days will be peppered with mediocre food in hotel ballrooms; worship that includes the best of everything the church has to offer and somehow, also, that one song you hate and wish we would ban forever. You'll journey through a crowded convention hall picking up swag from all your favorite ministry organizations; attend a workshop or two, but probably not the one that you really meant to get to; sit through potentially tedious business sessions in a freezing meat locker of an assembly hall; and YOU WILL LOVE EVERY MINUTE OF IT.
Okay, possibly not *every* minute. But still, it will be good. That's why you keep coming.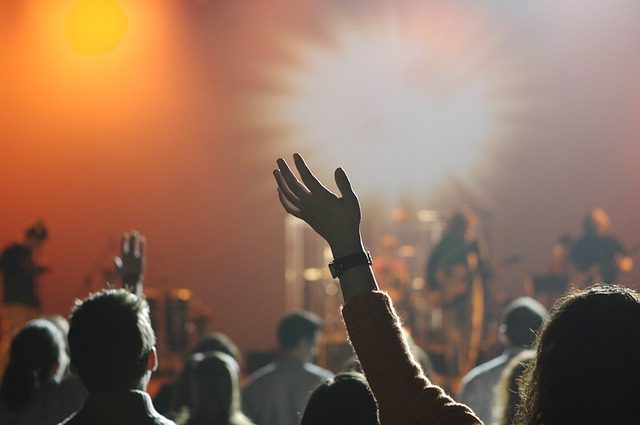 In the interest of loving more minutes than not, here is your definitive, quintessential packing list/survival guide for moving through the days ahead. Eye of the tiger, baby.
Comfortable Shoes We all want to look cute and professional, but while we may start the week looking Sunday best, we somehow end up looking like the last day of church camp by the time it's all over anyway. We're all friends here. Friends walking and standing on concrete floors all day. Take care of your feet because YOU ARE THE BODY OF CHRIST. Jesus has no time for blisters.

A sweater or light jacket Because literally every communication you've received in the 5 months since you've registered has reminded you that it can be cold in the air conditioned hall, to dress in light layers, and for the love of all that is holy please bring a sweater. You don't get to complain about being cold if you don't bring a sweater!
Vitamins and antibacterial product of choice Because when all God's children gather together, there will be GERMS: on the plane; in the hotel lobby; on the escalator; through hundreds of hugs and handshakes and some passing of the peace, this thing is going to be one giant petri dish… Don't overthink because it will give you the shivers, but do come prepared to boost your immune system.
Caffeine Your denomination is not the only thing that's mainlining it this week… you need a literal intravenous supply of espresso to get through the 18 hour days.
Snacks Because you burn endless calories walking and talking, but also because the dinner events are all at 5pm. After that early bird special, you will be wanting to eat again before you make the late night rounds at the bar. And speaking of, don't forget

Bourbon, because no survival guide for anything is complete without it. If you roll like me and refuse to check luggage, find out which friends have a stash in their room or hospitality suite and plan your evening visits accordingly. But between all the caffeinating and happy-houring, you really must hydrate so please bring a
Water bottle. Keep your thirsty spirit satisfied (and don't just sing about it). By planning ahead in this way, you'll cut back on the use of single use plastic, to make the folks in your environmental ministry happy. In addition to these three critical beverages, you will also need to bring with you
A JOYFUL SPIRIT and I don't just mean bourbon this time. I mean a spirit that is joyfully expectant, gracious and above all, flexible. Because a small army of people has been planning this deal for the better part of two years, and they really want you to have a nice time. But they cannot control everything. There will be inconveniences and annoyances. Please try to just roll, remembering not only the good folks who have worked so hard to pull this together, but also those who cannot be with you in this space and really, really wish they could. To this end, it is helpful at some point to break out and see

The sun. Remember sun? That thing you glimpsed in the sky occasionally before you started spending 18 hour days in a concrete bunker with no windows (but plenty of air conditioning, ha ha, bring a sweater). Seriously, take a 10 minute break at least 3 times a day and get some sunlight on your face. We'll all be happier. And less likely to forget
Chargers for all the things. I'd love to calculate how much time people spend running around these things looking for available outlets, or trying to buy or borrow a replacement chord for a thing they forgot. If you charge up before you leave the room, you've got even more time for picking up free doo-dads at all the various booths in the exhibit hall, and speaking of that, bring a
Bag for your swag, and possibly also your bourbon, because Lord but those business sessions can go on sometimes. It helps to walk in with
Realistic expectations about what it is we are going to get "Done" at this particular gathering. We often go into these things with high hopes about what sweeping social change our gathered Body can enact when all are together in one place. I always hold that hope, as well we should. But remember too that real progress is often slow; it is grounded in relationship more than in decrees; and it happens most powerfully at the local level. In other words—the arc of justice is long, but we've gotta believe it bends towards justice… Whatever resolution/measure/sense of the assembly may or may not pass in the space of a gathering, trust that the simple act of coming to the table together is, in itself, good and holy work. And wherever the Church gathers in that one Spirit, it moves towards light and life and love. That's what you will take back to your home congregation and community with you—whatever is or is not in your swag bag.
Happy assembling, Church. May the Lord bless it and call it good; and may the coffee and the Spirit sustain us for the journey.