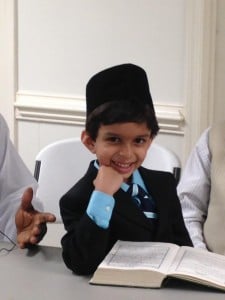 By
Ayesha Noor
Editors' Note: This article is part of the Patheos Public Square on Rites of Passage. Read other perspectives here.
Every day when Hassan and I sat down to read the Holy Quran, we fancied the day of his Ameen Ceremony – the celebration of completing the first reading of Muslims' Holy Book. We had everything planned out, from the lists of guests, to what kind of cake he wanted and where he wanted to celebrate his big day. Although it all went through a lot of modifications, but it kept both of us on track.
However, besides planning the Ameen ceremony, the more important task was to plan out the reading of the Holy Quran. Keeping in mind the magnitude of the Book, we came up with a comprehensive plan. The Holy Quran was originally revealed in the Arabic language and is comprised of over 600 pages and 70,000 words. Therefore, it only makes sense to be able to fluently read Arabic before embarking upon the journey of reading the entire book.  Just like all parents teach their kids learn to ride a bike or arrange piano lessons for them, Muslim parents strive to teach their children Arabic too. It is a challenging intellectual pursuit, and is definitely worth the effort.
With all this in mind​ we set some goals for Hassan. We wanted him to be able to read the ​Quran before his 5th birthday and finish it before his 6th. The process started when he turned 4 and started showing interest in reading Children books. Along with other presents, we got him a "Yassarnal Quran," sort of a training wheel for Quran. Designed over a century ago, this guide is by far the best Arabic reading guide I have come across. Hassan started reading Arabic Alphabets, and it seemed workable.  But as he was introduced with more complex words, his interest vanished. We gave him a break. During the first half of the year, he struggles, but in the later half, he picked it up quickly and achieved his target. All he needed now was practice. And what would be the better way to practice reading the Arabic language than by reading the Holy Quran cover to cover.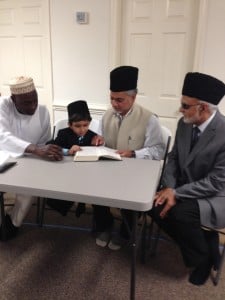 On January 7th, 2014, as he turned 5, Hassan started reading the Holy Quran for the first time. He was thrilled to actually hold the Quran that once belonged to his father. He was no more a "baby" who could only read the Yassarnal Quran. His excitement touched the sky. We started off reading only a few verses daily. However, for a 5 year old, even those few verses were toilsome. His excitement was short-lived. He started getting bored by a book carrying pages upon pages of black and white text without any colorful pictures or art. It was definitely an uphill journey.
We needed to quickly come up with a more comprehensive plan, before he would decide to give it up altogether. Here is what we came up with: The Holy Quran is equally divided into 30 parts. We decided to go out every time he finished reading one part. We went to his favorite Virginia Science Museum, Children's Museums , the Maymont Park, Mini-golfing, the Richmond Zoo, bowling, simply to eat out and God knows what in those first few months of his reading the Quran. That accomplished two things: firstly the monotony he was suffering with ended and secondly, he wanted to read more than even I had expected or wanted.
It took him a month to finish first part, 2 weeks to finish the 2nd, 3rd and 4th parts each, and only a week to finish the 5th part. After that even a week seemed too long to finish one part. It became hard to keep up with our initial promise to take him to places. So we changed our strategy a bit. To keep the momentum as well as to keep him sane we started telling him stories that appeared in the Holy Quran. For instance, he thoroughly enjoyed the stories of Prophets Jonah, Moses, and Jesus. Also sometimes, I would read him the translation of an easy to understand verse. Or sometime we would simply make cookies after finishing up a part or do a little water activity in the backyard. Moreover, towards the end he got particularly interested in the rhymes that frequently appeared in the Quran. This made him actually relish reading the Quran without any reward for it.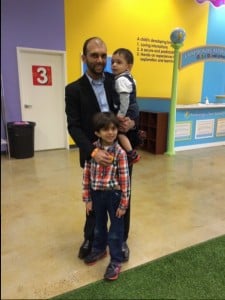 In July, Ramadan started, and it felt like finishing up the Quran by the end of this month was within reach. His grandfather would be in town to celebrate Eid with us. There couldn't be a more appropriate time to finish it up. This is when we went full swing and managed to complete the first reading on July 28th, 2014.
The entire family got together to celebrate his success. As he finished the last 3 chapters of the Holy Quran, he was directed to read the first few verses which symbolizes the continuity of reading the Holy Quran throughout his life. We tried to celebrate it for him as much as we could. After all it was a big achievement for a little boy.
At the mosque in the presence of the entire congregation, the Imam asked him to recite selected verses of the Holy Quran and led in silent prayers. His grandfather got him a new copy of the Holy Quran that is the "shiniest Quran ever" in Hassan's eyes. We spoiled him with his favorite toys, again took him to places and planned for his "big party" i.e. the Ameen Ceremony later on for which he was counting days.
After months delay, we were all gathered at Richmond's famous Children's museum. Friends, family, classmates, neighborhood kids, Muslims, Jews, Christian, white, black and Asians all poured in to celebrate Hassan's accomplishment. Hassan's father initiated the ceremony by inviting him to read a couple of verses of the Holy Quran with its English translation. He then gave a short talk about the revelation of the Holy Quran. . Children's Museums served such a fitting venue to for Hassan and his friends. They totally had a blast.
Although Ameen Ceremony is the celebration of completing the first reading of the Holy Quran but the real idea behind it is to instill the honor and the love of the Holy Quran in the child's heart. Ameen is the beginning of a new era of starting to understand the Holy Quran, which never comes to an end. May Hassan cherish not only his Ameen Ceremony but also strive to absorb the Holy Quran's wisdom.
Follow Ayesha on Twitter @FriendlyMuslim.