Like a lot of people dismayed over Republican Donald Trump's Electoral College victory and what it portends, I am a little short on hope and direction just now.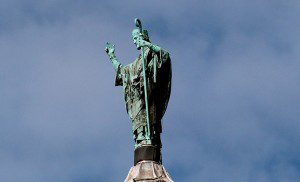 I spend a few days a week on a Catholic university campus. It came to my attention that today is the Feast of Saint Martin. The son of a soldier, Martin gave up his father's occupation some time after his conversion. He reportedly told his military commander, "I have served you as a soldier; now let me serve Christ. Give the bounty to those who are going to fight. But I am a soldier of Christ and it is not lawful for me to fight." After living as a monk, Martin became bishop in Tours.
Father Don Miller, a Franciscian priest, offers this reflection on Saint Martin. Maybe it will offer you some inspiration in the present moment.
Martin's worry about cooperation with evil reminds us that almost nothing is either all black or all white. The saints are not creatures of another world: They face the same perplexing decisions that we do. Any decision of conscience always involves some risk. If we choose to go north, we may never know what would have happened had we gone east, west or south. A hyper-cautious withdrawal from all perplexing situations is not the virtue of prudence; it is, in fact, a bad decision, for "not to decide is to decide."
Saint Martin was a friend of the poor. He also opposed an ongoing religious persecution in his day, pleading that mercy be shown to heretics. I was pleased to learn a bit about him today. We are living through a confusing, disorienting, and potentially dangerous time. Saint Martin stood up for principles and never ceased doing good and showing mercy. Sounds like a good example to follow. I don't know what else to do.
Save