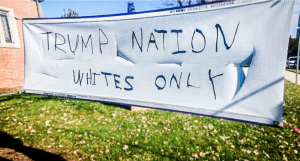 While the media labors to convince worried Americans that President-elect Donald Trump's ascendant administration will be a normal, "peaceful" transition of power, we are bombarded with reminders that this is not normal.
Putting aside, for a moment, the numerous instances of physical attack and verbal denigration that emboldened supporters of the Republican president-elect have perpetrated on women and minorities, I call your attention to another disturbing phenomenon.
On November 13, the first Sunday after the election, reports circulated that churches were defaced. In some cases, the vandals used racist rhetoric and even Nazi imagery.
I saw this sign at a church near my home during the primaries. It now seems almost quaint compared to the vandalism we have seen in recent days.
In Maryland's D.C. suburbs, worshipers arrived at the Episcopal Church of Our Savoir to find a sign indicating Spanish-language service times defaced with the words, "Trump Nation, Whites Only."
At Hillandale congregation rocked by racist vandalism the Peace of God handshake takes on greater meaning this Sunday pic.twitter.com/ngYeidv0OS

— Armando Trull (@trulldc) November 13, 2016
#lovewins over hate. #Episcopal #edow @washdio #Latino #salvadoreños Our Savior, Hillandale, MD pic.twitter.com/bj2PvzhxwI

— Richard M. Weinberg (@richardmosson) November 13, 2016
Bishop of #Episcopal Diocese of DC & other clergy address media outside of vandalized parish Our Savior, Hillandale, MD @Mebudde @washdio pic.twitter.com/fgUJxSrcLV

— Richard M. Weinberg (@richardmosson) November 13, 2016
I lived down the street from this church, and used to attend services there occasionally. It is probably the most ethnically and socioeconomically diverse congregation I have ever known.
A mile away, a United Church of Christ congregation had its Black Lives Matter sign vandalized on Election Night.
On the next page, I link to instances of churches that were targeted with anti-LGBT and pro-Nazi graffiti.