I wrote a book on Rob Bell, and for many reasons, its been a blessing to me. But one of the unexpected blessings was that he became my friend. Now, with Rob's new interview with Oprah, there may be a sense in which some might say, "He can't be for real. He's gone Hollywood. Now he's really full of himself."
Well, let me tell you a story of a friend of mine. Some know that my wife passed away two weeks ago. I let my friend know that this had happened and how painful it was for my two daughters and me. He said, "Wow, I just happen to be flying into Seattle, let me take you and your daughters out to dinner." I took him up on it and, despite his busy schedule, he spent two hours with us. At first regaling us with stories about his latest incredible adventures, but then just being there listening to us, like we were old friends, hearing our pain, welling up with tears, giving counsel; answering questions from my daughters about their hopes and dreams; teaching them a bit about dreaming for their lives, and what was possible. And, after two hours, I asked him if he would bless us, and he leaned over and grabbed us, and prayed for us. We thanked him and wished him well. That friend was Rob Bell.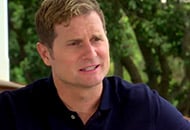 Last night, our family watched Rob be interviewed by Oprah Winfrey on SuperSoulSunday. Yep, the name is cheesy, and the whole set up almost too much to take, Oprah, "On my front porch in Maui interviewing Pastor Rob Bell." Well, okay, at least it is a rather small mansion. And yet, we thought, "Well, that is the same guy we talked to and cried with over dinner in Tacoma. The same guy who loved us back into being; the same guy who inspired us to think about our dreams and how God was pulling us forward; the same guy who blessed us and gave each of us hugs."
So, when I say, "Rob Bell is the real deal," this is what I mean: the man believes what he says, and lives it out in his life. Like many, I was originally rather suspicious of this evangelical, megachurch pastor, and frankly he was suspicious of me, but what I discovered is that he is a man in love with God, addicted to wonder, relishing the ability to communicate these truths, and uniquely gifted to carry on a message that God is with us, for us and ahead of us.
In some sense, he is living out his original vocation of wanting to walk in the footsteps of globe-trotting evangelists, but he has adapted his message to the needs of a global audience that is deeply suspicious of religion, but is also deeply curious about where the "moral arc of the universe is going," committed to caring for the environment, hoping that there is a God who is a song that pulses through us and moves us to create, to love, to forgive and to do justice in the world; a God who, for Rob, is revealed in Jesus, the one who brings life and life more abundant.
Now, we can purse our lips and say, "Rob Bell is not for real." But I have studied him, wrote about his life, listened to and transcribed more than 100 of his sermons and speeches, and I have come back again and again to this point: he is a good man, a man who loves his family and a man who knows what it is to be a friend.
So, is there a better person to partner with Oprah to spread a message of good will, peace and justice? I don't think so.
Rob Bell is for real and if you want to know about him, read my book—it tells his story, where he came from, what he did at Mars Hill (which is much more amazing than any megachurch pastor that I know), the enormous risks he has taken in moving out West, (he had no guarantees of a TV show), and what he really wants to do, which is precisely what he is doing—communicating the good news of a God who loves us in Jesus Christ.
I loved his answer to the question of who is God: "God is like a song that you hear in another room, and you want to get into that room and when you do, you turn all the knobs to the right, because it is so beautiful, and then you open the windows, because you want everyone to hear." Oh my, I can see that, feel it and hear it and I say, "Amen."