(This is a sermon I gave for Bill Harper's retirement on April 24, 2015. Bill helped to found Grace Episcopal Church on Bainbridge Island. In twenty years of service, he helped to build an extraordinary, progressive Christian witness, which attracted not only hundreds of parishioners but a thriving youth ministry of more than fifty young people every Thursday night. Progressive Christian leaders should take note of Bill's amazing legacy.)
As some of you know, Bill and I have a few things in common. Some might say too many things in common! We were born in August 1958; okay, he clocked in a bit earlier than I did, the 8th, and me, on the 20th. So I think we are both Leo's, whatever that means! We were born to strong mothers who liked to talk. We spent our youth, strangely enough, thinking about girls and God—probably in that order. We both went to Interlake High School in Bellevue; we did Young Life together. We grew our hair out long and those manes served us well, or at least Bill's has, and isn't that what Leo's do!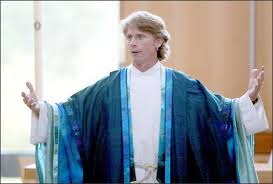 We both went to the University of Washington. We took a class together called the Nature and Study of Religion with Professor Eugene Webb, which in many ways shaped our whole lives. Prof. Webb helped us to know that we could glimpse the truth of the gospel, but we could never own the truth.
And so we were Bellevue boys, trying to work out our salvation in fear and trembling—getting depressed at our Capital Hill apartment on Bellevue Street; reading Soren Kierkegaard together; taking TS Eliot's Four Quartets up Aasgard Pass, as we would hike into the Enchantments Lakes. You know one of the things I like about tonight is that Bill doesn't get to speak! And you know Bill likes to talk, and he's good at it, better than me. But let me tell you a little secret, many times on our hikes in the Cascades in those college days, we didn't speak at all, we'd spend the whole weekend in a kind of sacred silence, shocking I know, think of it, Bill NOT talking!
Then, of course, we both met and married women way out of our league – beautiful, brilliant women who loved each other, each became successful business women, maybe they knew we were going to become ministers and professors. And, of course, we did. And in time we had to have kids who were born at the same time, and of course, Bill and Carolyn had boys, we had girls, which if you think about it, probably doesn't make sense. But that's another story! And, of course, Bill and Carolyn made it back to Bainbridge Island before we did, but, as always, trailing behind, we got here too, and then the universe was complete. We raised our two families together; their boys and our girls would laugh and giggle as we sat upstairs on our back deck, enjoying the warm summer days. And my girls would dress their boys in girls' clothes, and we'd all laugh at the irony of it all-our girls teaching their boys how to be more like girls. Perfect.
And then I began to teach at the Comparative Religion Program at the UW; I became the chair of that program, and it was a perfect circle: Bill a graduate of the program and me now taking the place of Eugene Webb. And then Bill building a church, me building a program at the UW; Bill loving youth, me loving students; Bill preaching the Gospel, me writing a book about Bill building a church; me thinking about religion, Bill doing religion. Some might wander what's going on here?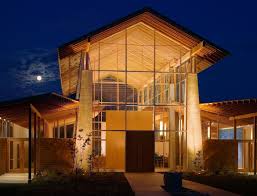 Perhaps it was all a little too perfect. And perfection, we know, doesn't last, and in many ways it can't, and even you, Bill, my friend, after building this amazing church, look at this place, your time here is ending, how could that be? But without endings there really is no way to mark a life. And so tonight we mark your time here, your amazing legacy.
As some of you know, I recently visited India. We went to the Mungeli Christian Hospital, a missionary hospital, which reaches out to the poorest of the poor in India. They run a nursing school, and there is chapel each morning, and they asked me to preach and I picked a verse from scripture. The verse was about how Jesus invited the little children to come to him. The disciples, as dumb as ever (not too unlike us), tried to keep them away, but Jesus said, "Bring them to me," and then he said one of the most revolutionary sentences ever, "For to them belongs the kingdom of God." And I looked into those nurses' eyes, and I said, "You all are in the business of carrying and holding and loving the kingdom of God in your arms each and every day, literally." And, as we know, if the babies are valued, then women must be valued, and if women are valued then the least, the last and the lost of the world must be valued – to them belongs the kingdom of God. This changes the whole world; Jesus changes the whole world, and he holds the whole world in his hands.
In Young Life, Bill and I talked about life verses, and I know it's pretty hokey, but I think this is Bill's life verse, "Bring the children unto to me for to them belongs the kingdom of heaven." I haven't been to that many of Bill's services. But when I come here, the little children are always at the center, and Bill is always with them at the center, always incarnating the kingdom of God at the center of your worship services, always holding the kingdom of God in his hands, always inviting, inviting you all to see, to touch, to incarnate that truth, to them, to these little ones belongs the kingdom of God. I've always tried to do that too, but you Bill built a whole ministry around that theme, around that powerful, world-transforming theme. Is there anything more important? Is there anything more life giving, more life transforming than that? Is there anything more centered on the gospel than that? The answer is NO.
So, when I think of Bill I think of him getting down at eye level with the children and speaking in his soft voice, with that Cheshire grin, saying, "How are you today?" He's cooing just a bit, and the kids are smiling, knowing that this guy is safe, he really cares, this isn't a put on, "This is Bill, my friend, he talks about Jesus a lot, there must be something special here." And then Bill takes one of the little ones in his arms, and like a good shepherd, he holds them, baptizes them in love. Now that's the image I have of his ministry, let's all snap that picture, that's worth holding onto, there is nothing more world changing than that image.
So, everyone, just now put your arms together, cuff them just so, as if you're holding a little one, yep everyone. Bill has taught us this that there is nothing more important than doing this small, sacred act. We carry the whole world in our hands, we carry the kingdom of God in our hands, maybe we carry ourselves, our truest selves in our hands, maybe tonight we carry our friend Bill in our hands, and so every time this happens think of Bill, think of my friend Bill. What a gift he has given us. I love you, my friend. We love you and blessings on your way. Amen.