First, three confessions:
1. Elizabeth was my graduate student in the MA Comparative Religion Program at the University of Washington. I promised to read and review her book. I was worried, "Maybe I wouldn't like it?" Well, NO WORRIES, this is a great book that parents of youth, whether girl or boy, should definitely read!
2. I am the father of two grown daughters, I worried I'd find out that I had done something wrong in talking with my daughters about sex. And truth be told, my beloved spouse, Annette, who died two years ago, did most of the hard work of "facing the talk." And as in most things she did is with aplomb and wisdom and I think our daughters have charted a course that she would be proud of, as I am. But we weren't perfect and so, on occasion, I found myself wincing, "Hm… I could have done that better."
But, so it goes, I will review this book with this premise: PARENTS OF BOTH BOYS AND GIRLS should go out and buy this book, it would be a great stocking stuffer!
Why?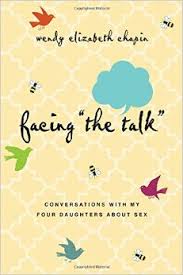 1. Most of us really have no training in parenting whatsoever. More to the point, most of us have little or no experience in talking about sex, or how we might address it in a way that doesn't shame our kids, or make our kids think sex is bad or that sex is strange or that sex is shameful and embarrassing. Many of our kids end up saying, "Look at my parents they can't even talk about it without giggling or getting embarrassed." My only talk from my own parents was a short book on "Growing Up" given to me by my dad, who said, "If you have any questions come talk to me." Well, needless to say, there was no "talk."
2. I am NO professional in educating in sexuality, but from my sample of looking at adults, at myself or even at young people that I know from serving as a youth group leader, most of us parents are really in the dark about how to help our kids negotiate the teen years relative to their sexuality. Speaking for myself, I went through seminary and there were NO classes on sexuality, or how one might interpret it or talk about it from a spiritual or Christian point of view. When I look back on it, it's really shocking.
So, what's powerful about Elizabeth Chapin's book?
1. It's real. Because I know Elizabeth, I know that she put her heart and soul into this book. She revealed things about herself that are heartbreaking. But what is really important is that as she tells how she handled these things, she taught me and can teach others on how to be reconciled in grace and peace not only with oneself but with God. This is a thoroughly Christian book and as Elizabeth points out, too much of Christian education in sexuality and gender have been about shame. That is, teaching us that we are bad people—and that there is something inherently wrong with us, and in many cases how there is nothing we can do to change it. This terrible burden scars us and really undercuts our relationships with ourselves, with God, with our kids and certainly with our thinking on sexuality.
One of the most powerful sections of the book is the story of how one of her beautiful daughters was struggling to decide whether or not to have sex. She wanted to but in the end decided against it. After a long talk, the daughter said to Elizabeth, "I know, Mom. If I didn't know you love me, I would have had sex already!" It is a heart-rending story and underscores the power of Elizabeth's narrative but more than that the whole book is a testimony to how loving Elizabeth and Ken have been as a parents to their four girls. I cried in this section several times, having felt many of these feelings for my own two daughters.
Later, with the same daughter, Elizabeth narrates how her daughter later confessed that she did indeed have sex, and how disappointing it was and how afraid she was that Elizabeth and her husband would think she was bad. Elizabeth and Ken embraced and accepted and loved this daughter with such grace that I again cried (and I was reading the book on a plane back from the American Academy of Religion—my seat mates probably thought I had lost it). This section, and really the whole book, are a beautiful witness to listening, loving, and not shaming someone who had gone through a heart wrenching and painful time.
2. It's simply full of great pieces of wisdom.
-Be careful of purity rings and modesty rules, they can become shaming tools which injure young souls, and teach that maybe they really are bad.
-Establish rituals of creating a place or time for "the talk." I loved that Elizabeth established get-a-ways, which were really long car trips, in which her daughters was given the chance to talk about sex and what its for.
-Not everyone will agree with Elizabeth and Ken's principles that sex is for marriage in which love is secure and nourished. But what I thought was helpful is that they set standards, all the while clear that they themselves had made mistakes, and that those mistakes were forgiven. Our acts may be wrong but we aren't.
-There is simply a lot of goofy wisdom throughout the work. As anyone knows, parenting is sometimes chaotic and Elizabeth turns crazy events into learning events that are full of laughter, tears and great wisdom. READ the book, it's poignant and funny.
So, what are you waiting for, GO BUY THIS BOOK, you may not agree with everything in it, but it gives you practical and usable advice, especially if you come from the Christian tradition on how to raise, happy, healthy, young people, who see sex as an intimate and profound adventure full of goodness and grace. What is better than that?
So, to Elizabeth, my former student and in many ways my teacher, I say, "BRAVO!"