Yes, my son is a junior in high school, so I knew that the onslaught of college brochures would be inevitable.  But this was an unexpected start to the process: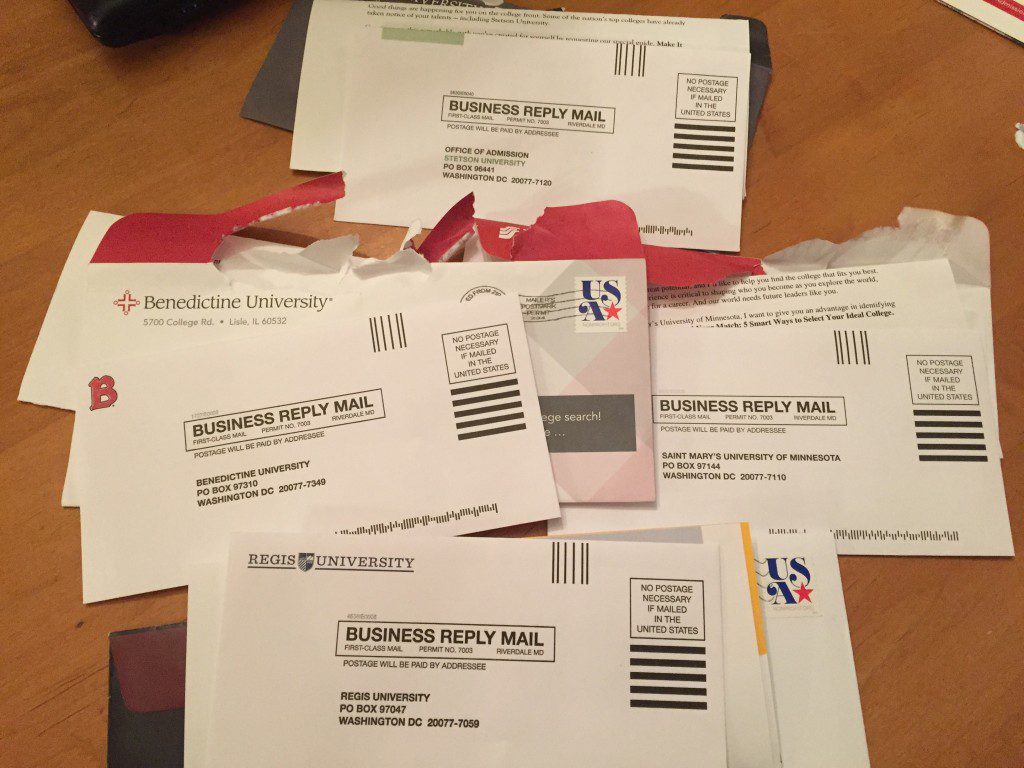 Six letters, all on the same day, all promising to send my son a free book about choosing a college, or doing well in college, or the like, and, when he goes online or returns the envelope, he'll also learn why X University is the right choice for him.  And of these, two (not photographed) had unique return addresses but the other four were all Washington D.C., even though the colleges had nothing to do with that city.  The format was so identical that it was clear that it was a case of these universities, and who knows how many more, hiring a marketing firm, and not really paying all to much attention to whether the multiple versions of the same offer erase any hope of the prospective student being impressed by these offers.
(Not to mention two letters telling him he's been chosen as his high school's representative for a special program for high-achieving students interested in medicine (which he isn't), with only in the fine print the statement that tuition ranges from 2,500 to 3,500 depending on location.)
How much money are these universities spending on marketing, while simultaneously insisting that they need to hike tuition year after year?
Again, I'm prepared for brochures telling my son why College X is the perfect fit, but these letters so clearly coming from a marketing company?  Very discouraging.
UPDATE:
And today is the day when the Akron processing center letters arrived.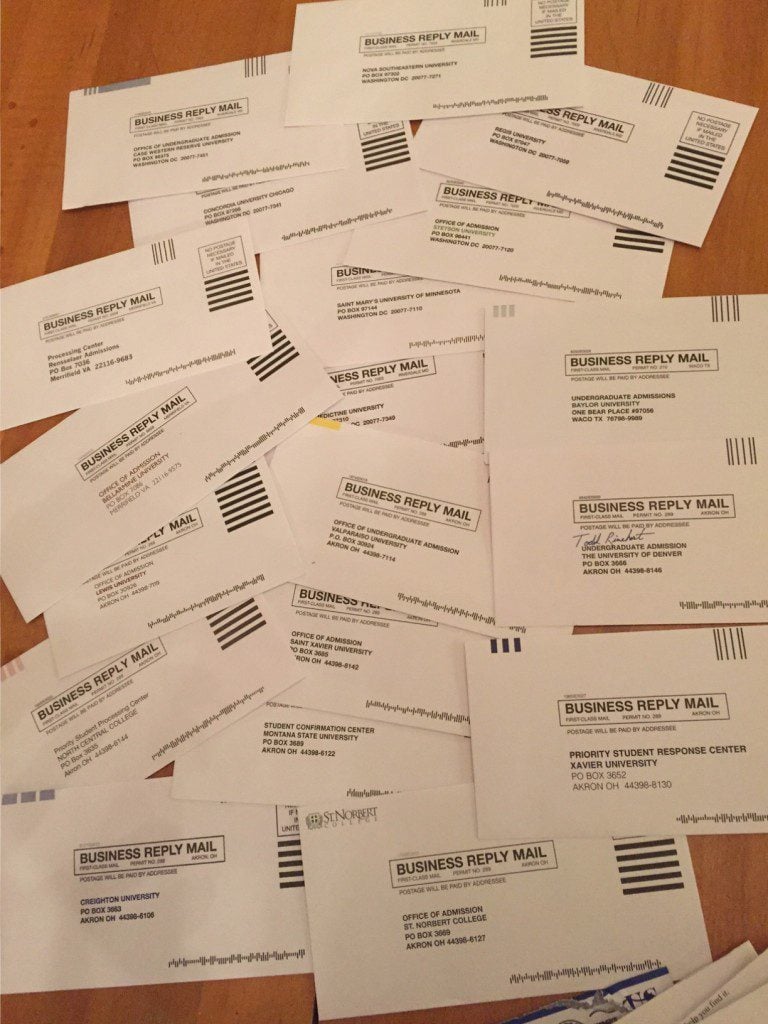 So far, we have
Xavier University offering their "exclusive" College Scorecard pocket-sized rating card.
Rensselaer invites kids to take an online quiz, Major Decision Time.
Nova Southeastern University offers Top College Search Tips for High-Achieving Juniors.
St. Norbert College offers Building Momentum: 5 Ways to Prepare Now for the College of Your Dreams.
Concordia University Chicago offers 5 Ways to Do What You Love and Get Noticed by College Admissions.
Baylor University, 5 Strategies for Choosing a Major.
North Central College, The Seven Things Students Forget When Choosing a College
University of Denver, an interactive quiz, Know NOW: Discover Your College Type Today!, which promises to match you with the type of schools that reflect your interests and goals (hmmm. . . wonder what the answer will be?)
Valparaiso University, Showcase Your Success:  Get Noticed by Your Top-Choice School.
Case Western Reserve University, Best and Brightest: How America's Top Scholars Choose Their Ideal College.
Montana State University, an e-quiz, What Your Personality Means: Finding the College For You.  They also promise a poster featuring the Rocky Mountain landscape at Bozeman.
Creighton University:  You Make It Happen:  Five College Search Tips for Motivated Students.  (Hmmm. . . is this the same as the "Top College Search Tips" from Nova Southeastern University?)
Dominican University offers Tips from the Top:  Expert Advice on Preparing for Success in College and Beyond.
Lewis University offers Your "Wow" Factor — and How to Use It to Start Your Career.
and Texas Christian University offers the College Comparison Chart.
Every single one of these follows the same format:  a paragraph offering the freebie, instructions on how to access it, and one lonely paragraph on the university itself.  Except for the last three on the list, who might have purchased a customized package, the envelopes are all the same, and there are four different processing centers.
What a frickin' joke — and I don't even want to know how many more letters come from this marketing company tomorrow!  I suspect, too, that these guides were all written by some freelancer, with the objective only to make sure that the content of each is at least minimally different than the others.
That which colleges think is going to get them more students, or more students paying full freight (due to our zip code) or students with higher rankings (due to my son's test scores), or get them more applicants, anyway (though none of these schools strike me as being particularly selective) — is just sending my cynicism with the entire college admissions process, indeed the entire university business model, skyrocketing.  Just how many kids were the recipients of these letters?  Sure, one such letter might generate some interest, but a dozen or more makes it abundantly clear that these booklets and quizzes will offer nothing of value and are an indicator of nothing other than an admissions department that's lost its way.