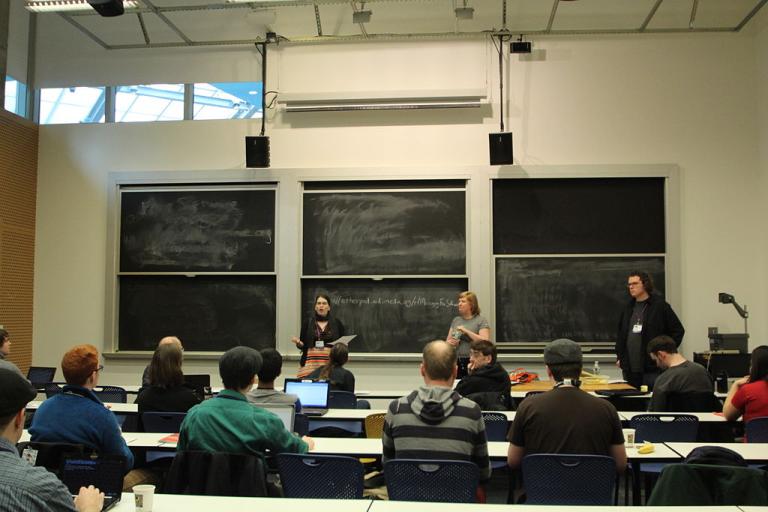 As in, I'm Mom, and this is the list I started as a way of organizing my thoughts on advising my son, after last night's college fair, on what he should consider, since I've been persuaded that there is a reasonable chance of his being offered merit scholarships that would make the cost of midlevel private schools reasonable, even though we wouldn't qualify for financial aid, so that he doesn't need to completely restrict himself to state schools.  For context, he'd getting good grades and taking honors classes, but isn't one of the super high achievers and doesn't have a lot on his resume in terms of the "leadership" experiences they're always talking about, and isn't going to impress anyone in an interview, and, yes, as you can guess by my own picture, he is not an underrepresented minority.
So:
1.  Small vs. large school:
Small =
More emphasis on professors knowing and being accessible to students
Smaller class sizes
Large =
More variety in course offerings (more choice in electives, more specialization in core classes)
More job placement services
More choice in dorm, student activities, etc.
Larger class sizes
Classes taught by TAs (grad students, who may be inexperienced) or adjuncts (part-time/temporary, juggling classes, may not be consistency, may not be available to talk to outside of class)
2.  Big fish in small pond vs. small fish in big pond:
Aim for most selective/prestigious option you can gain admission to =
Again, more specialization in core classes
Higher level of rigor
Better job hunt chances if school has "name recognition"
Comparatively higher-achieving student at a less prestigious college =
School has greater interest in treating its top students well, offering them opportunities for research, working with professors that wouldn't exist if you're just a comparatively midlevel student
Greater likelihood of merit scholarships
More likely to be eligible for an honors program
3. General Education Requirements
Some colleges will have fewer requirements, allow more classes in major, others have more extensive list of requirements
Some colleges are very  "traditional" with reading "classics" and others emphasize multicultural studies (sometimes very political)
4.  "Religious" nature of the school
"Catholic" (or Christian generally):  can mean anything from seriously Catholic/Christian, to relatively indifferent about worship/theology but big on social justice, to a part of heritage only.
A Protestant college might have a better campus ministry for Catholic students than an indifferent Catholic college.
A non-religious college might still have a good campus ministry program.
Any college can have a "Christian"/conservative morality orientation or can be in-your-face with Sex Week and the like.  There are stories of professors being actively hostile to religion, but I have no way of knowing which colleges are like that.
5.  Politics of the school, e.g., will campus life be dominated by protests all the time?  Will professors start spouting their political beliefs in the middle of chem class?  Will students be required to take "orientation" sessions in anti-racism, white privilege, etc?
6. Is it a party school?
A "party school" can have good options for non-partiers, but there are no guarantees.  Some kids get stuck in bad roommate/dorm situations, or just can't seem to find non-partier friends.  Sometimes a party/drinking atmosphere can simply be wholly disruptive.  Some kids find a good niche in a party school (that is, an honors dorm floor or just a good social circle) but too many "good kids" have ended up partying to the point of academic failure and/or alcohol dependency.
(Mom speaking:  back in my college days, I knew a kid who lost his scholarship and dropped out due to drinking and pot, and another who failed out for reasons that were never entirely clear to us but, whether substance-related or not, were largely that he couldn't get himself into a good routine away from the supervision of home.  And I worry that my son will have particular difficulties navigating a party environment.)
7.  Are there interesting student activities? 
(Mom's note:  I missed out on this myself, since I never really seemed to find a group to belong to; I presume it's easier now when you can just look online rather than see what flyers may or may not be posted around campus.)
8.  Residence Hall policies
Do they have a "matching" process or purely random roommate assignments?
What options are there if the roommate assignment doesn't work out?  Will the staff accommodate a change or tell the student to learn to get along?
Are there Honors or other options?
What does housing look like for upperclassmen?  Are there single dorm room options?
9.  Location
Would you like to live somewhere other than the Midwest, e.g., south (warmer temperatures), west (mountains)?
Would you like to have some nature/hiking trails nearby?
Small town vs. urban?  (Note:  "small town" may not mean any nature nearby if it's all just surrounded by farm fields.)  "College town" atmosphere (restaurants, shops)?  Access to mass transit?
10.  $$$$
If, after all the scholarships are applied for and received or not, and the Bank of Mom and Dad sets a budget lower than the cost of your first choice school, is it important enough to be worth the extra cost of school-year and summer jobs, student loans, etc.?
Readers, what else belongs on the list?
Image:  "LibrePlanet 2014 27" by Lionel Allorge – Own work. Licensed under CC BY-SA 3.0 via Wikimedia Commons – http://commons.wikimedia.org/wiki/File:LibrePlanet_2014_27.jpg#mediaviewer/File:LibrePlanet_2014_27.jpg