You have perhaps heard of the dust-up at Kirkus Reviews, in which a dystopian novel about a white teen girl gradually coming to understand injustices being perpetrated upon internment camp-imprisoned Muslims in America, and then act as a rescuer, is originally given a "star" following a review by a certified Muslim woman of color, but then, following criticism of that review, they retract it and add more critical statements, following the judgement that it is irredeemably flawed by the author's choice to create this dystopia but then place the white girl as rescuer and narrator, rather than follow a Muslim escaping on her own.  Along the way, I learned that this reviewing service deems the identification of the ethnicity/race of the characters of a children's book as an integral part of a review, and, indeed, looking at their website, not only is this the case, but, in cases where race is not clearly identified, the reviewer comments on the skin colors shown in the illustrations.  And maybe this is fine; it's an added piece of information that might be of use to some people.  But I got the impression that it was more than just an extra piece of information; I didn't do the math but it sure looked as if books with "ethnic" characters seemed more likely to earn that status of "starred review."
But reading through the reviews, few of which seemed to be for "regular" stories, I decided to take a look at the bookshelves of my own library when I was there earlier today.  This is what I saw in the new book section: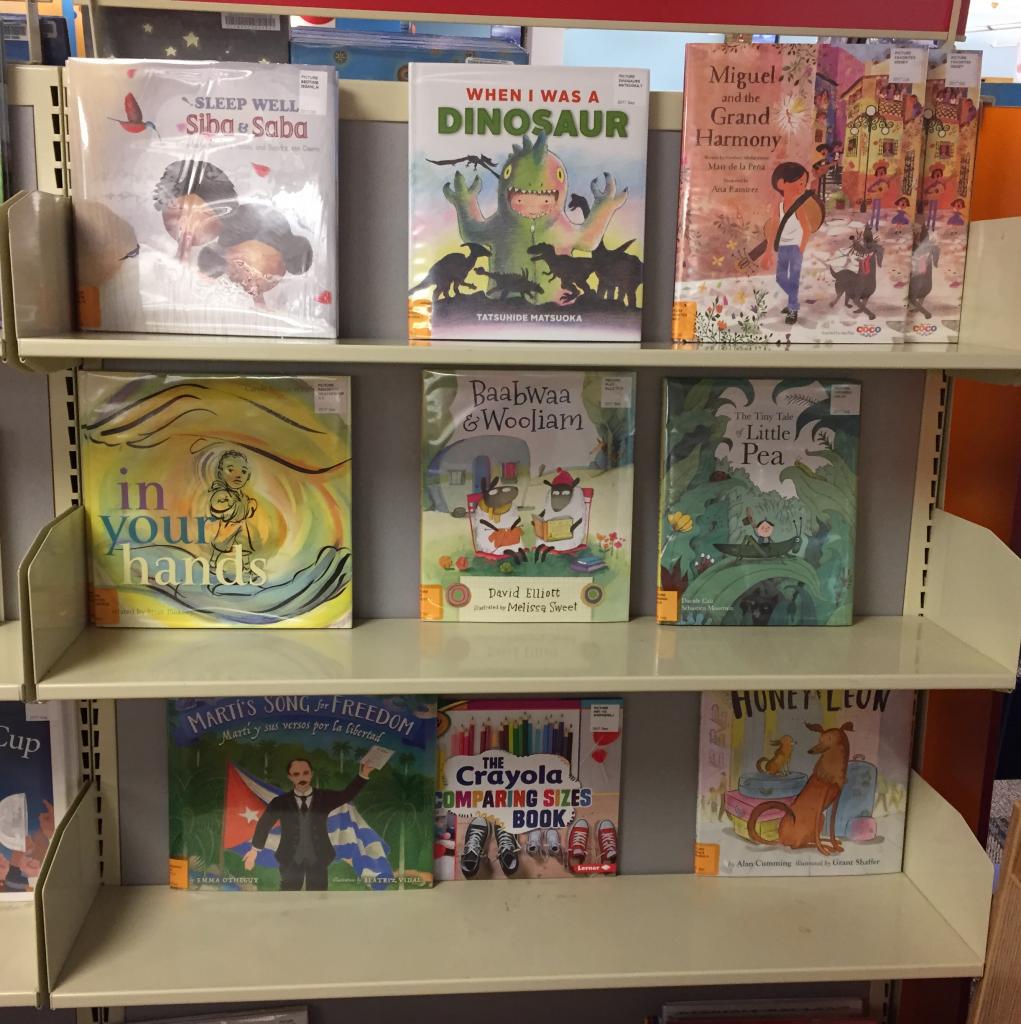 From left to right, top to bottom:
A description of the sights of Uganda.
Asian-looking children imagining themselves to be dinosaurs.
A Mexican fiesta.
A good-night poem with illustrations of black children.
Sheep.
A miniature boy who looks vaguely Asian.
A bilingual story of a Cuban revolutionary.
A book about sizes.
Animals, again.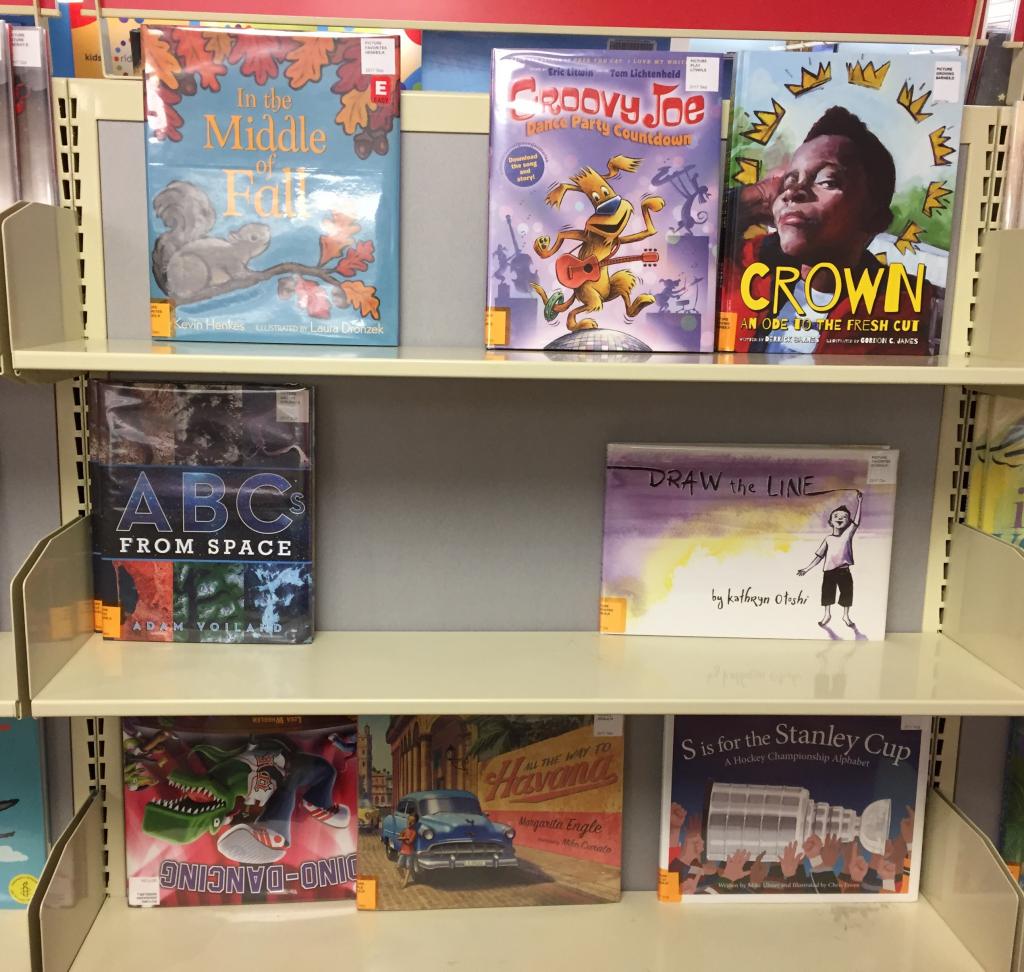 An ode to fall.
Animals.
A poetic book about a black boy's haircut.
Nature photographs.
A wordless book (with one black, one white child) that's meant to teach about friendship.
Dinosaurs.
A warm-and-fuzzy book about modern Cuba.
A hockey book.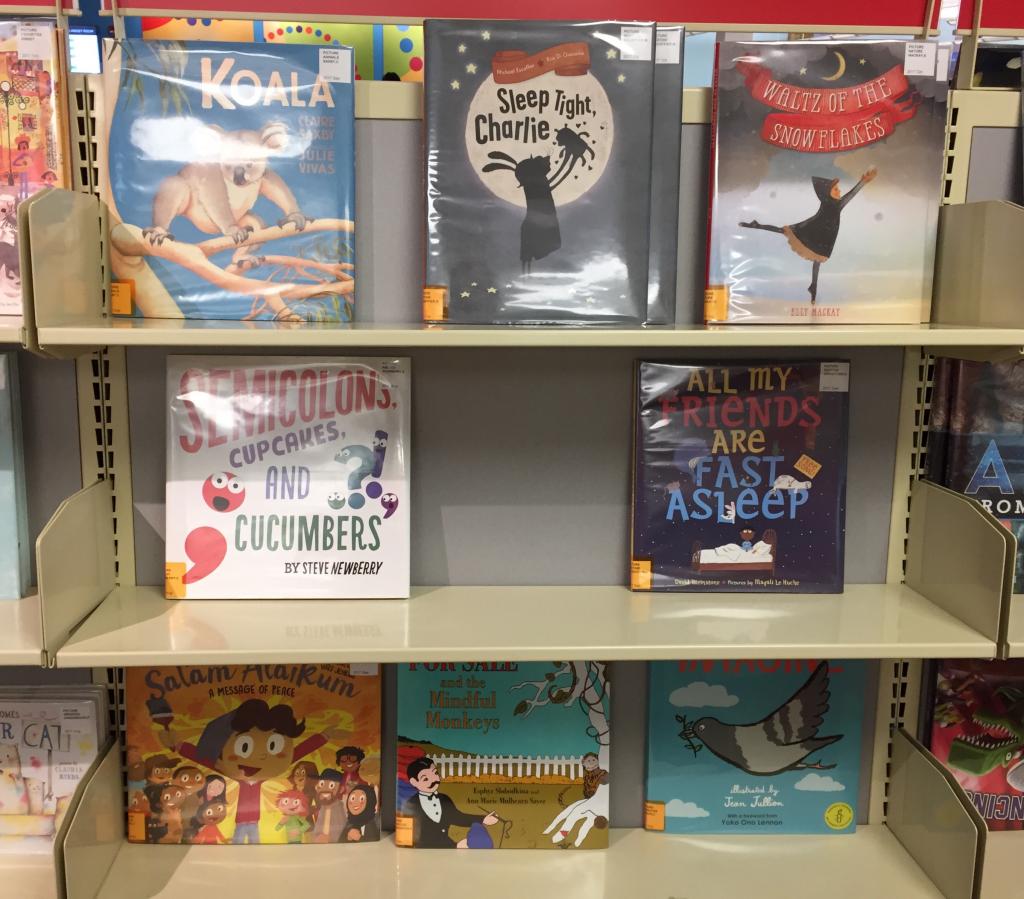 Animals.
Animals.
Another wordless book, about a white girl and her family, and a black boy, at the ballet.
A strange grammar book.
A black boy can't fall asleep.
A Muslim boy and peace.
The classic Caps for Sale (a white man selling caps).
Doves and John Lennon's "Imagine" (ugh!).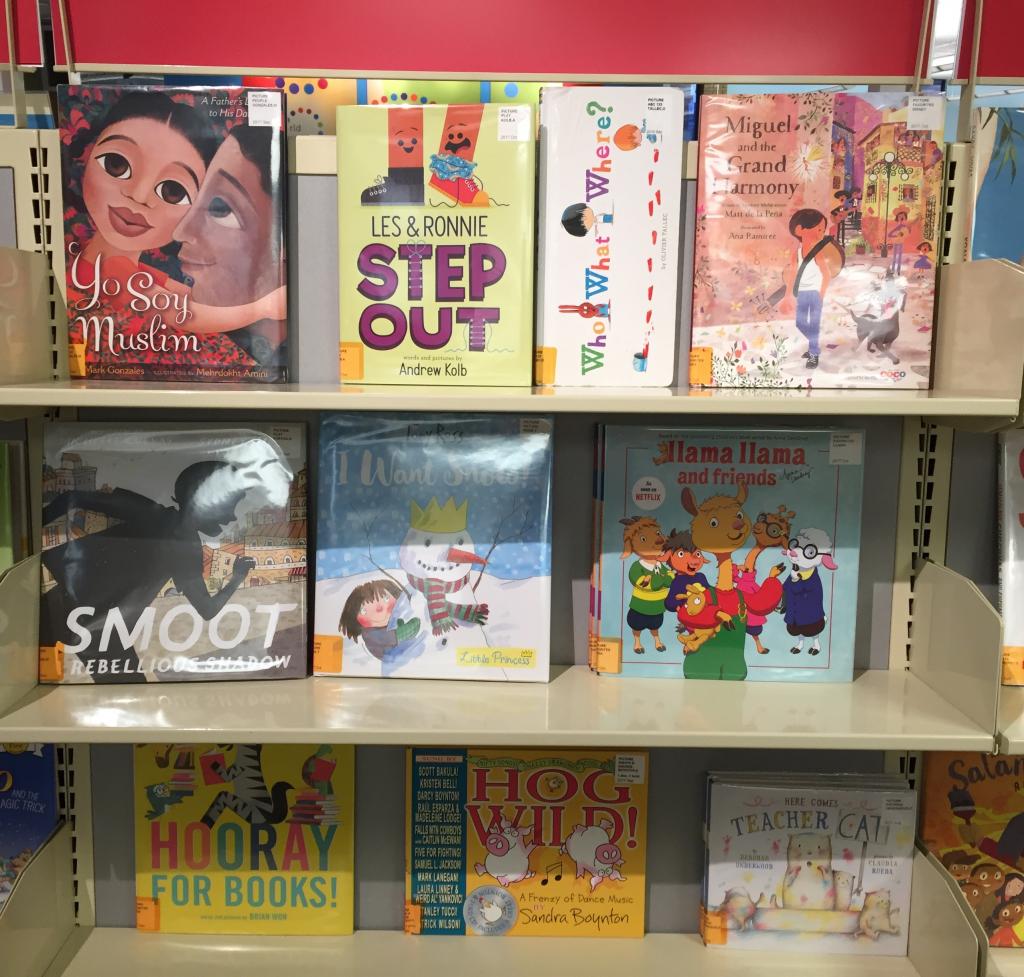 A Hispanic Muslim proud of his heritage.
Two Feet of Color want to do different things.
A kind of strange puzzle book.
A repeat of the Mexican fiesta book.
A runaway shadow of a white child.
A white princess who wants snow.
Animals.
Animals.
Animals.
Animals.
Are any of these books, individually, problematic?  Not necessarily, but just looking at this display reminds me of the difficulties I had finding books for a kid who wasn't impressed with that which is preachy, or poetry to appeal to a "literature"-minded adult.
Among my three boys, and especially for my youngest, this is a sampling of what got pulled off the bookshelf and requested repeatedly: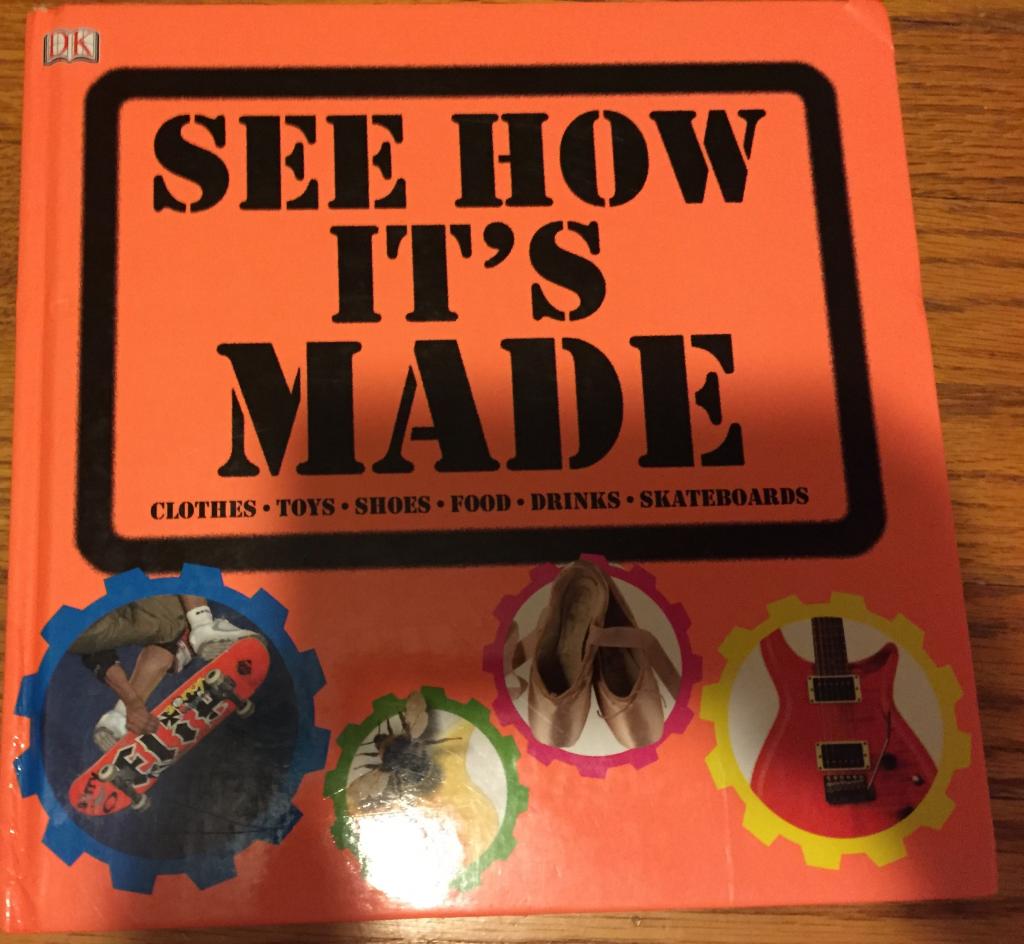 See How It's Made published by DK.
Yeah, good luck finding this one.  It was out of print when we hunted for it, or, rather, for a book about How Things Are Made, for a kid who loved How It's Made on TV, and made a special request to Santa at daycare with virtually no time left before Christmas.  We ordered this from a homeschooling curriculum company, and paid more in rush shipping than the book itself cost.  And we read the pages over and over again — I remember apple juice and crayons in particular.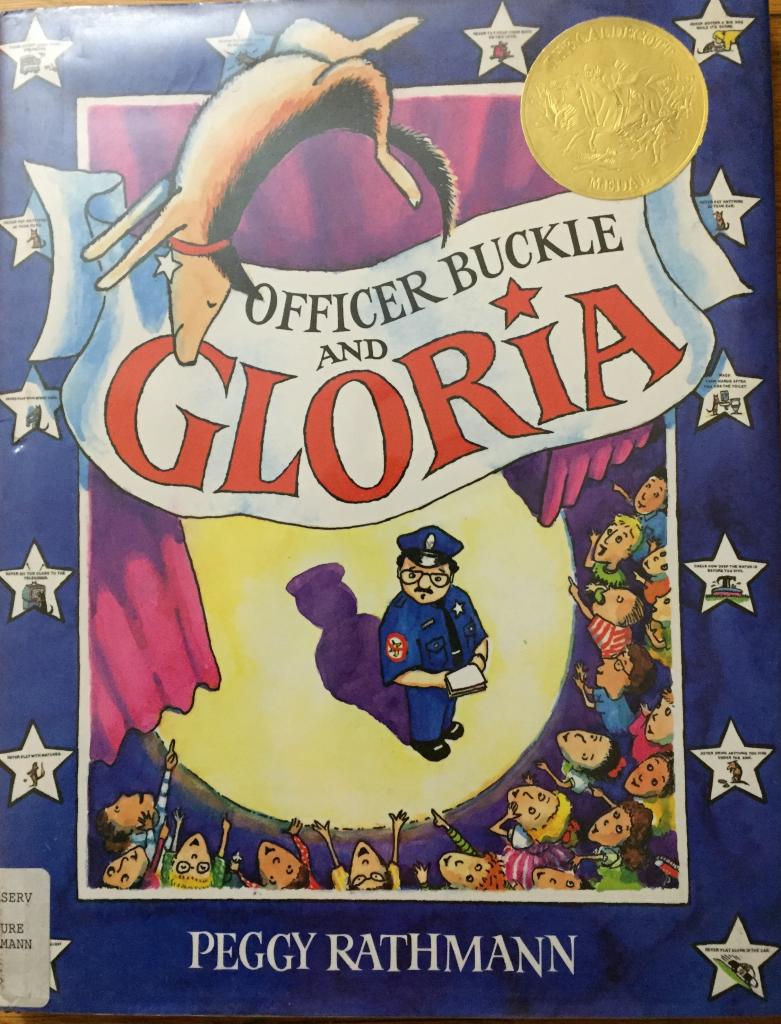 Officer Buckle and Gloria, by Peggy Rathmann.
Officer Buckle and Gloria are a team giving safety tips to schools; Officer Buckle reads the tips and Gloria acts them out, unbeknownst to Officer Buckle.  When he finds out, he is jealous, but then realizes that they are a team.  Now, there's a Life Lesson there, but it's not the reason why my son loved it, but rather the general silliness of the dog's charades and the accidents at the school.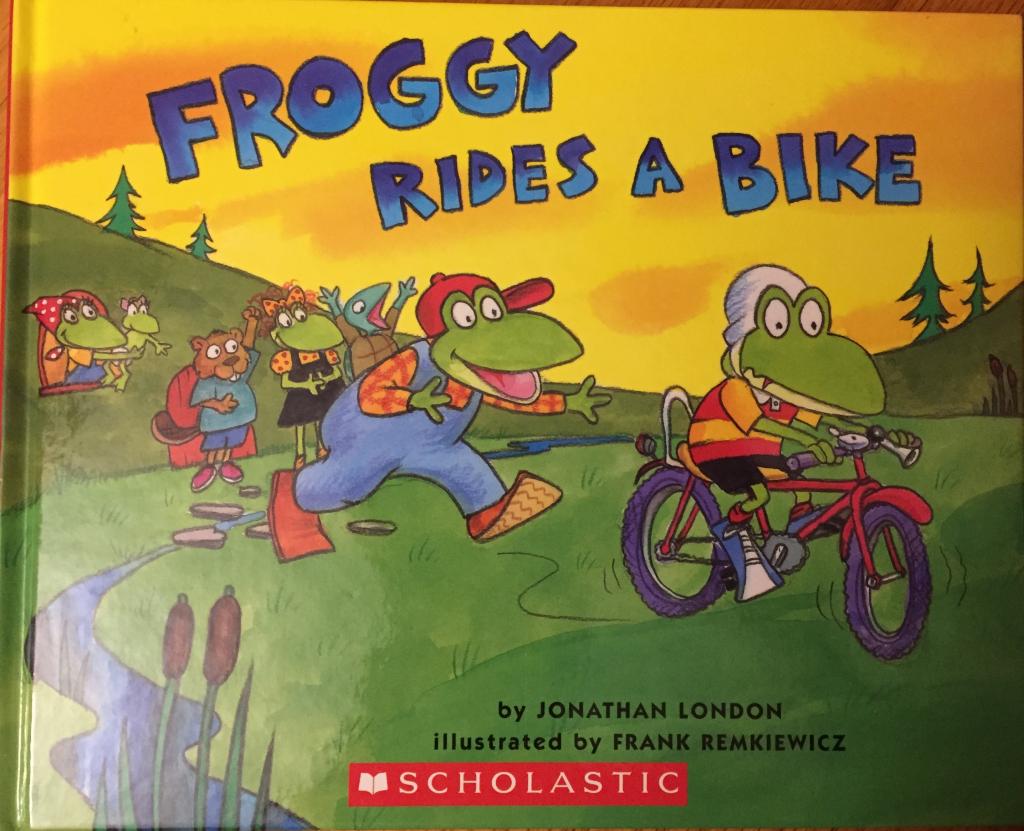 The Froggy series by Jonathan London.
"Fro0000-ggy!"  "Wha-at?" "You forgot your pants!"  Silly dialog that my son loved.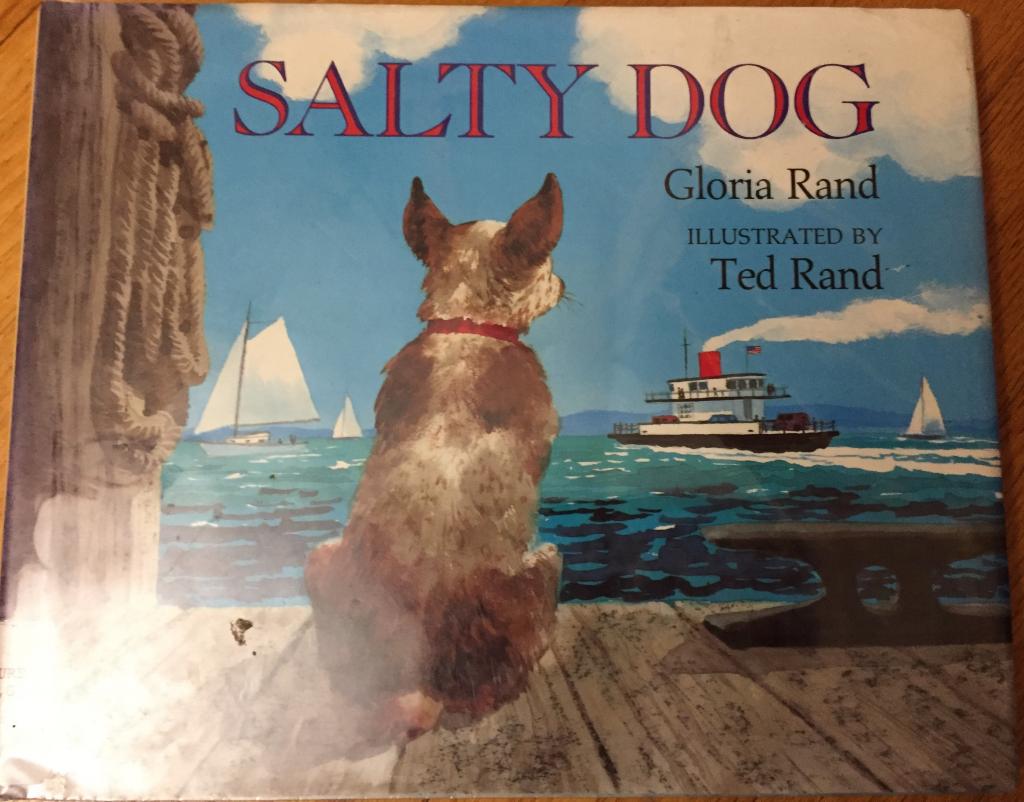 Salty Dog by Gloria Rand.
Salty Dog starts out when Salty Dog is a puppy newly acquired by a boat-builder.  As Salty Dog grows, we watch the boat-builder building a boat, and Salty takes a ferry to the building yard and back.  When the boat is built, the builder buys equipment and they leave for a trip around the world.  "As Salty grew, the boxes grew."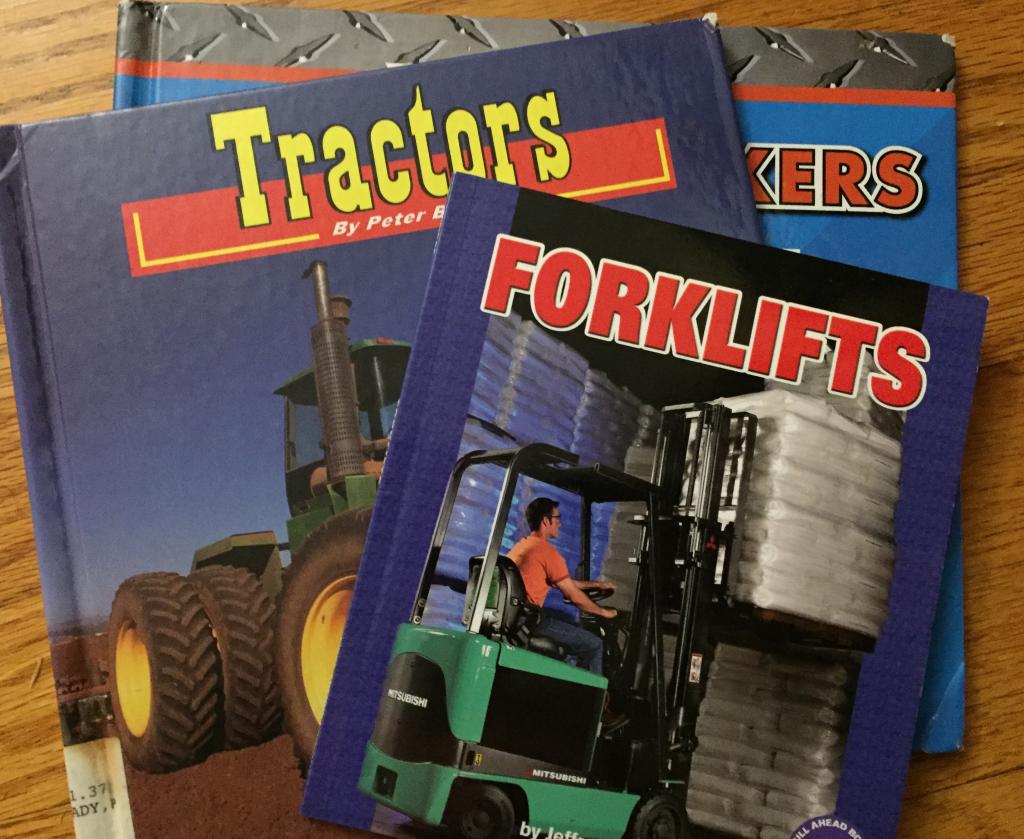 Anything having to do with vehicles.
These were a mix of acquisitions from library used book sales and Amazon purchases, after checking the same books out from the library.  We read Forklifts over and over when my son was 4, and then, at Aldi, he was very excited that there was a walkie right there in the store.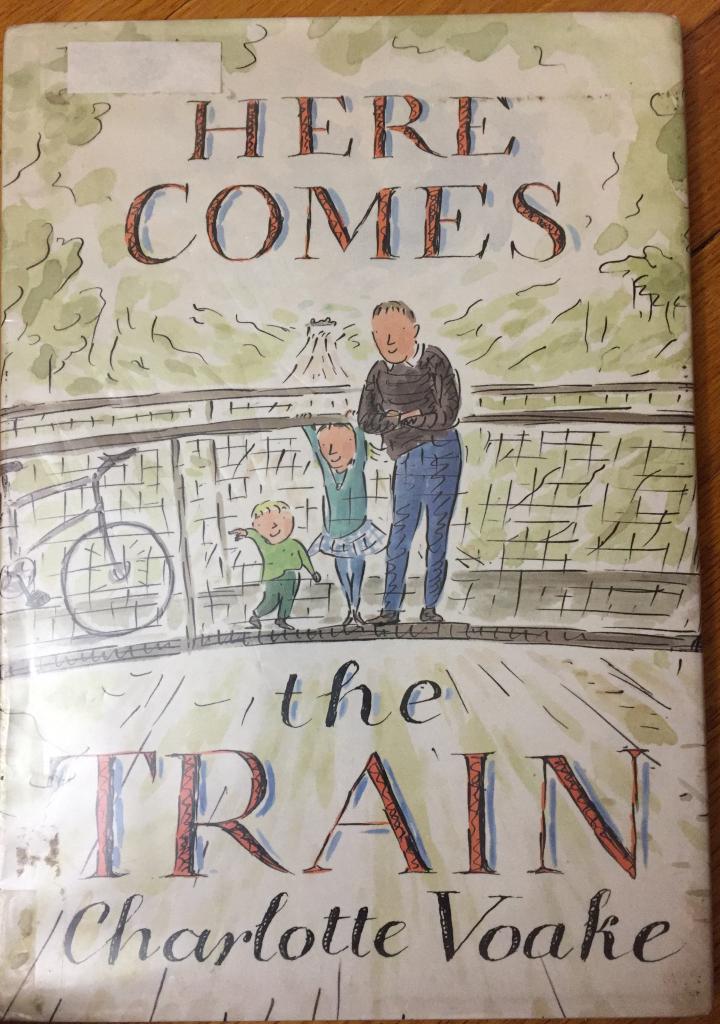 Here Comes the Train, by Charlotte Voake
Yeah, I have to admit, I probably was more fond of this than my son; it reminds me of a spot on a bike path by our home in Germany.  William, Chloe, and their father bike to an overpass from which they can watch the trains.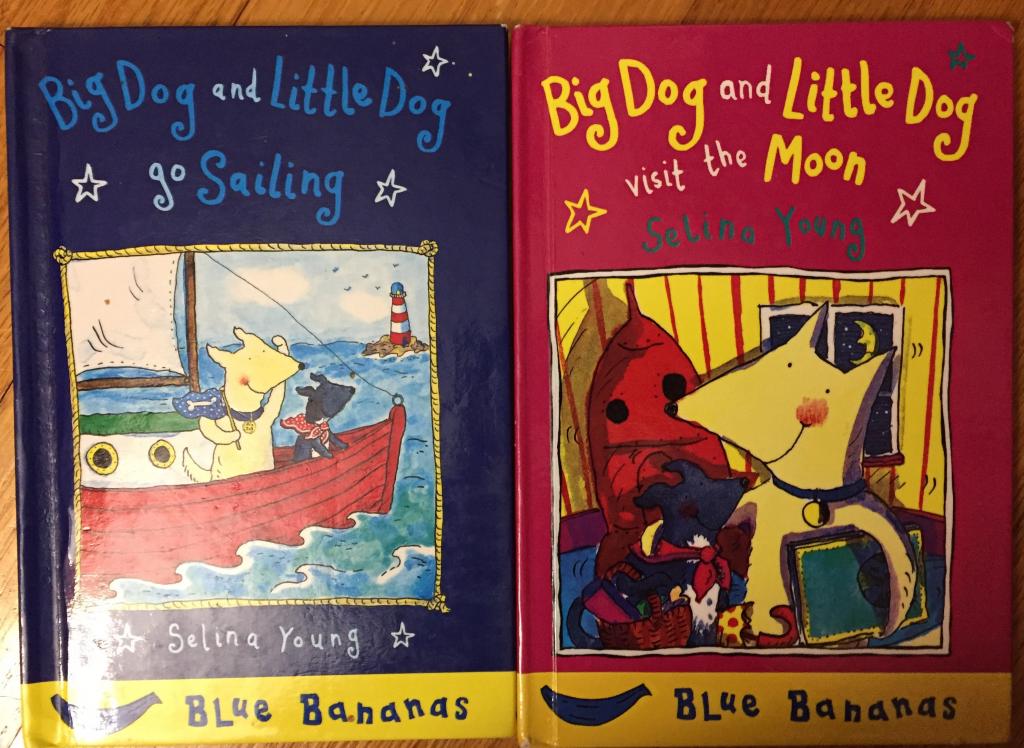 Big Dog and Little Dog.
This set was acquired when my now-high school senior was young.  In the first one, they build a boat and land on an island that ends up being a whale.  In the second, they build a rocket because the moon looks sad; they cheer him up by walking on him, which tickles.
So it's a mix of "real world" books, silly stories, and realistic fiction, but nothing preachy, and nothing poetic (neither in the sense of rhyming phrases, nor in the sense of artfully-expressed, poetically descriptive language).  And quite honestly, maybe everyone else's kids were just more literary than mine, but I just don't see kids sitting still for Yo Soy Muslim.  At the same time, though, the top three New York Times Picture Book Best Sellers are "message" books with celebrity authors:  Princesses Wear Pants by Savannah Gutherie of the Today Show (plus co-authors), She Persisted by Chelsea Clinton, and a picture book version of Hillary Clinton's It Takes a Village — but whether those are actually enjoyed by children or just purchased as gifts, I don't know.
But aside from the question of whether children like preachy books and artsy poetic language rather than silly stories, I look over this brief list and ask myself:  "what would my boys have thought of these books if Here Comes the Train's William was black, if the boat-builder in Salty Dog was Asian, if Officer Buckle was Officer Garcia?"
If that was the only switch, perhaps they wouldn't have really noticed.  But it seems rare to do this sort of swap, and more standard for these books to me more clearly putting culure front-and-center when all kids want is a silly story.
Image:  https://commons.wikimedia.org/wiki/File%3APortland_Central_Library%2C_Oregon_(2012)_-_114_-_Children's_Library.JPG; By Another Believer (Own work) [CC BY-SA 3.0 (http://creativecommons.org/licenses/by-sa/3.0)], via Wikimedia Commons