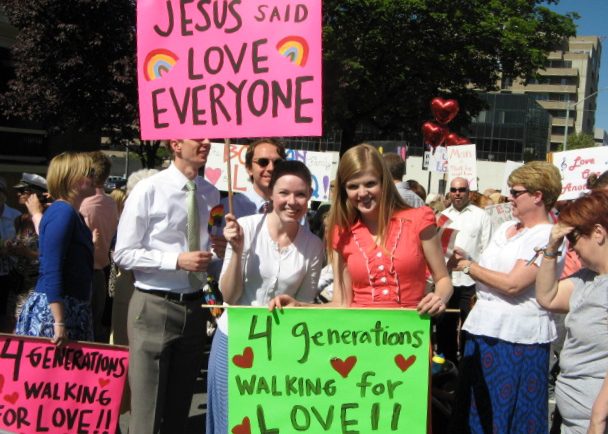 A Seinfeldian protest, if you will, that is, in reference to the TV show that famously was a "show about nothing."
In the Chicago Tribune today, "Supporters rally for gay teacher amid discrimination claim after he told 1st-graders about same-sex marriage."
It's something of a he-said, she-said sort of incident.  A gay teacher's husband arranged to have flowers sent to the first-grade classroom, prompting questions from the children about who the flowers were from.  Subsequently, a parent complained, and the principal met with the teacher to collect more information on what happened, then considered the matter resolved.
Now, the Trib reports,
Nearly two months later, according to district officials, the vice president of the local teachers union sent an email to the entire district faculty and staff claiming "school leaders treated Mr. Etter in a discriminatory manner," according to an open letter released in response the next day by Kellenberger and Superintendent Todd Stirn.

The union claimed Etter was told to "stick to the curriculum."
and, as a result, 100 teachers and families held a protest prior to the next board meeting, with signs and chants of support and against discrimination, and demanding an apology and full-throated demonstrations of support.  But, reading the article, the school board comes off as somewhat mystified that there is any issue at all.
Here's what I'm guessing:
in the first place, the location is likely important.  This took place at Prairie View Grade School, just west of Elgin.  Looking at the school's website, this was pretty much as far west as suburban development reached before the real estate bubble popped.  The attendance boundaries show that the school district as a whole is rural, but this particular school caters specifically to several subdivisions that were built and likely forked over the money for this school for these children.  And my memories of the time when ads for new developments took up a healthy portion of the Sunday paper were that these sorts of subdivisions heavily advertised that the children attended this school district and not the Elgin school district next-door, which is heavily Hispanic and deals with overcrowded, underachieving schools and periodic school boundary re-drawing as a result.
And Elgin itself was once a "small town outside the Chicago suburbs," in the way that Rockford might now be described, but it is now a suburb like any other, albeit with its own downtown area, and an orchestra and museum and other community institutions.  It might have once been as white-bread as they come (the TV show
Roseanne
's setting was supposedly
modeled off of it
), but the older parts, again, are now very
diverse
, as they say, with its substantial immigrant population, and the new subdivisions are just as cookie-cutter, and drew their residents from the general Chicago area, as anywhere else.  The big draw of Elgin and other suburbs nearby was that they were a reasonable commuting distance to Schaumburg workplaces, but with considerably more house for the money — three-car garages see to be fairly typical according to google maps.
Perhaps these families, on the edge of the suburbs, but many of whom bought a decade ago expecting to now be surrounded by even more suburbs, feel dissatisfied that they are instead surrounded by "hicks" — even though their children's classmates are just as safely suburban as they themselves are.  Or, on the other hand, perhaps they are keenly aware, even feeling a little bit guilty about, the fact that they are isolated from the racial/ethnic diversity of Elgin proper.  Perhaps this was simply the means they chose to, themselves, create a "teachable moment" for their own children.  But the whole thing feels odd — just as odd as the event which started these events, because, quite honestly, I would not expect any of my children's teachers to be receiving flowers in the classroom (my impression is that they are very careful to keep their out-of-the-classroom life separate, no matter whether it's nontraditional or perfectly ordinary), which suggests to me that this was very intentionally planned as a conversation-starter in the first place.
And I leave it at this – except for the customary, "reader, what do you think?"
Image:  a generic march/rally.  https://commons.wikimedia.org/wiki/File:More_signs_and_marchers..JPG; By Abbey Mormon [CC BY-SA 3.0 (https://creativecommons.org/licenses/by-sa/3.0)], from Wikimedia Commons