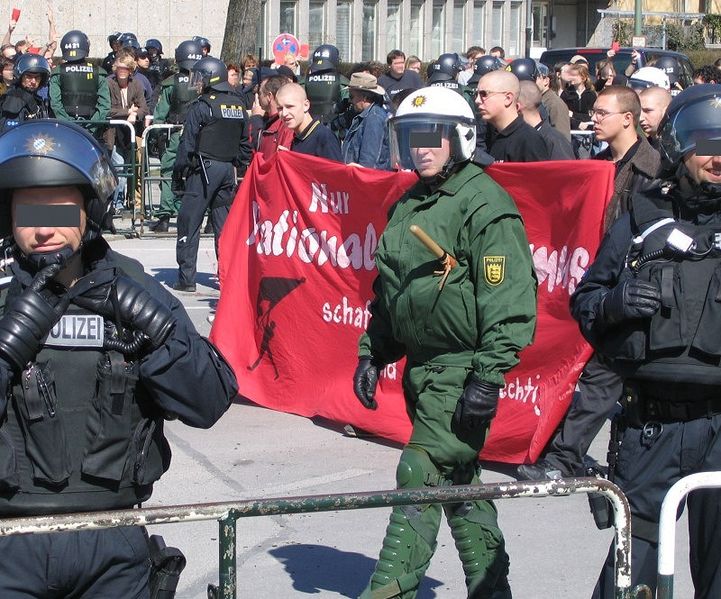 In 1977, Frank Collin and his Chicago-based National Socialist Party of America (NSPA) "announced its intention to hold a pro-NSPA and white power demonstration on the steps of Skokie's village hall on May 1, 1977."  (Details and quotes from Nazis in Skokie:  Freedom, Community, and the First Amendment, by Donald Alexander Downs, a book which isn't a prizewinner in readability but had the advantage of being in the basement bookshelves; I'd acquired it in grad school, though it's a bit of a surprise that it survived all the purges in the meantime).
The story of this rally is generally known, to a certain degree.  The city of Skokie attempted to ban Collin and his group from rallying, and Collin fought back, with the aid of the ACLU, arguing that the First Amendment protected the NSPA's right to gather.  Survivor groups were horrified, but the U.S. Supreme Court ultimately ruled in 1978 that Collin and his group did indeed have such a right.  (Downs argues that this right should be abriged, that the court decided the case wrongly and/or should overturn that judgement in favor of a statement that "speech" may indeed be banned when it is "commonly accepted as vilifying or derogatory" – p. 157 – but that's another story.)
Despite this unwanted outcome, there were positive impacts of this court fight.
When neo-Nazis threatened to march in Skokie in the late 1970s, Holocaust survivors around the world were shocked. They realized that, despite their desire to leave the past behind, they could no longer remain silent. In the wake of these attempted marches, Chicago-area survivors joined together to form the Holocaust Memorial Foundation of Illinois. . . .

To ensure that young minds continue to learn these lessons, the organization successfully secured the 1990 passage of the Holocaust Education Mandate, making Illinois the first state to require Holocaust Education in public schools. In 2005, the organization was again influential in expanding this mandate; the Holocaust and Genocide Education Mandate now requires Illinois schools to teach about all genocides.
(From the "history" page of the Illinois Holocaust Museum.)
But what happened with the march itself?  One tends to assume that it happened as planned.  In fact, I was out for much of the day today, checking the news periodically, and as I was driving home, was building this image in my mind of the denouement:  Nazis with cruel, taunting signs, surrounded by we-shall-overcome singing protesters.
But instead, there was a compromise of sorts:  Collin had in the meantime also applied for a park permit for a rally at Marquette Park in Chicago, but the Chicago Park District had demanded the payment of an insurance amount meant to be so high as to prevent the group, $250,000.  Collin filed suit in court, and, ultimately, the district court ruled (on June 20, 1978) that the imposition of an insurance requirement was illegal (p. 79).  As the parties were awaiting this ruling, a set of negotiations played out, and Collin ultimately agreed to "trade" the Skokie rally for one in Marquette Park, which took place on July 9th, 1978; a second rally took place just before, on June 24th at the Federal Plaza.
And what happened at this rally?
The NSPA held its Marquette Park and Federal Plaza rallies with massive police protection and audiences.  The scenes were ugly.  At the Plaza six thousand angry counterdemonstrators jeered and threw objects as Collin — protected by police lines and a screen and barely audible over the din of an angry crowd — shouted into his megaphone:  "The creatures should be gassed."  At Marquette Park, on July 9, local toughs and racists vilified counterdemonstrators from Skokie and black areas; police broke up several burgeoning fights.  (p. 81)
A couple other items of note from Downs' narrative:
Among the reasons he gives why Collin backed down from his decision:
First, he did not want to lose his life at Skokie ("the thought of snipers alone must have chilled him often," [David] Hamlin [from the ACLU] remarks).  Second, some fellow NSPA members weakened Collin's resolve when they told the press in late May that they would not go to Skokie.
And, prior to Collin backing down, large numbers of Jewish and anti-racist groups had planned to come to counter-protest.
Jewish Federation spokesmen stressed the need to make the counter-demonstration as peaceful as possible.  They worried that violence would harm the Jewish image and therefore prove to be counterproductive.  Yet spokesmen admitted that had the NSPA come to Skokie, the Federation and law enforcement agents could not have prevented violence.  Militant groups such as the Jewish Defense League, the Jewish War Veterans, and the Coalition Against Racism threatened crowd control plans.  When 50,000 aroused people gather, it is difficult to manage groups bent on causing trouble.  (p. 83)
In fact, the Chicago Tribune has an archived article from March of this year which provides a slide show of various rallies held by this group in the early to mid-70s, and a number of them are captioned as resulting in fistfights quickly broken up by police.
Fast forward 40 years.
Here's a Washington Post article on today's events, in which a rally at Emancipation Park in Charlottesville, Virginia, "United the Right," in which white nationalists intended to protest the removal of a statue of General Lee from the park, was cancelled before it even began due to violence.  As the Post says,
Earlier, police evacuated a downtown park as rallygoers and counterprotesters traded blows and hurled bottles and chemical irritants at one another, putting an end to the noon rally before it officially began. . . .

On Saturday morning, people in combat gear — some wearing bicycle and motorcycle helmets and carrying clubs, sticks and makeshift shields — fought one another on downtown streets, with little apparent police interference. Both sides sprayed chemical irritants and hurled plastic bottles through the air.
Images from its photo gallery include white nationalist rally-goers and counterprotesters fighting.  Its video shows the white nationalists marching silently, and then shows a few interviewees claiming they were standing up for "white culture that's being erased."  There's a chant of "open borders for Israel" which seems to be some sort of claim that Jews are behind mass immigration, e.g., of Muslims to Europe, and should get a taste of their own medicine by having non-Jews overwhelming Israel.  And there's a very bizarre clip of an interview with one Sean Patrick Nielsen (about 1:06 in the video), who lists his causes:  first, white heritage, second, the free market, and third, "killing Jews."  This is so mind-blowing that that I just can't make sense of it without some sort of deceptive editing explanation, e.g., "killing Jews is wrong and has to stop."
For a nonpaywalled source, I also looked at  CNN, which unhelpfully says that "clashes broke out," but nothing more, preferring to use its pixels to complain about Trump's lack of a specific condemnation of the white nationalists.
What happened?  Why, in 1978, and in the prior rallies from the Tribune photos, were these events peaceful-ish, with violence dispensed with in the few words of "fistfights ended by being separated by police", but not in 2017?  (And I'm not even addressing the issue of the car-attacker, which is a whole separate story, one individual on the attack, rather than this mob violence.)
My impression is that these racists have always played the game of professing, "we're nonviolent" and hoping to bait the counterprotesters into violence, to claim victimhood afterwards.  Is it as simple as saying, "in 1978, the counterprotesters didn't take the bait?"  Did the police rush in more quickly to stop the fights, back then?  Were a faction of counterprotesters today spoiling for a fight?  Who threw the first punch?  (Buzzfeed speculates that the lack of immediate police action was because the white nationalists were, well, white, but that just doesn't make sense, since my impression is that the usual response is to have police in force keeping the two groups separate, which is generally thought of as protecting the "vulnerable" group, e.g., in this case, the white nationalists.)
On twitter today, politician after politician, with the exception of Trump, is declaring their opposition to white nationalists.  Pundits are holding them accountable for today's violence, and naming the car-attack as "white nationalist terrorism" (the general definitional question is something I addressed back in June, with the revenge-attack in London).  And they're not wrong in saying that white nationalists are terrible people.  But they were terrible yesterday, and they'll continue to be terrible tomorrow, but now they'll be able to tell their recruits that they're fighting for their cause against the Leftists who aim to destroy them.
So what do we do next?  Would a Trump speech specifically denouncing white nationalists take the wind out of their sails, deflate them, send them back to their basements, sharing racist facebook memes and 4chan comments?  I don't know.  And, yes, in general, I'd like to hear Trump say, "you are not my people" to these racist creeps, and yet, at the same time, I'm leery of anything that says that if you disagree with what someone says, strongly enough, it's OK to physically attack them.  I guess in the end I want history, both in 1978 and 2017, to be like my imagined understanding of the Nazis in Skokie incident, in which the Nazis hold their rally and its power is diminished into nothingness by the moral force of silent, nonviolent counterprotesters.
Image:  A Munich Neonazi demonstration, from Wikipedia, https://upload.wikimedia.org/wikipedia/commons/b/be/Neonazi_2.4.2005_M%C3%BCnchen_2.jpg