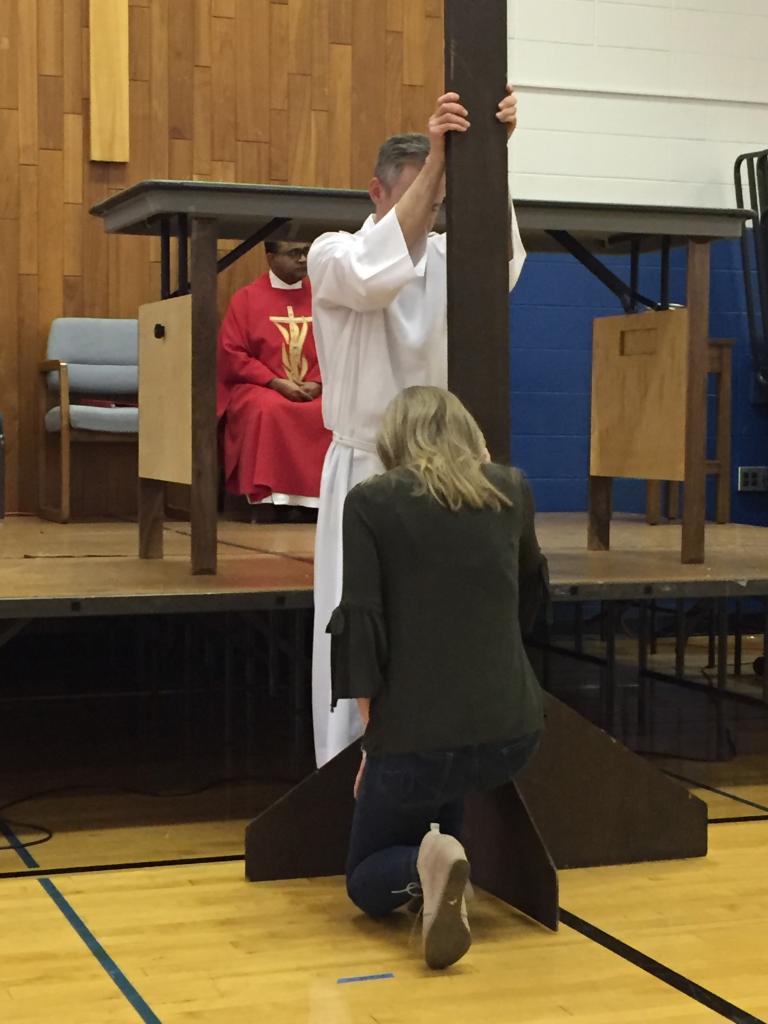 This is not an Easter post. It's not even a Easter Vigil post. I long ago realized that I should leave the inspirational posts to other Patheos writers who, quite frankly, have more inspiring things to say, and say them in more inspiring ways. But here are a few thoughts for that point in the day when the ham and/or lamb is in the oven, or has been eaten, and everyone has scattered to the different parts of Grandma and Grandpa's house.
The photograph above, as you might guess, is from Good Friday. Yes, it's in a gym. No, we're not one of those churches that has services in a gym — but the church has been under repair, with the first service in the newly-renovated church not 'til Easter Vigil. Non-Catholics may or may not recognize what's going on as the Veneration of the Cross.
There are lots of cool things about Catholic liturgy, especially when done by people who care about liturgy. Chant. Incense. The darkness and candlelight of Easter Vigil. Ooooh . . . the Easter Proclamation, and the Vigil readings. The stripping of the altar on Holy Thursday. The first time I was at a Catholic Good Friday service was actually at the University of Notre Dame: the readings are chanted, the music include the Reproaches and the Trisagion — and then you get to the Veneration of the Cross, which is, well, to a Lutheran-at-the-time, a bit creepy.
People get up one at a time, and
kiss the cross
.
Is that not basically in line with all of the accusations levied at Catholics by Protestants: "they're idolaters, who worship relics and pray to saints"?
But it kind of grew on me, to the point that when I'd be a church where there was no individual Veneration, just a communal kneeling and hymn singing, I missed it.
Until Friday, when my parish returned to the individual Veneration from a prior approach in which the cross was passed through the aisles (kind of like Protestant communion, but bigger), whether because of the temporary location in the gym or for another reason, I don't know. And boy, it felt very non-Catholic. Catholics, after all, have multiple stations for communion to get everyone in and out quickly. Short homilies instead of long sermons. Cut a few verses out of the songs if they're taking too long. And even that isn't enough for individual Catholics who dash out as they personally feel they can without missing the Sunday Obligation. But the Veneration of the Cross — well, I really started feeling bad for my 10 year old squirming next to me, and suddenly Notre Dame's approach of mini-crosses for additional stations seemed very practical.
And that's all I have to say. Go get some Easter inspiration!