Day 12:  Naples
So the original plan was to go to Pompeii, and the only undecided aspect of that plan was whether we find an "unofficial" shore excursion bus to take us there, from among those waving their signs at us as we exited the ship, or whether we take the commuter train, which, on the one hand, was cheap and offered more flexibility (stay as long as you want without being trapped by the bus company schedule), but, on the other hand, required making our way to the train station and required taking a train described as rife with pickpockets.
But it was hot.  And I had read descriptions of the Naples Archeological Museum as top-notch, one of the best, with all the best stuff from Pompeii and more besides, so we headed there instead.  Heck, here is the information posted on the ship: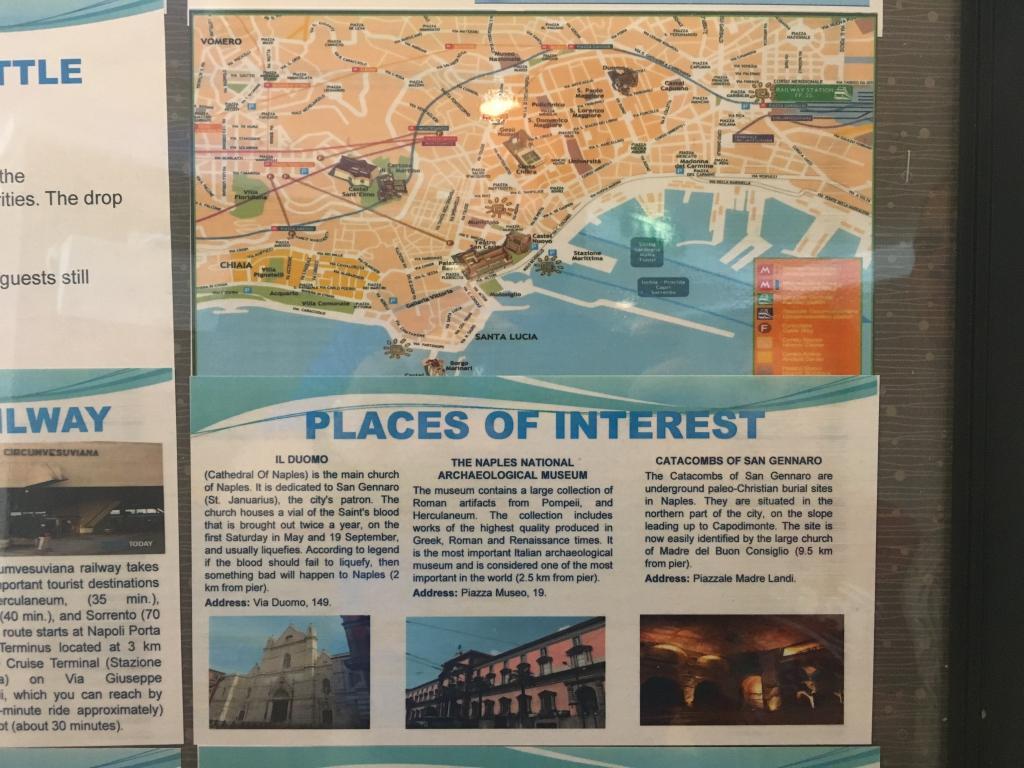 "It is the most important Italian archaeological museum and is considered one of the most important in the world."
As it turned out, for a EUR 15 admission charge, there wasn't really all that much.  The frescoes from Pompeii — well, it's interesting to see that this was how they decorated their homes but not really much to write home about, and much of the museum was under construction, and, besides, it wasn't even air-conditioned, which was a surprise because I had thought it was pretty much the norm that any such museum would be air conditioned, if not for the comfort of visitors than for the preservation of the art.  I guess they figured that if it had made it for the past 2000 years, a little heat and humidity wouldn't kill it.  We were also moderately entertained by some statuary with painted eyes, but that didn't last long.
Fortunately, they also had free wifi, and I was able to look up the location of the "Naples Underground" tour that we had noted from the guidebook as something of a backup, and it wasn't particularly far away, though navigating there was not as easy as I would have liked, based only on the guidebook map and the Apple map directions that I'd pulled up on the phone and screen-shotted to be able to refer to.  And so we launched into the craziness that is the Naples historic center, with narrow streets where the "pedestrian only" signs seem to be taken more as a suggestion than a law by residents.  It's hard to capture the atmosphere with pictures, but there were little chapels/altars scattered about, and doors in what look like decrepit buildings which, when opened up as you pass by, reveal a lovely, quiet courtyard.  But we walked from crowded streets to quiet ones and back again with only a vague sense of where we were, and with the next English-language tour approaching quickly, and then, with 10 minutes to go, as much by luck as anything else, we landed exactly where we needed to be, bought our tickets, and started the tour.
The tour itself was of the underground aqueducts dug out by the Greeks, and used successively by the Romans and the medieval and modern rulers of the city, all the way until the late 1880s, when they were abandoned due to the discovery that untreated water causes disease.  For the next 50 years, they were used as trash dumps.  Then, with the beginning of World War II, they needed bomb shelters, but didn't have the time to remove all the garbage.  However, the caverns were so deep that they just covered up the garbage and raised the floor level instead, with plenty of room remaining.  The tour guide brought us through a number of tunnels, including one very narrow one, for which they added to the drama by the lack of lights — instead, we each carried IKEA pseudo-candles.
After this part of the tour, we were then taken to a home in a courtyard, and down into a basement through pull-up stairs, and told that this house, and, indeed, this part of Naples, was built on top of/built into a Roman amphitheater, which cannot be excavated because you'd have to destroy the entire neighborhood.  And it is hard to visualize how the amphitheater becomes transformed into a neighborhood, but there you go.  
The final part of the tour was, again, another part of the repurposed amphitheater in which a number of nativity displays were displayed, because, apparently, this is Naples' thing (along with pizza), and, after the tour, as we continued to walk towards the harbor, we walked through a tourist area with streets chock-full of both mini-nativities, as souvenirs, and larger pieces, to build a set.
Finally, two other miscellaneous observations:
there were little alcoves like what's in the photograph all over the place; to be honest, I wasn't entirely certain if this was in honor of some saint or another, or a deceased family member.  And (not just here but as a more general observation about Italy) if you want to light a candle at a church, you place your offering, and turn on a switch.
At any rate, along the way, we again found ourselves a gelato so we didn't have a "real" lunch until midafternoon back on the ship.  And that was our day.