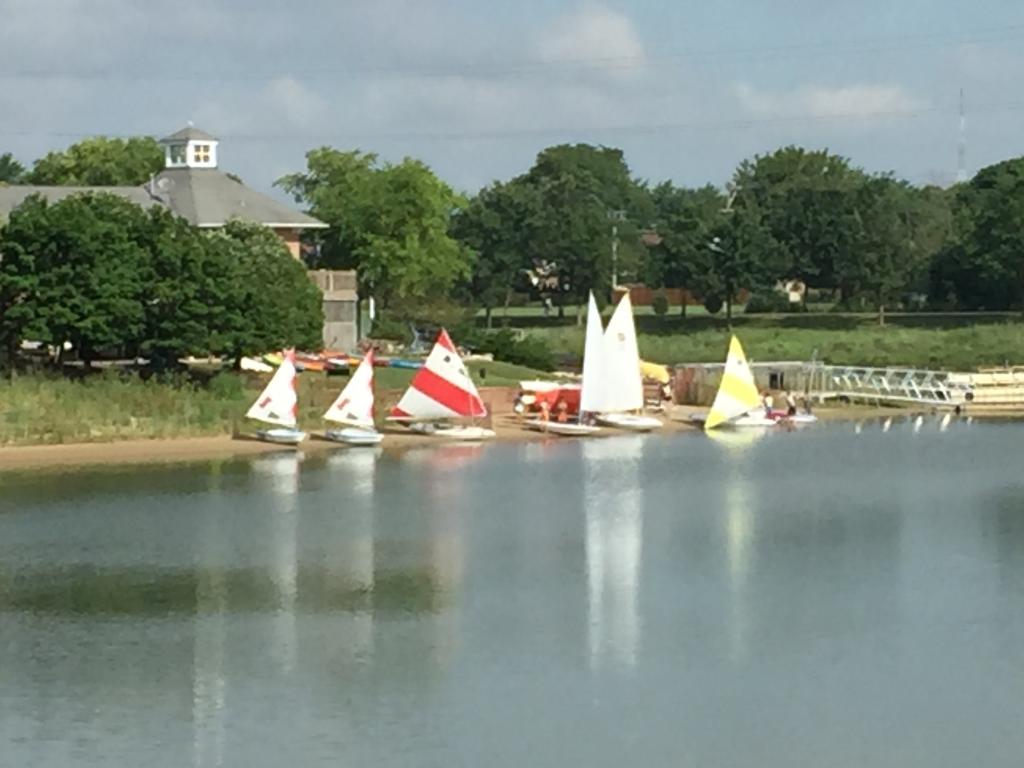 Regular readers will notice that I haven't been blogging as frequently lately, and that's partly because I've been focusing on the Forbes writing and other projects, and partly because I've just gotten out of the routine, and partly because I've been trying to knock things off various to-do lists.  And right now I'm looking at the various drafts that are sitting on the WordPress editor, everything from typed up blog posts that just didn't properly gell, to a bookmarked link or a stray thought.
And here is something in the category of "stray thought":  sailing camp. That is, I had in mind that I had wanted to share with readers our kids' go-to summer activity.  (And the resolution on the photo is pretty lousy because it's zoomed considerably in order to get a photo from the other side of the lake.)
What, after all, do parents do when their kids are too old for a daycamp and too young to be left to their own devices?  Some park districts around here (other parts of the country don't necessarily have a governmental body called a "park district," but this is Illinois, where the operating philosophy seems to be, the more units of government, the better) have special programming for the older kids, but around here, the generic daycamp goes up until kids entering 6th grade, though it's mostly populated by younger kids, and after that there's not a lot, just various sports camps.  And to be honest, I'm not entirely certain what parents around here do when they both work full-time, outside-of-the-house jobs.  Even with my working at home, I've generally tried to keep the kids busy, if for no other reason than I know I have a hard time focusing if they're around the house all day.
But our kids have spent a lot of these in-between summers at sailing camp, which is designed for kids ages 9 – 14.  It used to run from 8:30 – 4:00 which worked well for our schedule and accommodated parents who would have been able to manage one of them leaving work a bit earlier than the standard 5:00; last summer they reduced the hours to end at 3:00; it was never entirely clear to me why except that they have had the same fee for a good number of years and reducing an hour out of the day might have been a cost-control move.  (I don't know how successfully two-full-time-parent families managed that change, though I noticed this year a number of kids riding their bikes home, though we live too far away for this.)
Anyway, the camp takes place at the man-made water-management lake not far from our home, where they also offer rental sailboats, kayaks, paddleboats, and stand-up paddleboards, and stock the lake for catch-and-release fishing.  The counselors/instructors are older teens and young adults, including college students and one or two recent graduates who are themselves now teachers and have the summers off, and they combine classroom instruction (points of sail, terminology, etc.) with time on the boats, and the kids do all the rigging and derigging as well, and are expected to work together rather than following the step-by-step instructions of the staff.  When the weather's bad, they'll sometimes watch movies, or they'll play cards, or other group activities; when the lake is over-full, they'll kayak or go over to the playground.
But what I've always liked is that the kids are afforded some real, meaningful independence –they either choose or are assigned others to sail with, then head off.  If they misbehave too much they might get a talking-to by the counselors, but they can choose where and how to sail within certain parameters.  The first two-week session of the summer, my son found three others whom he had known from prior sessions and they made a point of sailing together in various combinations.  The second two-week session there were more inexperienced kids, and he complained about being paired up with these newbies, and we reminded him that it was a good thing to be given the responsibility of teaching others.
The camp staff has also been a bit inconsistent in how they run things, but this past year they were much more effective at keeping the kids off the electronic devices, and there were the right numbers of kids to socialize together; they had large group conversations at lunch, played cards together, and the like.
And the end result?  Well, my middle son's years of sailing camp meant that, when we went off to Scout camp for his first year as a counselor two summers ago, he stepped in to teach Small Boat Sailing when the prior instructor left.  But beyond that, I've felt that this sort of activity is probably the best available sort of replacement for the (maybe mythical?) days when kids of that age would just leave the house in the morning and be out all day on adventures until the streetlights came on/the 6:00 church bells rang, still under adult supervision but dialed-back relative to the structured days at a more formal daycamp or sports camp.
Readers, how about you?  How do you/have you kept your tween/young-teen kids out of your hair in the summer?